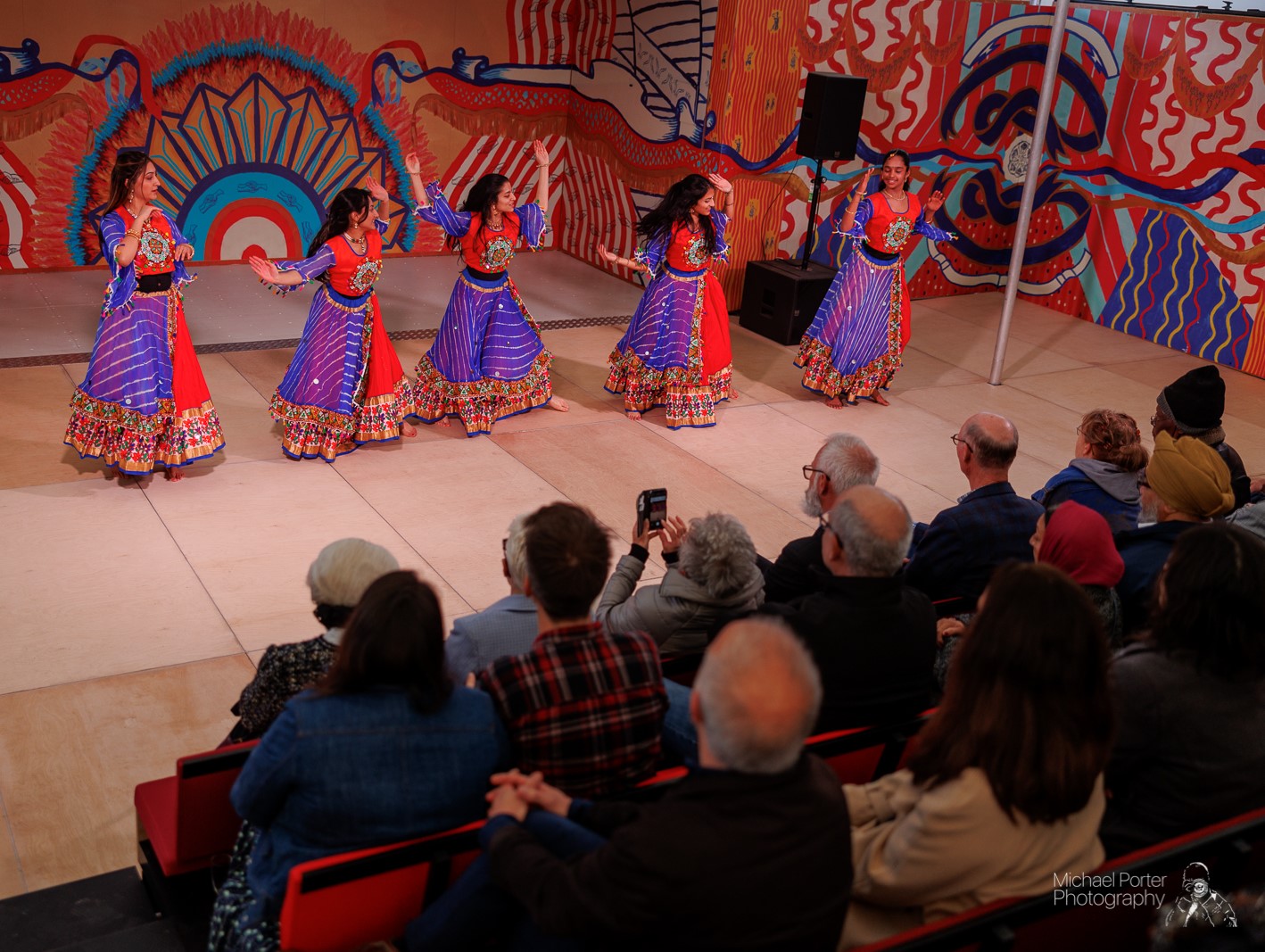 Last night saw the launch event of Preston's brand-new interactive Mobile Event Tent (The MET), as part of Preston's 'Pop-Up' projects, financed from £1 million of initial funding the city secured from the government's Towns Fund for a series of regeneration projects in the Harris Quarter.
The MET is situated at the former Indoor Market site and will offer a full programme of live, creative events for the community, starting with the Preston Bordello Collective's All Together But Different storytelling event, reflecting on Preston residents' experiences over the last 18 months of the pandemic.
Along with the opening speeches, The MET's interior was showcased with an explanatory video presentation by artist Jenny Steele, who used the rich cultural heritage of Preston's diverse communities to integrate into her design work. Preston City Mela performers treated guests to a beautiful violin recital and traditional Bollywood dance.
The contemporary structure of The MET has been designed and developed in Preston, in partnership with architect Charlie Mackeith of Research Design, and Professor Charles Quick of In Certain Places, UCLan. The interior walls have been decorated by artist Jenny Steele, who was commissioned to work with Preston City's diverse cultural groups to create representative art works.
The octangular-form design is made up from specially adapted shipping containers, along with a state-of-the-art 'stretch tent' fabric cover. The result is a multi-use and creative space, spanning 150 square metre space and able to accommodate up to 100 people.
It is hoped that The MET will play a key role in encouraging people back into the city centre, generating economic activity, and providing work for local artists. After the summer, The Met will move on to various other locations across Preston to host community, networking, live arts and music events.
John Chesworth, Executive Chairman of Harrison Drury Solicitors and Chair of the Preston Towns Fund Board said,
"The MET is the key project in our Towns Fund "Pop-Ups" plan which will act as a catalyst to bring life back into the city, and lead into the delivery of our substantive Towns Fund projects which are targeted to improve the cultural assets of Preston.
"The achievements of Professor Charles Quick, his team and architect, Charlie Mackeith, in designing from scratch and delivering The MET in such a short time period is remarkable.
"It speaks a great deal about the ambition of Preston and its "go-ahead" attitude, to do something so fresh and innovative.
"Because the MET is mobile, we hope it will provide entertainment, art and culture at locations throughout the City, bringing the experience to residents and visitors across Preston."
There is a full list of events scheduled – Eventbrite The MET what's on calendar
Related
0 Comments