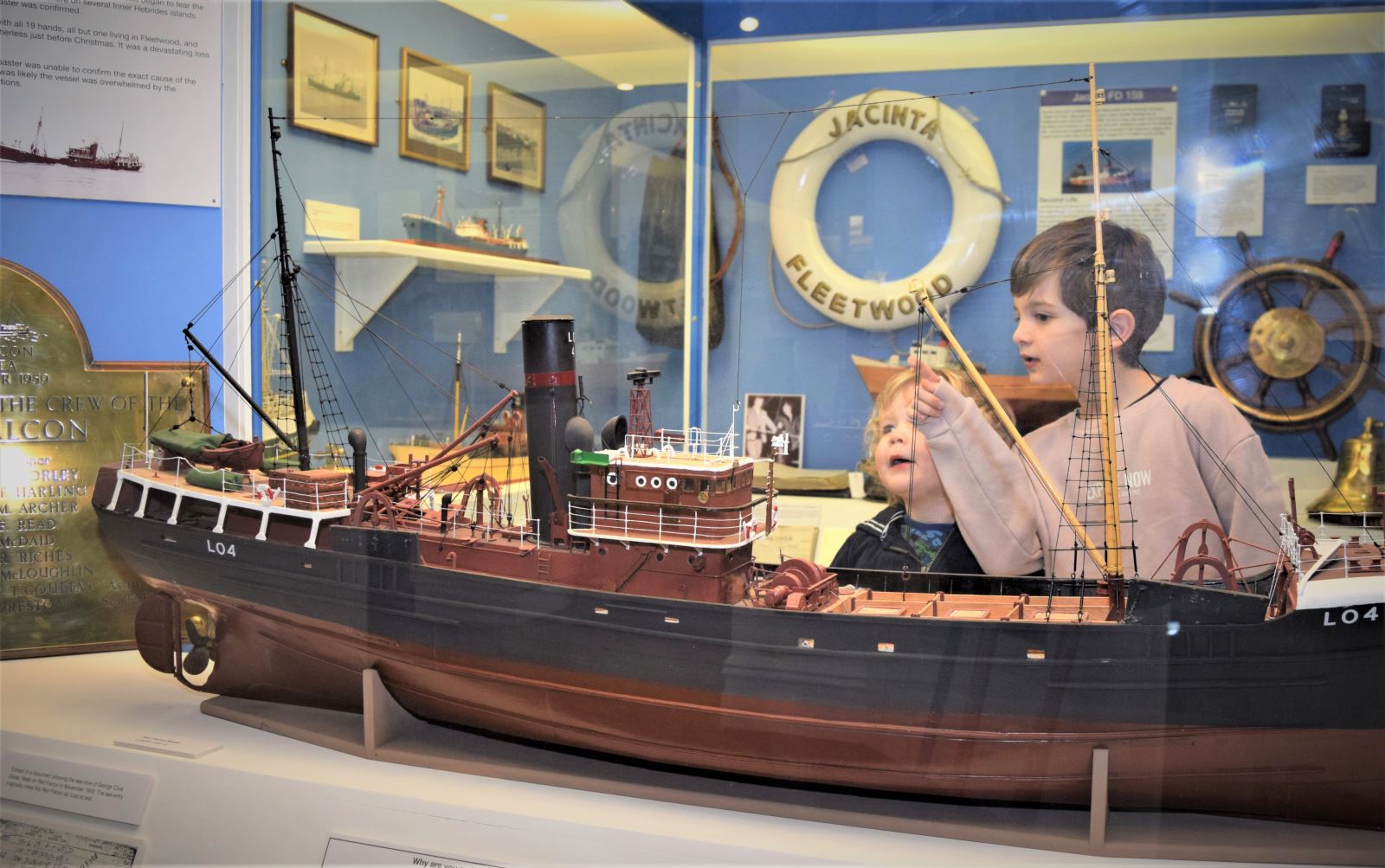 A stunning collection of over 40 intricate ship models is just one of many exciting new displays as Fleetwood Museum opens its doors again for 2022.
The museum's Deep Sea gallery, which tells the story of Fleetwood's world-famous fishing trawlers, has been extensively refurbished and refreshed with new exhibits. The collection of ship models was owned by Tony Lofthouse from the Lofthouse family who own Fisherman's Friend. When Tony sadly passed away in 2018, his wife Doreen donated the collection to the museum. 12 of the models were displayed in 2021 but now the whole collection can be seen for the first time.
Ben Whittaker, Museum Manager at Fleetwood Museum, said: "The Lofthouse collection of ship models is of national significance, and we are delighted to make them accessible to visitors. With Tony and now Doreen Lofthouse both having sadly passed away, the models are a fitting tribute to their love of Fleetwood and the town's trawler history. Many of the models depict trawlers that had links to Fleetwood and are remembered still by retired trawlermen, including some of our own volunteers."
Other new aspects of the Deep Sea gallery include a wall of artworks and photographs that depict Fleetwood trawlers at sea, as well as artefacts from the now scrapped Fleetwood trawler Jacinta.
Zara Robinson, Collections and Interpretation Assistant at Fleetwood Museum, said: "We have selected a range of oil paintings, sketches and photographs by local artists including Keith Sutton, Tom Roskell and Phil Dell that dramatically illustrate the harsh and challenging conditions faced by Fleetwood trawlermen working in the Icelandic fishing grounds - being a trawlerman was one of the most dangerous occupations you could have. We are also displaying lots of material from the Fleetwood trawler Jacinta; this is part of our long-term plan to use the Jacinta collection as a case study for the Fleetwood trawler story. There is specialist navigation and fish-finding equipment from the wheelhouse on display for the first time. This includes the 'Box of Lies' - the name often given by trawler crews to the VHF radio. Skippers would often mislead other vessels over the radio about where there was or wasn't good fishing – competition between different vessels and firms could be fierce!"
There is more equipment from the Jacinta wheelhouse in the museum Boathall, where visitors can also view Harriet – the 1893 fishing vessel which is part of the National Historic Fleet – meaning Harriet is ranked alongside other famous vessels such as Cutty Sark as being of national significance. The museum is currently fundraising for ambitious plans to extend the Boathall and begin an exciting project that would see the local community actively involved in conserving historic vessels at the Fleetwood site.
After two disrupted years due to the Covid, Fleetwood Museum is pleased to be able to run their full programme of events in 2022.
Keith Porter, Chairman of Fleetwood Museum Trust, said: "The restrictions in 2020 and 2021 meant we could not run the many activities we usually would – but with some precautions still in place such as hand sanitizer stations to keep people safe, we can again put on our monthly talks, historic walks, monthly music sessions, summer holiday craft sessions and much more once again."
Fleetwood Museum is open Tuesday-Saturday and bank holiday Mondays from 5th April to 27th November. Admission is £3 for adults, £2 concessions, and free access for children. There is also free access to our shop, café and second-hand book shop.
Fleetwood Museum is run by Fleetwood Museum Trust – an independent charity that took over the site and displays from Lancashire County Council in 2018. This was made possible by the support of the people of Fleetwood through Fleetwood Town Council, who provide an annual precept towards the museum operating costs. The museum has a fulltime manager and part time collections assistant and relies on a team of 60 passionate volunteers working in areas from the café, galleries, gardening to historical research.
For further information and images:
Contact Ben Whittaker, Museum Manager
Fleetwood Museum, 6-7 Queen's Terrace, Fleetwood. FY7 6BT
ben.whittaker@fleetwoodmuseum.co.uk 01253 876621
Follow us on Facebook and Twitter
Related
0 Comments