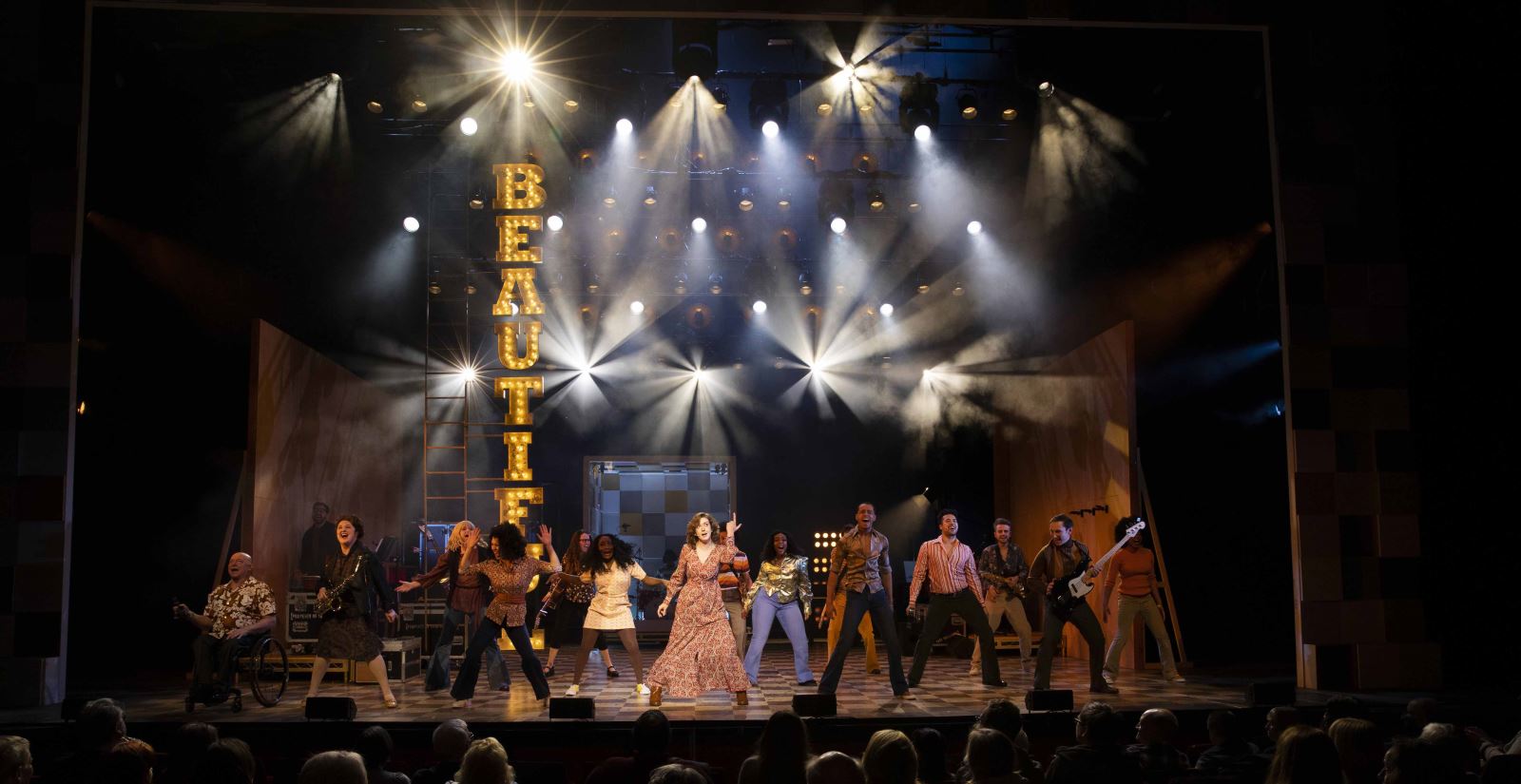 It's time to Spring clean your social life!
Blackpool Grand Theatre is here to help blow away the cobwebs with a marvellous mid-season flurry of exciting new shows announced to brighten up your lives.
Leading the pack of top picks for 2022 is a powerful new production of Beautiful – The Carole King Musical from Tuesday 18 to Saturday 22 October. Feel the Earth Move as the magnificent Molly-Grace Cutler (The Worst Witch, Girls Don't Play Guitars) is chart-topping legend Carole King, whose remarkable rise from schoolgirl singer/songwriter to music legend is brought beautifully to life in this smash-hit West End and Broadway show, through the soundtrack of a generation.
But that's not all! We have a whole host of shiny new shows on offer all the way through this year and next to amaze and delight everyone from small to tall!
The legendary Johnny Ball takes you on a magical tour of everything mathematical in Wonders Beyond Numbers on Saturday 2 July in a fun-packed family show filled with his infectious energy and inspiration; bring your little pop star to a children's concert with a big difference on Sunday 31 July and Sunday 28 August as four fairytale Pop Princesses sing a soundtrack of top pop hits from Little Mix to Miley Cyrus, plus songs from all your favourite films and musicals; the Boys are Back in Town on Friday 26 August for the live music spectacular Rock For Heroes featuring over twenty classic rock songs from a seven-piece live band with amazing lighting and sound; roll up for the Sexy Circus on Sunday 25 September as the talented cast of live male vocalists and world-renowned circus performers from Britain's Got Talent's Forbidden Nights spin across the stage in this high-octane show (adults only), and do you dare to join one of the UK's most notable Psychological Therapists and crime commentators Emma Kenny (Lady Killers, The Killer in my Family) as she opens up a fascinating new casebook in the Serial Killer Next Door discussion on Monday 26 September?
Britain's best-loved picture book is live on stage as The Tiger Who Came to Tea roars into the Grand for a delightful family show packed with oodles of magic, sing-a-long songs and clumsy chaos in a grrreat day out from Friday 7 to Sunday 9 October; spend One Night in Dublin on Tuesday 11 October with the multi award-winning Irish band Wild Murphys as they return to set up their famous pub ready for a toe-tapping night of music, banter and good old Irish craic; Ah! go on and join seasoned stand-up comic Joe Rooney for A Celebration of Father Ted on Wednesday 12 October as he reminisces about his experiences playing the rebellious Father Damo in the classic comedy before a showing of his hilarious episode; delight the whole family with a captivating new production of Beauty and the Beast from the critically acclaimed Ballet Theatre UK on Friday 14 October, set to a magnificent classical score with exciting new choreography and specially created sets and costumes, and don't miss Saturday night TV legend Harry Hill as he starches up his big collar ready for the all-singing, all-dancing, one-man silly spectacular Pedigree Fun! on Saturday 15 October.
And that's just for 2022! The New Year will bring even more exciting new nights out at The Grand…
Let the children of the revolution take you on a thrilling journey into the glamorous Parisian underworld with the ultimate Moulin Rouge and more tribute Come What May on Wednesday 1 February 2023; don't miss the breathtaking tap dancing of eight incredible male performers for the powerfully potent cocktail of dance, acrobatics, music, hip hop and comedy that is Tap Factory on Tuesday 7 February; relive the Glory Days of The Boss once again as the incredible eight-piece tribute Sound of Springsteen returns to rock you with Bruce Springsteen's greatest hits and deep cuts on Sunday 26 February; partner up with Strictly champ Giovanni Pernice as he packs up his glitterball trophy and invites you to join him and an outstanding ensemble of dancers and singers in Made in Italy on Friday 10 March, and go to the Top of the World on a musical journey through the glittering career of pop's most famous brother and sister duo in The Carpenters Story on Saturday 11 March, featuring the outstanding vocal talents of Claire Furley as the unforgettable Karen Carpenter.
Go Beyond the Barricade on Sunday 12 March for a brand-new show featuring past principal performers from the glorious musical Les Misérables singing the very best-loved songs from Broadway and the West End, with a stunning finale from Les Mis; live Life in the Fast Lane once again as the Illegal Eagles make a welcome return on Sunday 19 March with their unique masterclass of musicianship; get ready for a real monster of a family show with Shrek the Musical from Blackpool Operatic Players from Wednesday 5 to Saturday 8 April, bringing back all the beloved characters to the stage and proving there's more to the story than meets the ears, and celebrate 70 sensational years of Agatha Christie with a slice of the gripping crime thriller The Mousetrap from Monday 19 to Saturday 24 June.
What are you waiting for?
Book your seats now at Blackpool Grand Theatre before someone else makes a clean sweep and let the good times begin again!
Visit blackpoolgrand.co.uk or call the box office on 01253 290 190 for bookings and further information.
LISTINGS
Grand Theatre, 33 Church Street, Blackpool FY1 1HT
Box Office 01253 290 190
blackpoolgrand.co.uk
Facebook - @blackpoolgrand
Twitter - @Grand_Theatre
Instagram - grandtheatrebpl
Related
0 Comments