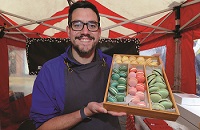 The incredible event - A Taste of Chorley is BACK on the weekend of 11 and 12 June and is set to be the best yet.
The much-loved event showcases the great local food and drink offer in and around the borough, celebrating all the amazing businesses and products that call Chorley home.
This year's event will see a large variety of brilliant local food and drink providers - you can enjoy all the tastes of Chorley right in the heart of the town centre, and purchase some gorgeous artisan produce to enjoy at home.
For the budding chefs, we'll also have a cooking demonstration kitchen, food tasting and recipe and cooking tips! You can even show off your skills by taking part in one of the many competitions which will be running across the weekend*.
The weekend always draws in an incredible number of visitors to Chorley and provides a great boost in the local economy. Last year, over 3500 people attended, and we are looking to have even more join us this year.
If you're a local trader interested in getting involved and being a part of the event, please visit https://checkoutchorley.com/atasteofchorley/ and register your interest with the team.
Chris Sinnott, Deputy Chief Executive of Chorley Council said, "It is great that A Taste of Chorley will be back in June.
"It's always brilliant to see so many visitors in the town centre enjoying an event that promotes the brilliant food and drink offer in Chorley. Chorley is a force to be reckoned with and I can guarantee that anyone who comes along to the event will be able to taste some incredible food and drink and even pick up some tips they can use at home!
"Events like this really showcase what Chorley has to offer so if you're a local trader looking to get involved, please get in touch with the team as soon as possible.
"This is just one of an incredible series of events we've got taking place in Chorley this year. Find out more about what's on at www.checkoutchorley.com."
The town centre is set to be a hive of activity and those looking to do even more that weekend with the family can take advantage of the entertainment at Market Walk.
What are you waiting for? Tell your friends and family and get the 11 and 12 June set in the diary!
Related
0 Comments