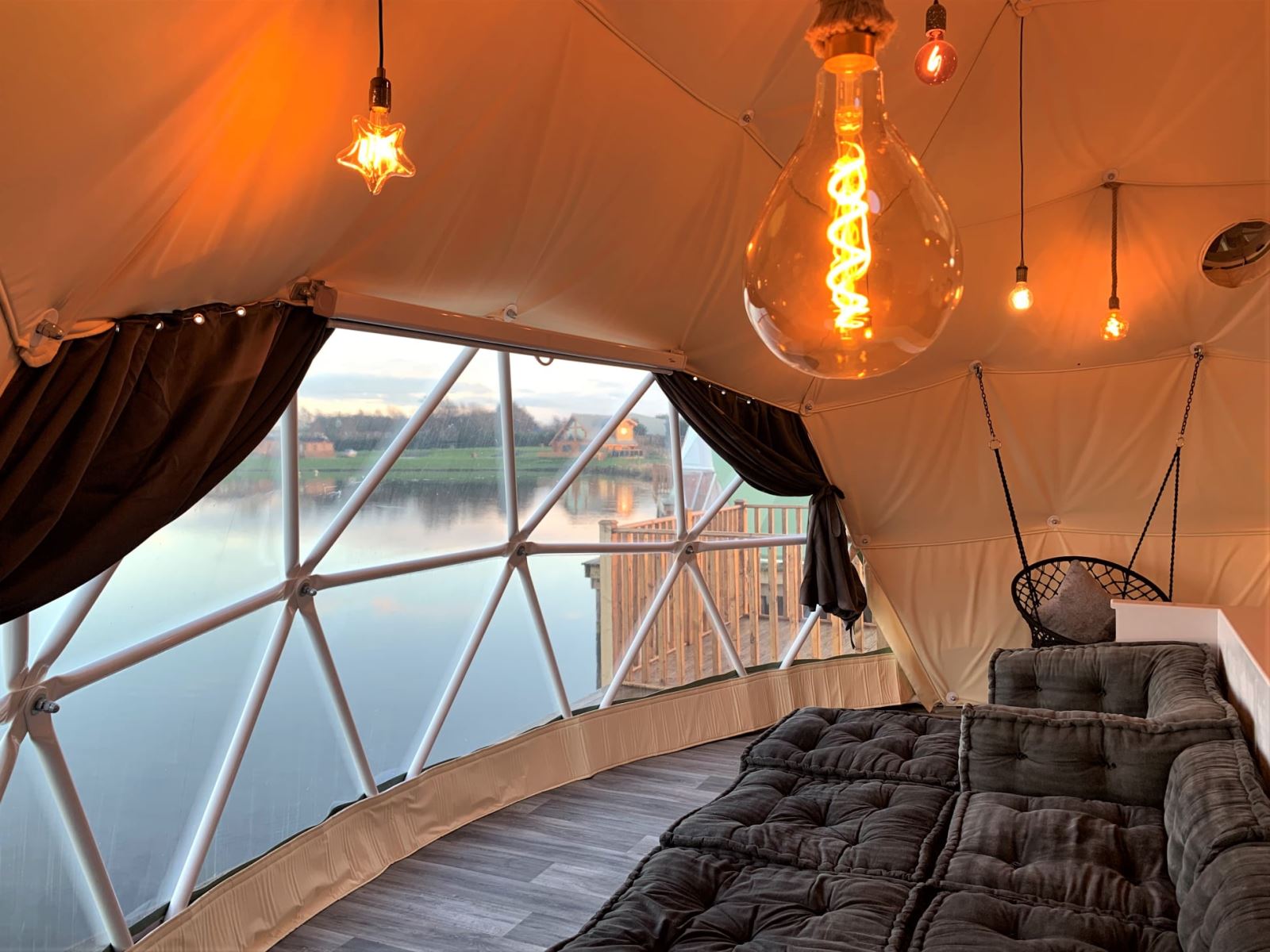 Ream Hills Holiday Park invites guests to experience a magical staycation in the heart of the Lancashire countryside.
Located only 10 minutes away from the bustling seaside resort of Blackpool, nestles a rural haven perfect for families, friends and couples looking for something a little out of the ordinary.
The spectacular Geodesic domes were imported from a specialist design firm in Poland. The captivating architecture, rural surroundings and simplistic, yet luxurious, interiors offer guests a swoon-worthy destination to add to their to-go lists.
These comfortable, contemporary, central heated Geodesic Domes sit on wooden platforms suspended over the lake, giving guests a spectacular experience of the water and the green fields and woodlands beyond.
Minimal and stylish, yet fun and cosy, guests will love settling down on large comfy sofas to enjoy the lovely views from under the comfort of the fabric ceiling. A fun swing chair also sits among pretty lighting constellations which are suspended from the ceiling. There's even a pull down screen where guests can enjoy a movie night together in style.
Young children will love settling down to sleep in the two hammock beds and will no doubt soon rock themselves to sleep while parents enjoy a glass of wine and a movie. There is small, handy sink for late night glasses of water and teeth cleaning. And when parents hit the hay, they can snuggle under crisp white sheets and cosy duvets to enjoy a peaceful night's sleep. Pretty throws and scatter pillows add colour and character.
The Domes are self-catering and have a separate, private amenity building, housing a fully equipped kitchen, dining area and bathroom with shower just a short stroll – a few metres – away. The private amenity is exclusive to each Dome and has all the modern conveniences and is stylishly simple with neutral colours and wooden floors. There is a dining table where guests can enjoy hearty breakfasts and plan the day ahead. When the weather is warm and the sun shines late into the evening, each Dome is surrounded by its own decked area where guests may sit out and enjoy the views of the lake and countryside beyond.
Younger children will love to explore the family friendly surroundings and will find plenty to do including a wooden play park. Older children and adults can take the opportunity to try out watersports on the lake. Kayaking, paddle boarding and wakeboarding are just a few of the activities offered by the adjacent Blackpool Water Park - which also boasts a 'wipeout' style Aqua Park.
All availability and pricing can be found via the website and bookings can be made online or over the telephone on 01253 836587.
Related
0 Comments