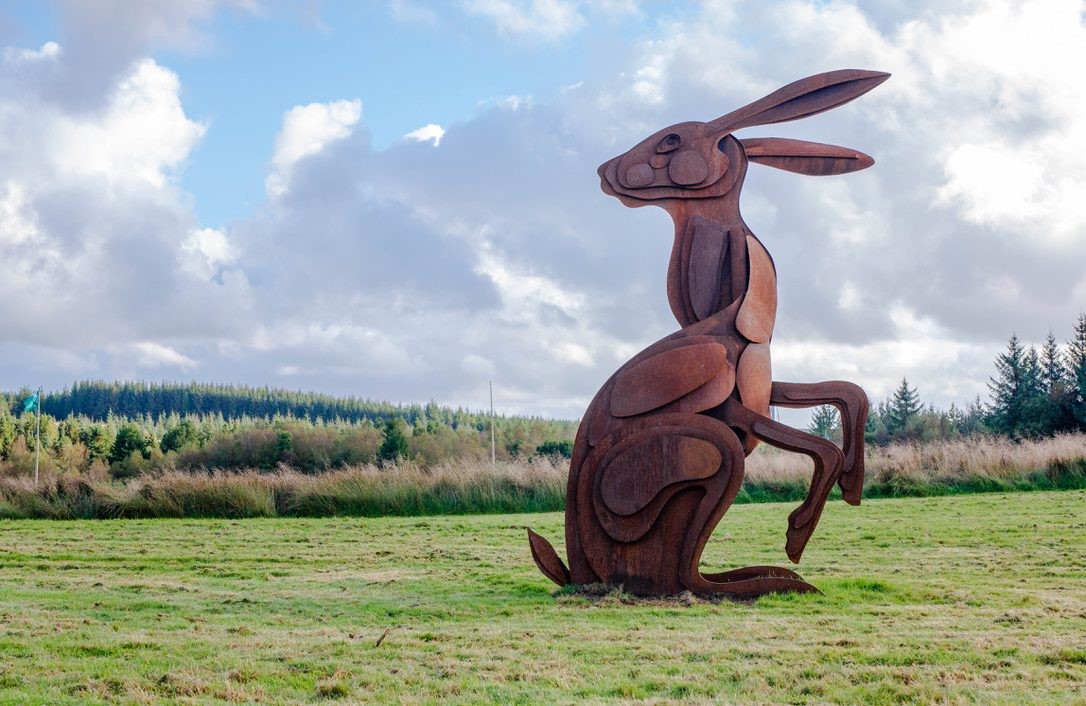 Sculptor, Marjan Wouda, and storyteller, Jacqueline Harris, will celebrate the hare in Lancashire folklore and landscape through an afternoon of shared art and story in Gisburn Forest.
At the foot of Marjan's 3.6 m. sculpture, Bowland Hare, and around a fire pit in the woods, they will explore the significance of the hare in Lancashire folklore and the Forest of Bowland.
They will tell the story of "The White Dobbie" – a story of ghostly encounters with a spectre that instilled dread in the local community, and his creature companion: a white hare, sharing these tales from their first book in the new "Storylore" series. This event will allow visitors glimpses of the stories, books and sculptures the duo are developing, as a way of bringing back to life our shared heritage.
Marjan Wouda: "My dream is to return the most powerful story characters in sculptural form to the places that inspired it. To bring them back into our consciousness and provoke us to be more aware of our environment."
Jacqueline Harris: "We are aiming to create a series of beautiful books which will immerse the reader into new landscapes and celebrate these timeless Lancashire stories that deserve to be remembered. We want to get to the very heart of each of these stories of place by telling them with words and images in equal measure, leaving lots of space for the imagination."
There will be the opportunity to buy the book hot off the press for the introductory offer of £10, along with an added free gift of a set of 3 postcards depicting some of Marjan Wouda's sculptures.
The creation of the steel sculpture was made possible through generous support from Castle Fine Arts Foundry and Steel Dynamics and is hosted in this location by Forestry England until the end of February.
Related
0 Comments