A stunning artistic interpretation of the car that played a starring role in the hit film, The White Tiger, is to go on display in Blackpool town centre.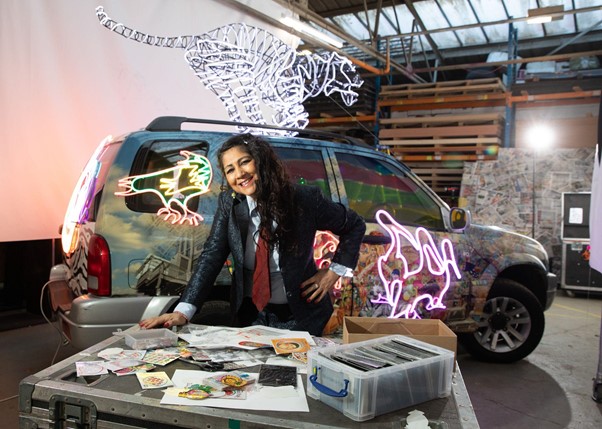 The car, which includes a spectacular illuminated white tiger on its roof, has been created by the renowned international artist, Chila Kumari Singh Burman. It will be exhibited in the former Disney store in the Houndshill Shopping Centre from Saturday 18 September to Saturday 30 October.
The car was created to celebrate the Netflix launch of the critically-acclaimed film, which is based on the New York Times bestseller and 2008 Man Booker Prize-winning novel of the same name.
The White Tiger car will be on display in the Houndshill Centre each day during normal opening hours until October 17. Between October 18 and 30*, the opening hours will be extended until 10pm each night so Lightpool Festival-goers can see her work up close.
Chila is a much-lauded artist who has just completed a large-scale neon exhibition in London's Covent Garden. Last year, she transformed the iconic façade of the Tate Britain in the capital.
In October, she will be unveiling a new commission on the front of Blackpool's Grundy Art Gallery to celebrate the resort's annual two-week Lightpool Festival.
Here, visitors will be able to delight in a riotous display of multi-coloured new light works that have been specially commissioned for the exterior of the building. Brought together under the title, "Blackpool Light of My Life", the exhibition is the artist's love letter to the town which she visited regularly as a child, with Blackpool Illuminations being an abiding memory.
Cllr Lynn Williams, Leader of Blackpool Council, said: "We are thrilled to be able to display two pieces of work by a truly internationally-renowned artist. By placing the White Tiger car in the Houndshill Centre it will make it accessible for residents and visitors alike. "And we can't wait to see the transformation of the frontage of the Grundy Art Gallery for the start of Lightpool Festival."
Chila said: "The collaboration with Netflix has been wonderful the whole time I was making my car.
"I've taken inspiration from every scene in the film and tried to cover its main themes, from capitalism and corruption to injustice and poverty.
"The animated tiger on the roof captures the solitary pounce of the white tiger and contrasts with the bold neon, colour, and overall design of the car."
* The appearance of the White Tiger Car in Blackpool is part-funded by the European Regional Development Fund and utilises an award from the main Welcome Back Fund.
Related
0 Comments