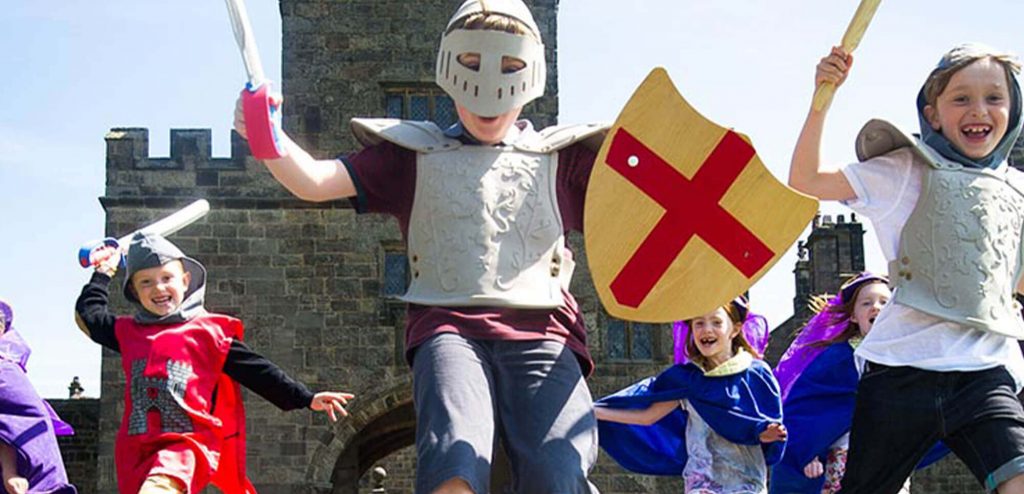 Steeped in history and commanding breath-taking views across Lancashire, Hoghton Tower is a spectacular 16th-century Elizabethan fortified manor-house.
Visitors of all ages will be enchanted by Hoghton's extraordinarily rich heritage which spans more than a thousand years of tumultuous British history.
Explore the ancient Tower and discover secret passages, priest holes, mysterious wells and deep, dark dungeons as guides re-tell fascinating tales of the illustrious visitors Hoghton Tower has hosted – from King James I to Shakespeare and Charles Dickens.
With its striking drive, amazing views and impressive architecture, Hoghton Tower also had a starring role in many film and TV productions.
Sherlock Holmes, Life on Mars and Peaky Blinders have all been filmed there.
Walk in the footsteps of Adrian Dunbar, Robbie Coltrane, Derek Jacobi, David Tennant, Lily Cole, Cillian Murphy and Helen McCrory as you explore Hoghton Tower's lush interiors and big, beautiful backdrops.
Outside the property is surrounded by beautiful grounds and gardens.
The open piece of land in front of the house, known as the Tilting Green, was used in medieval times for jousting while to the rear of the manor house are three magical walled gardens.
The Wilderness Garden with its large, lush lawn fringed by a textured herbaceous border and beautiful topiary. Leading to the East Wing are the romantic Dorothy Steps and, just beyond the parapet walls, you can glimpse the ancient fairy-tale woodland.
A narrow doorway leads to the Rose Garden, the most formal and intimate area of the grounds. In high summer, magnificent roses dazzle the senses.
The last doorway leads to the striking Ramparts Garden with its views over the castellation to miles of Lancashire countryside and, beyond that, the distant shimmer of the Irish Sea.
Hoghton Tower also plays host to a huge range of special events throughout the year, including atmospheric 'spooky' tours, seasonal trails, farmers' markets and live family theatre.
Visitors can pre-book a delicious afternoon tea as part of a trip to the Tower and Gardens, as a standalone treat, or to make a day out or catch-up with friends all the more memorable.
Timeslots are available from Wednesday to Sunday.
Hoghton Tower, Lancashire, PR5 0SH, T: 01254 852986, mail@hoghtontower.co.uk
WHAT'S ON AT HOGHTON TOWER
Monthly Farmers' Market – Next one: Sunday 19th September 2021
Hoghton Tower Farmers' Market is a monthly celebration of Lancastrian fresh food and crafts; a wonderful way to pass Sunday mornings with your family and support local farmers, producers, crafters and artists. The market is held on the third Sunday of every month. Explore the finest produce Lancashire has to offer, from traditional pies and cheese to delicious fresh seafood. Choose from a mouth-watering selection of cakes, brownies and muffins, treat yourself to a coffee, and even pick up some local gin for later!
28th August – Crafty Vintage, August Bank Holiday - A fabulous three-day event that will lift your spirits and give you an enjoyable, safe environment, to shop and treat yourself from the vast array of vintage, collectibles, art and crafts that have been lovingly brought to you from small independent local businesses. Enjoy succulent street food whilst our resident mixologists prepare your favourite cocktail to sip whilst you kick off your shoes and settle down on the magnificent tilting lawns to enjoy a fantastic line-up of live music and entertainment.
29th August – Outreach Opera, Last Night at The Proms - Outreach Opera return to Hoghton Tower for their annual Last Night of the Proms open-air concert, in the beautiful setting of the Wilderness Garden. Gates open at 6pm with Outreach Opera taking to the stage at 7pm. Pack your picnics and bring your friends for this family event on the lawn. Outreach Opera will take you on a musical journey from opera through to songs from the musicals, finishing with much loved traditional British anthems, including Land of Hope and Glory and Jerusalem, for those who enjoy a flag waving, sing-a-long. Join musical director and pianist Chris Ellis, alongside sopranos Georgina Rosanna Murray and Helen Latham, with tenor Brian McNamee as they deliver a musical feast, for a Last Night of The Proms concert that truly is not to be missed!
24th September – Murder Mystery Cocktail For Murder - Murder Mystery COCKTAIL FOR MURDER 5:30pm, Friday 24th September Tickets: £35 pp. A delicious meal will be served at 5:30 pm and the Murder Mystery will begin at 6:30pm with an expected finish time of 8:30pm. During a cocktail party at Oglin Hall, the ancestral home of the head of the British Board of Film Censors, Lord Oglin, the body of actress Beverley Hills has been discovered in the grounds. Was it murder or a publicity stunt that went badly wrong? Hoghton Tower's Murder Mystery evenings are always well received and often sell out quickly so book your tickets fast. Panto-Crime is the group that performs the Murder Mystery and each and every time, all our visitors have told us how brilliant their evening was so why not experience it for yourself?
Related
0 Comments