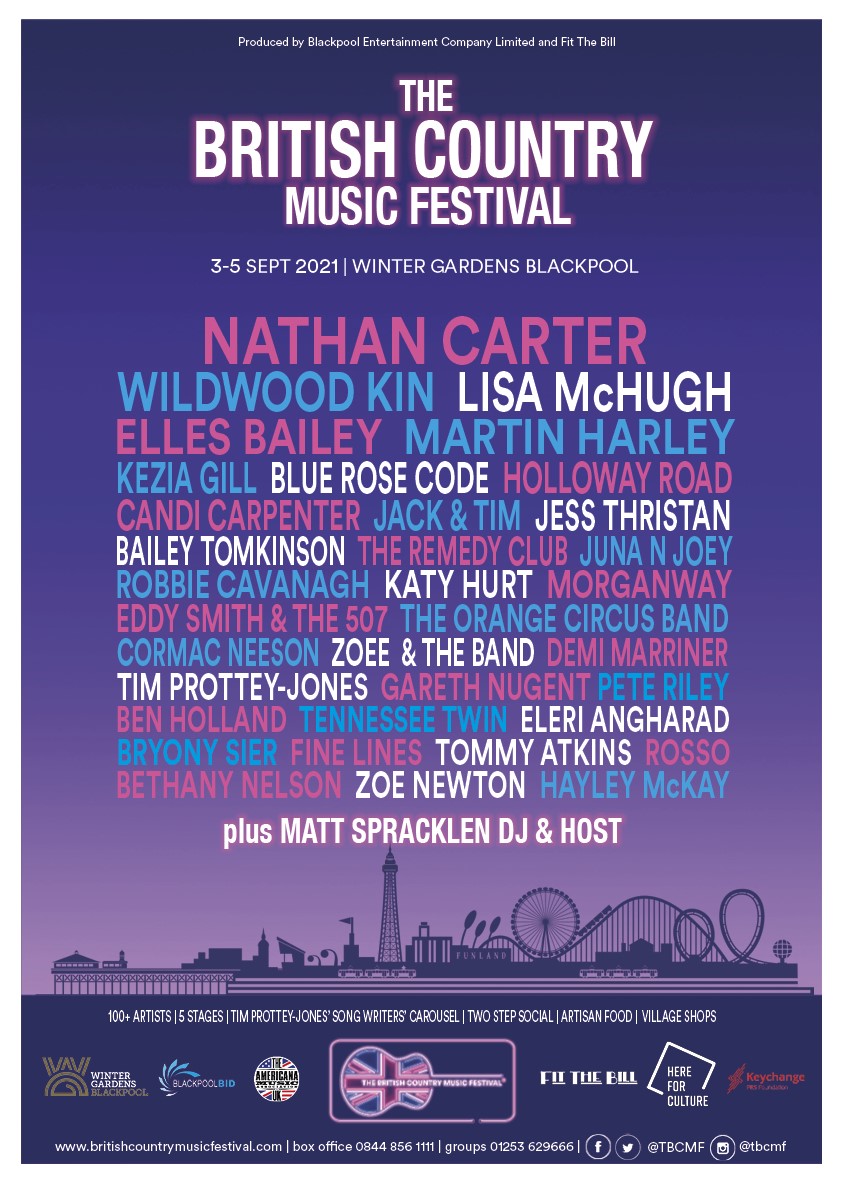 The British Country Music Festival (TBCMF) has announced the go ahead for 2021. The three day event will take place from the 3rd-5th September 2021 at the Winter Gardens, Blackpool and organisers have revealed the line-up. The three headliners will be Ireland based Nathan Carter, who takes the top spot on Friday's opening night, Wildwood Kin headline on Saturday and Lisa McHugh will be leading the Sunday programme.
Nathan Carter, although born in Liverpool, now lives in Ireland, the birth place of his parents. He is one of the Emerald Isle's most successful artists, outselling One Direction, Pharrell Williams and Michael Buble, becoming the first country act to reach number one in the Irish charts in 2013 after Garth Brooks six years earlier. With over 12.5m streams this year alone and almost 878k listeners in 89 countries, Blackpool is readying itself for a deluge of Irish fans to be in the resort for the festival weekend and the world famous illuminations.
Sisters Beth and Emillie Key and their cousin Meghann Loney, collectively known as Wildwood Kin, are from Exeter and they continue to be one of the most popular bands on the contemporary country and alternative folk scene. The girls completed a headline tour in the UK to support their self-titled album, before touring Europe. Their music continues to secure national radio play for their stunning harmonies and impressive song-writing and they are also building a reputation for electrifying, live performances.
The third headliner Lisa McHugh, originally from Glasgow and originally of Irish descent, also returned to live in her parents homeland ten years ago. She has won 'Female Vocalist of the Year' five times, as well as 'Outstanding Achievement On The World Stage' when she performed at the Grand Ole Opry. Lisa has released seven albums and 13 singles, an impressive 11 of which have risen to number one on the iTunes country chart.
Marina Blore from Fit The Bill, promoters and creators of the festival said: "Following a very tough year for live entertainment, we are thrilled to be back with The British Country Music Festival following its successful launch in 2019. It's more important than ever that we support homegrown performers, many of whom have struggled for survival in 2020. "
She added: "In addition to the great line-up on our main stage in the iconic, candlelit Empress Ballroom, our support stages are packed with emerging and breaking talent and we cannot wait for our festival family to discover new artists at TBCMF in Blackpool, that is always the most exciting part. "
The British Country Music Festival will provide a platform for over 100 singers and musicians on five different stages throughout the weekend and every artist due to perform in 2020 has been moved to 2021, to ensure that no performer loses out on the chance to appear at the festival.
Supporting artists include Elles Bailey, Martin Harley, Holloway Road, Bailey Tomkinson, Kezia Gill, Blue Rose Code, Katy Hurt, Cormac Neeson and Jess Thristan (for full list see poster).
The British Country Music Festival celebrates the best of UK country and Americana and is unique in concept because 98% of the artists are from the United Kingdom. A couple of exceptions will be a guest performance from American breakthrough, country artist Candi Carpenter, of whom Dolly Parton said: "Candi Carpenter is one of the greatest singer-songwriters I've ever heard, bar none. I became a fan when I heard some demos and said, "That girl's a star. I think you'll agree." Candi will be taking to the stage on Sunday afternoon supporting Lisa McHugh. Also from across the pond, Nashville based Juna N Joey, who exploded organically on YouTube with over 7.2m collective views, will be performing on the Arena acoustic stage.
The British Country Music Festival takes place in the spectacular Winter Gardens indoor complex in the centre of Blackpool, the UK's best loved seaside resort, a town with a heritage steeped in entertainment. The Victorian, gilt Empress Ballroom is home to the festival main stage and artists at TBCMF will be following in the footsteps of Prime Ministers and Presidents from Winston Churchill to Bill Clinton and music legends including The Rolling Stones and Ed Sheeran, all of whom have presented key speeches and legendary concerts on the very same stage.
For more information and tickets visit www.britishcountrymusicfestival.com and follow @TBCMF on FaceBook and Twitter and #tbcmf on Instagram.
Related
0 Comments