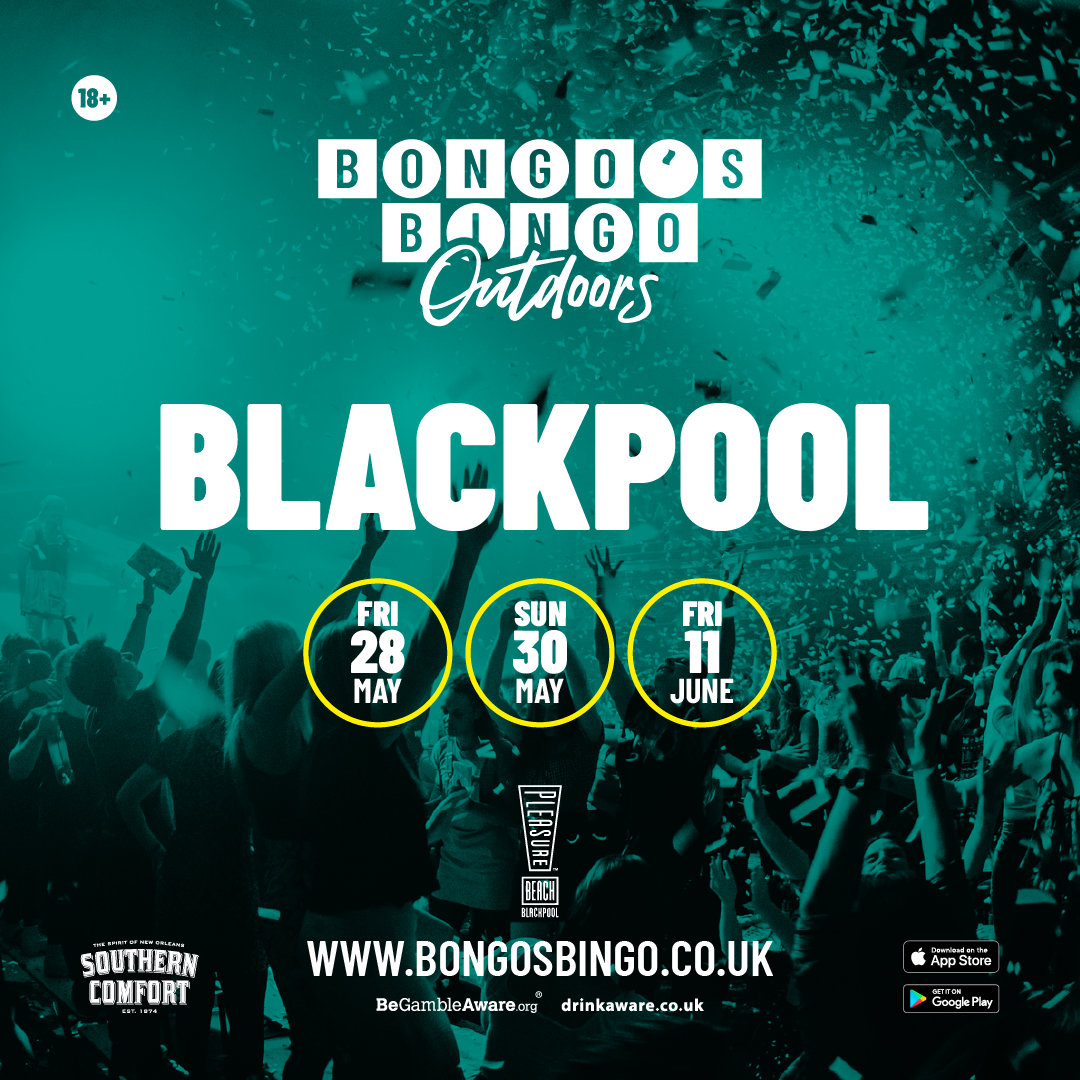 The award winning Bongo's Bingo are incredibly excited to be back at Blackpool Pleasure Beach this May and June as the summer starts to really sizzle on the Lancashire coast.
The UK's original bingo rave phenomenon is following on from a series of Outdoors shows last year across the UK. As the country begins to open up again, this trio of dates will be chock full of magic, mayhem and a very health dollop of nostalgia and escapism. There are two shows across the 2nd May Bank Holiday weekend – Fri 28th and Sun 30th, then Friday June 11th.
Tickets go on sale from 6pm Thursday 13th May at www.bongosbingo.co.uk
Last summer, the Outdoors concept has brought thousands of people back together across the UK in safe, socially distanced spaces for some under the sun and stars bingo brilliance. And now it's time to buckle up again, hold tight and get ready for the really big one, as Jonny Bongo and the guys present three epic events at the iconic seaside setting.
Jonny Bongo says: "We are gearing up for a fantastic Bongo's Bingo summer and our Outdoors shows are going to be amazing at Blackpool Pleasure Beach. We know it has been such a difficult time for so many and want to bring some smiles back and give everyone some much needed fun. It's great to be coming back."
Expect a liberal allocation of celebrity cardboard cut outs, fluffy pink unicorns, crowd renditions of Mr Brightside, dance offs, many hands in the air moments and a mobility scooter or three for very good measure.
Bongo's Bingo combines the much-loved quaint pastime of bingo with a mesmeric live show, crazy antics and weird and wonderful prizes which have helped create one of the most talked about nights out in the country, with pre-pandemic close to 2m tickets sold and pre-pandemic taking place in 50 locations globally. Bongo's Bingo is a night full of madness, mischief and shared euphoria, with dancing and cheering to hits from across the ages all night long – imagine N Trance's Set You Free filtered via S Club and Gerry Cinnamon, to en-masse crowd karaoke renditions of Total Eclipse of the Heart.
Bongo's Bingo – Outdoors
Friday May 28th, Sunday May 30th, Friday June 11th
Blackpool Pleasure Beach, 525 Ocean Blvd, Blackpool FY4 1EZ.
Times: Doors 6pm Last Entry 7.30pm First Game 8pm
Related
0 Comments