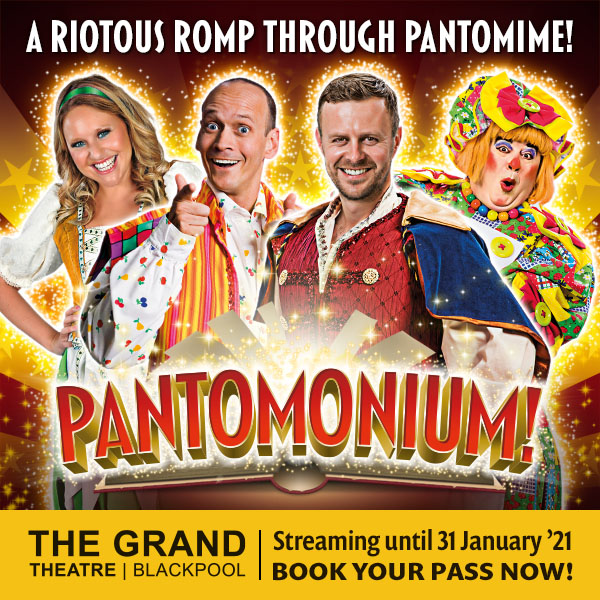 The UK Government confirms Blackpool, Lancashire will remain in Tier 3. However, Blackpool Grand Theatre and UK Productions Ltd are not going to let Covid ruin their customers' Christmas!
Despite the Grand Theatre having to remain closed, they are going ahead with an all-singing, all-dancing digital pantomime that you can enjoy in your own home.
Yes, Blackpool Grand Theatre is recording the fabulous PANTOMONIUM!, using an incredible number of high-definition cameras, so viewers get right in the action when it is broadcast online so that you can watch safe at home with all your family.
You will be able to watch the film on your tablet, laptop or connect to your Smart TV (through a browser, Apple TV, or Firestick).
Tickets to the live theatre show were £25.50 each. However, for the at-home film presentation, your whole family can enjoy a great night in for the price of just one ticket. Great value, I am sure you will agree!
The cast, theatre staff, and the creative team have all been working non-stop to ensure they were GOOD TO GO! This dedicated group of people will not be defeated, because this Christmas we all need some Magic and Sparkle!
Customers who have purchased tickets to the show will be contacted asked if they would like to transfer to the new Digital Pass to see the film. You do not need to contact the theatre.
Ruth Eastwood, Grand Theatre Chief Executive said, 'It's been a roller-coaster there's no denying it, for our customers, our employees, our programme, the whole industry and the incredible creatives that make theatre magic.
'We're all 100% invested in making Pantomonium! happen, one way or another and filming a production in this way will be a first and we've brought in some incredible local talent to make it happen.
'We want everyone to be safe and follow the guidelines. The industry is having to adapt quickly but it does need support both from the government and locally from its community. Blackpool's Grand has stood 126-years with a loyal and supportive community, it has never been more needed then at a time like this.'
The theatre is calling on Blackpool, Fylde, Wyre, as well as the whole of the UK in supporting the theatre and the industry in purchasing a Digital Pass via with new website www.blackpoolpantomime.com.
Purchasers will have until the 31 January 2021 to watch the PANTOMONIUM! film and can watch it as many times as they like. So maybe it can be your Christmas Eve film, Christmas Day Blockbuster, or Boxing Day surprise – or maybe all three!
Following London's additional West End closure, you will have seen the whole the theatre and creative industry has been hit hard over the last 10-months and it is expected to continue to impact way into 2021. For all theatres and entertainment venues creating shows it is important to realise the impact this has on the schools and communities that benefit from working with the theatre and participating in the arts.
The Grand Theatre has moved to creating a film of the production to help them. at least. cover some of the costs they have already outlaid in preparation, rehearsals, technical equipment hire, sanitisation, Covid signage and more.
The theatre is hugely grateful to Jon Monie, writer and creator of Pantomonium!, Martin Dodd at UK Productions, Steve Royle, Tom Lister, Olivia Birchenough and Nick Wilton who have all given time and their support to the production, without them the show was not even possible.
Martin Dodd, UK Productions Producer said 'In over 25-years of producing theatre never have I seen so much passion put in to creating a show. The venue, the cast and my creative team have been working non-stop as we are all so aware how much this is needed for everyone, both customers and those within the industry. Christmas without pantomime would just not be the same.
This will be UK Productions only pantomime this year, so everything is going into it, we're all learning how to deliver theatre in a new way.
Producing this show has brought the UK Productions family closer together than ever and with The Grand we are going to give a Pantomonium! celebration to everyone this Christmas!'
Only if you can, please support Blackpool Grand Theatre and their ongoing Recovery Fund at www.blackpoolgrand.co.uk/recoveryfund
Related
0 Comments