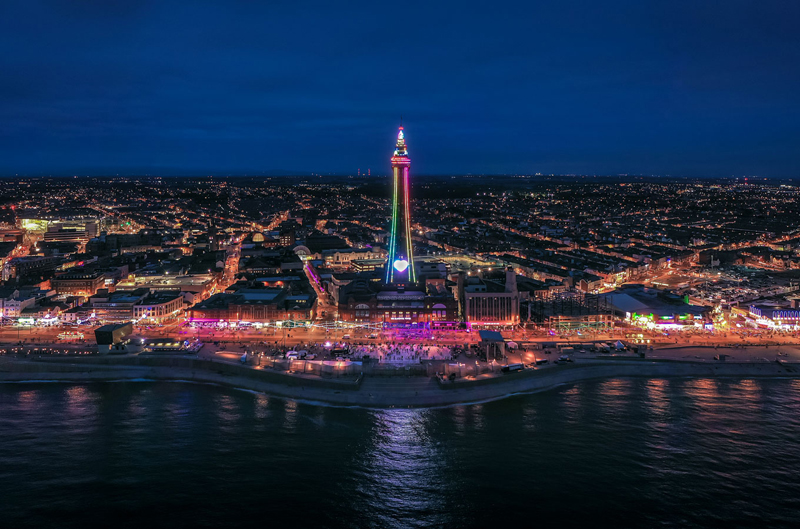 Blackpool is lining up a brilliant assortment of family entertainment for the October half-term holidays.
From the famous Blackpool Illuminations lighting up the skies each night to spine-tingling Halloween horrors, the resort has an extraordinary array of COVID-safe indoor and outdoor events and attractions to brighten the autumn gloom.
Here's a selection of just some of the things to do in Blackpool over half-term which have all the necessary measures in place to ensure you have a safe and enjoyable time.
Blackpool Illuminations
Autumn wouldn't be the same without the world-famous Illuminations. The free display along the entire length of the promenade has some great new features for 2020 including a touching hearts and rainbows tribute to the nation's key workers; a World War II replica Spitfire with a spectacular laser show; and a reimagined Pirate Tableau in partnership with Coral Island.
For the first time ever, Blackpool Illuminations have been extended until January 3, 2021, giving you even more time to visit us when the time is right for you. Even better, it's also the perfect excuse to visit again when the kids break up for Christmas! Explore the Blackpool Illuminations here and check out the switch-on times for this year's display, plus more illuminating info.
Heritage Tram Tours
Our illuminated tramcars have been a feature of Blackpool Illuminations since the very start. Climb aboard a piece of moving history and travel along the promenade and Golden Mile, passing the three piers, the iconic Blackpool Tower and the illuminated tableaux section at Bispham. The illuminated fleet returned to the tracks this October, giving you an opportunity to not only see the light spectacle but be a part of it. Unlike previous years, where you could spontaneously board one of the trams at one of the designated Heritage tram stops, you need to book in advance. Spaces are limited due to capacity measures, so we recommend booking ahead of time.
Book your Illuminations tram tour here
Attractions Galore
October is a time of year when some places are bunkering down for the winter. Not here in Blackpool where we have the biggest portfolio of attractions outside London. Take your pick from Blackpool Pleasure Beach with its amazing new ICON rollercoaster and Nickelodeon Land; Sandcastle Waterpark; SEA LIFE; Blackpool Zoo; Coral Island; three piers; illuminated and heritage trams; the Blackpool Tower Dungeon; The Blackpool Tower & Circus and Madame Tussauds with its Marvel Super-Heroes and Strictly Come Dancing interactive exhibitions.
Browse all of Blackpool's top attractions here
Top tip: Once you know your travel dates, we recommend booking any attractions in advance, especially leading up to the half-term holidays. Due to COVID-19 measures, many attractions are operating at a lower capacity than normal, which means they are booking up and selling out more quickly. Take a look at how attractions in Blackpool are keeping you safe.
Halloween Horrors
We've got ghost trains, socially-distanced ghost walks, ghost trams, and a Haunted Hotel tableau in the Blackpool Illuminations - in fact, more ghosts than you can shake a stick at! Watch out for a stack of electrifying events at various attractions including The Blackpool Tower Dungeon and Blackpool Pleasure Beach which, from October 27-31, will host the return of Circus of Horrors in the Globe Theatre. Blending horror, rock music and burlesque with unbelievable acts, Circus of Horrors is a show to make your pulse race. The show kicks off at 8pm or you can opt for the child-friendly shows at 4pm.
Click here for more spooky fun!
Fearsome Craftsmen
JORVIK Viking Centre in York have invaded the Winter Gardens with their exciting touring exhibition, Fearsome Craftsmen. Located in the Pavilion Theatre, the exhibition is a fun, educational look at expert craftsmanship, featuring rare archaeological findings and replicas on display. Discover how gnarly Vikings turned simple materials into complex objects and explore the sights and sounds of the Viking age with a replica boat, house, market stalls and even a toilet! Learn how advances in Viking boat technology eventually led to the development of a thriving trade network, with Lancashire establishing an important position on this well-travelled route. It runs until December 13.
THE LIGHTS - Grundy Art Gallery
THE LIGHTS, shorthand for the Blackpool Illuminations, is a free exhibition showcasing and celebrating Grundy's light-themed collection curated over the last five years, giving viewers the opportunity to see the artworks altogether for the very first time. It includes works by world-renowned contemporary artist Tracey Emin; one of the originators of 1960s conceptual art, Joseph Kosuth; and five new works that have been brought into the collection this year. Perfectly timed for the Blackpool Illuminations, expect clashes of colour and a dynamic array of neon, moving image, photography, digital drawing and sculpture. Runs until Saturday 19 December.
Find out more about the new exhibition here
Embrace the outdoors
October is one of the most colourful months to explore the open spaces Blackpool has to offer. On milder days, the invigorating sea air is the perfect ingredient for a relaxing stroll down the six miles of promenade and beach; the lush 82-acre landscape at Stanley Park, voted the best UK park in 2019, dramatically turns into an abundance of rich red and yellow hues with pathways blanketed in crunchy leaves, making way for endless photo opportunities; and our three piers offer a refreshing walk over the waves. Sometimes it's the simple things that matter the most on holiday, so bask in the autumnal air, recharge your batteries and discover our wide open spaces.
Throughout October, we will be sharing tips on our Facebook and Twitter on how you can #EscapeTheEveryday in partnership with VisitEngland, so make sure you give us a follow.
Stay A While
Whether you're looking for a quick last-minute getaway or a short but action-packed break, our businesses can't wait to welcome you for your autumn staycation. Many of our accommodation partners are still taking bookings for October half-term breaks and beyond. From cosy B&Bs, holiday parks, national names to self-catering options, there's something for everyone. Find your accommodation here.
We also recommend checking out our Know Before You Go guide, which gives you the latest information on the COVID-safe guidelines to follow in Blackpool, as well as the safety measures our attractions and accommodation are taking to keep you safe in the resort.
For the full list of everything that Blackpool has to offer go to www.visitblackpool.com
Related
0 Comments