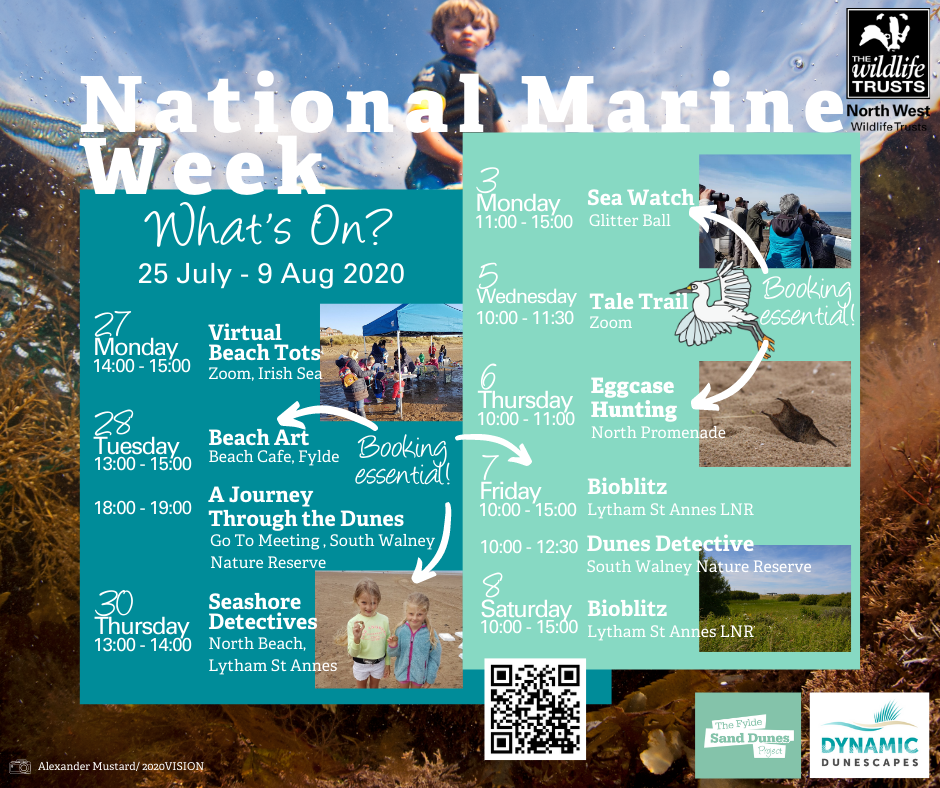 Life's a beach whether you are at home, in your garden or actually on a beach over the next two weeks.
The North West Wildlife Trusts are inviting you to discover and celebrate our wonderful shore and Irish Sea during National Marine Week, which runs from Saturday July 25 to Sunday August 9.
Marine Week is a full fortnight to take advantage of the tides, and we are running a range of live - socially distanced - and online events. Why not join The Wildlife Trust for Lancashire, Manchester and North Merseyside in celebrating our fin-tastic seaside wildlife?
Together with our partner Wildlife Trusts in the North West (Cumbria and Cheshire), we're launching the biggest Beached Art sand sculpture competition ever.
All you need to do is head to your local beach (or even a sand pit in your garden), get creative and send us a picture of your #BeachedArt creations. So grab your bucket and spade, and get ready to have fun in the sun (not guaranteed), sea and sand.
The winners – as judged by our independent panel – will receive:
1st Prize - Grey seal adoption pack, a plastic free goodie bag & story trail collection

2nd Prize - Rockpooling kit and a plastic free goodie bag & & story trail collection

3rd Prize - Plastic free goodie bag & & story trail collection
Find out more details and how to enter at https://www.livingseasnw.org.uk/beached-art-competition
Another exciting event running over both weeks is our Coastal Nature Challenge. We're on a mission to spot and record as many different coastal wildlife species as possible this National Marine Week! We're challenging people up and down the coast to get out and look for wildlife on their local coastline.
Whether that's searching for shells on the strandline, looking into crevices and rockpools, exploring the critters that live in our mudflats, or discovering flowers in the sand dunes - we want to know what you see and where you see it.
When you sign up you'll be sent details of how to use the iNaturalist app and submit sightings to our project; spotter sheets, and our coastal code of conduct. No special knowledge or skills are required - we'll provide you with everything you need to make it easy and fun. More details can be found at https://www.livingseasnw.org.uk/coastal-nature-challenge
Other events include:
A virtual Beach Tots session for two to six-year-olds on Monday, July 27 from 2-3pm. Families can book online and then they will be invited to join an adventure in the Irish Sea, while they are sitting at home– there will be a story time and crafts

On the following Monday, there will be a Seawatch, meeting up at the Glitterball in Blackpool at 10.30am. Participants will see and learn about sea birds and, if they are lucky, will spot seals, dolphins and porpoises. Sightings will be submitted to the Sea Watch Foundation to improve understanding of UK marine mammals. Due to Covid-19 restrictions, booking is essential and we will be unable to provide binoculars. Participants are strongly advised to bring their own.

On Thursday, August 6 there will be an egg case hunt, looking for shark, skate and ray egg cases (mermaid's purses) on the strandline. Participants should meet up at North Promenade Car Park, South Promenade, Lytham St Anne's, at 10am.
Events will follow social distancing regulations and there are more ideas for celebrating our wonderful shore and seas on online, including:
Keep the children occupied with the new DIY Shore Life Spotter Guide

Top tips for making the most of the coast this summer, rockpooling guides and more

Information on our amazing marine wildlife
Go to https://www.livingseasnw.org.uk/what-we-do/campaigns/national-marine-week
Related
0 Comments