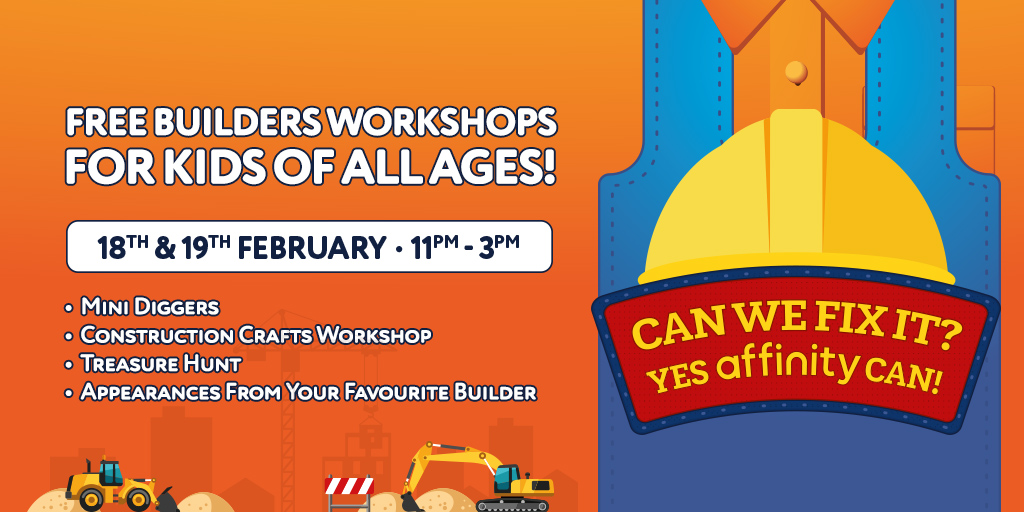 Do you have what it takes to be become the latest apprentice for everyone's favourite builder?
With the opening of the builder's construction workshop at Affinity Lancashire, the main builder himself will be there and recruiting new apprentices to assist him.
This February half term Affinity Lancashire are excited to be offering a 2-day construction experience, free to attend for all ages.
Join us on Tuesday 18th and Wednesday 19th for craft workshops and activities, plus a special appearance from the main builder himself!
The builder's little apprentices will be put through their paces with a number of activities including construction craft workshops, treasure hunts…but remember, safety first! so don't forget to collect your safety gear from the team.
For more event information, please visit https://affinityoutlets.com/lancashire/event/can-we-fix-it-yes-affinity-can/
Can we fix it…yes Affinity can!
Centre Manager, Catherine Holmes comments "We are delighted to be holding our first family event in what will be our very exciting 25th birthday year.
Affinity Lancashire are proud to be able to offer free entertainment for families throughout the year as part of the unique shopping experience available here in Fleetwood".
Dates and times as follows:
18th and 19th February:
Builders Apprentice: 11am and 1:30pm
Treasure Hunt: 11:30am and 2pm
Construction Crafts Workshop: 12:30pm and 2:30pm
Related
0 Comments