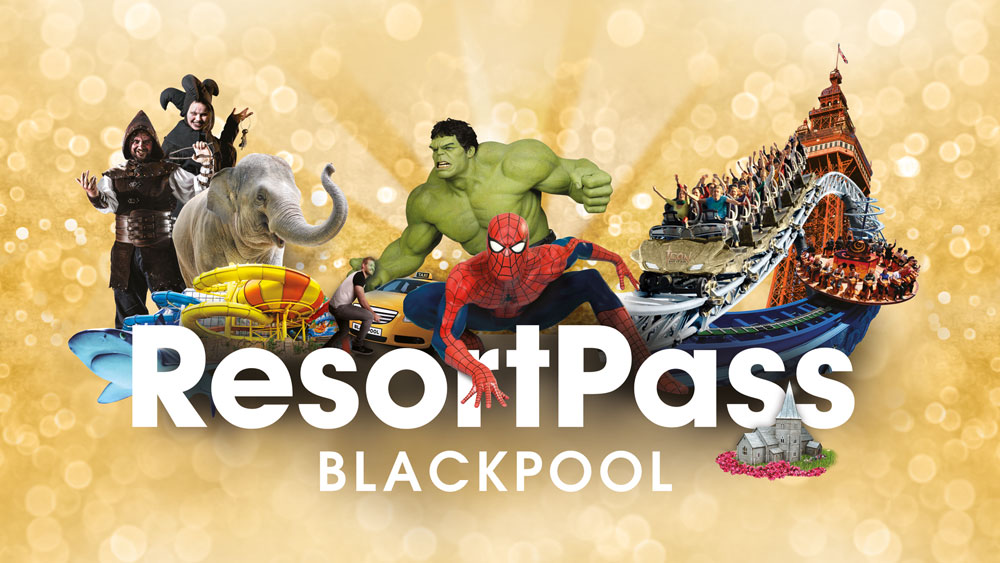 The Blackpool Resort Pass is back for 2020! Visitors will once again have the opportunity to make big savings on their favourite attractions whilst having fun in the UK's most popular seaside destination.
The Blackpool Resort Pass, created in 2013, has increased in popularity over the years as tens of thousands of families have enjoyed their visit to the resort saving extra cash on admission to top attractions, allowing them to spend more on everything else that Blackpool has to offer.
The Blackpool Resort Pass and Pass Plus are handy, easy-to-use cards that provide access to Blackpool's leading tourism attractions for one visit over a seven-day period. The Blackpool Resort Pass gives visitors a huge 45%* saving against standard adult admission prices.
We know that holiday planning usually takes up a lot of organising and lots of printed tickets, but with the Blackpool Resort Pass, you have one ticket for all the attractions and you just need to pop your Resort Pass in your wallet and go!
Its popularity is such that visitors have travelled from all over the United Kingdom and beyond with families, friends and partners taking the opportunity to experience the resort's many attractions.
Many of our visitors time their Blackpool Resort Pass experience with a visit to one of Blackpool's FREE events, from the Blackpool Air Show to the World Fireworks Championship and, of course, the world- famous Blackpool Illuminations.
There are two key options for visitors to ensure they get the most out of their holiday:
The Original Blackpool Resort Pass – Gives visitors access to Blackpool Pleasure Beach, Nickelodeon Land (included as part of the Pleasure Beach), The Blackpool Tower Eye and 4D Experience, The Blackpool Tower Dungeon, SEA LIFE Blackpool and Madame Tussauds.
Blackpool Resort Pass Plus – includes those in the Original Resort Pass plus Blackpool Zoo, Sandcastle Waterpark and Blackpool Model Village & Gardens.
The passes are available to purchase NOW for use from Saturday 4th April, when all of the participating attractions are open daily for the new season. The passes can be activated to be used in any seven-day period up to the end of the Blackpool Illuminations 2020 display, which run this year until the 8th November.
You can also enhance your Blackpool experience by adding extra attractions via bolt-ons to extend your stay.
These bolt-ons include Blackpool Transport bus and tram tickets, which is extremely popular and gives you full access to the whole of the resort.
If you prefer to use your car, do you need to arrange parking for your time with us? The Resort Pass has an exclusive discounted parking bolt-on for just £10.00 for two days or £20.00 for up to seven days. With several central locations to choose from, it's a brilliant offer.
To personalise your visit, bolt on the following extras to your pass: The Blackpool Tower Circus with the beloved Mooky and Mr Boo; the dazzling Blackpool Tower Ballroom and Afternoon Tea; the fabulous Funny Girls show; Ascent Trampoline Park; the Hot Ice Show; Ripley's Believe It Or Not; South Pier's exhilarating Adrenaline Zone; Viva Blackpool shows; and not forgetting Coral Island's amazing food offer.
You can also bolt-on the Sandcastle Waterpark, Blackpool Zoo and Model Village to the Original Pass depending on how many days you are spending in resort.
Prices have also remained the same as last year with The Original Resort Pass priced at £57.50 per person while the Resort Pass Plus is £85.00. Passes are valid for seven days and give users one visit to each attraction.
Cllr Gillian Campbell, Deputy Leader of Blackpool Council said: "The Blackpool Resort Pass had its best year in 2019 with over 19,000 visitors taking advantage of the fantastic savings this one-stop resort ticket offers.
"We want all our visitors to experience the whole of the resort by offering a cost-effective way of doing this and getting the most out of their visit. We work really closely with our attractions, venues and transport in resort to bring our visitors the best offers.
"The Blackpool Resort Pass really is a great way to save money and enjoy all of our top attractions."
The Blackpool Resort Pass has achieved some fantastic feedback from customers over the last couple of years, here is what they had to say:
"Love Blackpool, this pass makes your trip more enjoyable knowing you have your tickets ready."
"The Resort Pass is exceptionally good value for money and I would recommend to friends, especially if they have a large family like myself."
"We'd go again - the kids had a blast and we didn't even see everything!"
"It was great value for money and easy to use. If it wasn't for the Resort Pass, we wouldn't have been able to visit all the attractions."
"Coming from Northern Ireland, it cuts the cost and makes us visit places like the Zoo and Model Village."
The Resort Pass is available to buy in advance online as well as from the VisitBlackpool Tourist Information Centre at Festival House on the Promenade where a booking fee of £2.50 per pass is applicable. Buy your passes NOW to save on visiting Blackpool's top attractions - it really is the best ticket in town! For more information, go to www.visitblackpool.com/resort-pass or Tel: 01253 478222
*Savings based on adult standard door entry
Related
1 Comments