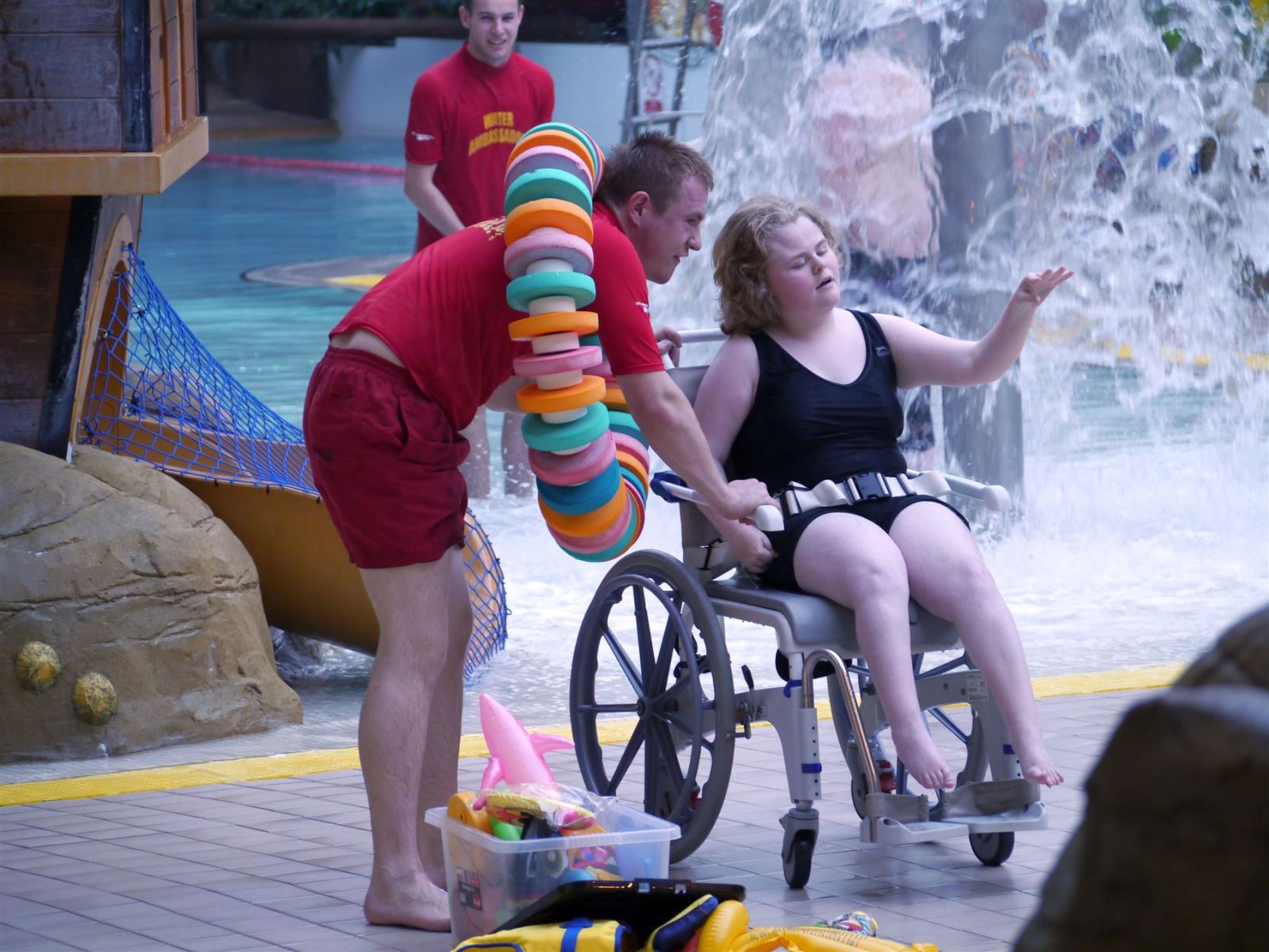 Planning trips away from home when you are catering for someone who has limited mobility and uses a wheelchair, can be daunting; however, I was wonderfully surprised by how easy and super fun our holiday to Lancashire was.
We decided on a big family short break to the Lancashire coast, we opted for a stunning lakeside property at Brickhouse Farm Cottages. I cannot rate these cottages highly enough. Purpose built for families with accessibility needs, they offer level access throughout the ground floor, an accessible balcony and ceiling track hoists, including one for the hot tub!
With a fully stocked fishing lake, recently opened hydrotherapy pool and the Lakeside Bistro, we really didn't need to venture off site if we didn't want to, but with so much to explore why wouldn't you?
First on our hit list was the Sandcastle Waterpark, Blackpool. Widely regarded as one of the country's most accessible visitor attractions, and multi-award winning to boot it is a must for families who love water and splashing about as much as we do.
Nothing was too much trouble on our visit, and we were happy to learn that they also offered support for visitors with other accessibility needs such as hearing and vision impairments and autism which is wonderful.
The Changing Places 'wet room' facility meant that we were able to get changed with ease, and the water wheelchairs took us into the heart of the action with a sloped entrance into the main pool. Whilst we splashed about in the pool, our other party members jumped through waves and whizzed around on slides until our fingers were wrinkly and it was time to go.
Super hungry after spending the day swimming and agreeing a trip to Blackpool wouldn't be complete without having fish and chips, we headed to the world famous Harry Ramsden at Blackpool Tower. We were surprised to learn that the menu was much more than the traditional fish and chips and enjoyed a whole menu of delights including burgers, salads and a giant filled Yorkshire pudding!
With full bellies we headed back to the cottage for some well deserved rest and relaxation.
A new day means a new adventure, as we headed further up the coast to Fleetwood, a beautiful Victorian seaside resort boasting a stunning promenade, Art Deco Theatre, and harbour yacht marina. On this occasion we were visiting Farmer Parrs Animal World, a children's farm park.
Easy to navigate with the wheelchair on the paved paths, we had a fantastic day handling chicks, feeding lambs and meeting the ponies.
On the way back to the cottage we stopped into Notarianni's for one of their delicious vanilla ice creams, using the same secret family recipe since 1928.
The next day after a final dip in the hot tub, we headed home feeling relaxed and full of wonderful memories from our short break in Lancashire. It is definitely somewhere I would recommend and we will be back, as there is so much more we didn't explore.
Other accessible places to explore
Accommodation
Clough Head Farm
The Fence Gate, Pendle
Cross Farm Cottages, Ormskirk
The Glendower Hotel, St Annes
The Red Pump Inn, Clitheroe
Lancaster House
Things to do
The Blackpool Tower
Wyre Estuary Country Park
Windmill Animal Farm, Ormskirk
Blackpool Zoo
The Palace Cinema, Longridge
Related
0 Comments