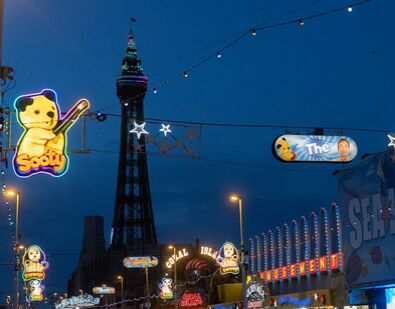 Britain's best-loved bear has been given the ultimate accolade – pride of place on Blackpool's famous Golden Mile.
Giant models of Sooty and his friends, Sweep and Soo, form a brand-new road section in this year's Blackpool Illuminations.
The colourful display is a celebration of the little glove puppet that was discovered on the resort's North Pier in 1948 before going on to become the most enduring character in the history of children's television in this country.
The new display, which also features Sooty's right-hand man, Richard Cadell, complements two other illuminated tributes to the character.
At the north end of the Illuminations, there is a tableau that was installed last year to celebrate his 70th birthday and from mid-October, visitors will be able to see him and his friends in a 3D light projection show on the front of The Blackpool Tower buildings as part of the annual Lightpool Festival.
Richard Cadell said: "Having seen how much people loved the tableau, it seemed only right to finally go one better this year and give Sooty pride of place on one of the most famous stretches of promenade in the world.
"The Blackpool Illuminations delight all generations, and we know that every single person viewing them will know and love Sooty and his friends."
For more information on Blackpool Illuminations, please go to visitblackpool.com/illuminations.
We've still got lots more to look forward to, so save the dates in your diary:
• Blackpool Illuminations – 30 August–3 November – The greatest free light show on earth returns to Blackpool Promenade for another year – FREE
• Lightpool Festival – 11-26 October – amazing light installations, events and projections. More information at www.visitblackpool.com/lightpoolfestival
• Nickelodeon SLIMEFEST – 19, 20 & 21 October – Nickelodeon SLIMEFEST ticketed shows take place on Saturday, Sunday and Monday at the Arena, Blackpool Pleasure. The six shows across three days will feature live performances, games, characters and plenty of slime, music and mayhem! Tickets have no sold out but head to www.nick.co.uk/SLIMEFEST to see how you can win tickets in some amazing competitions.

Related
0 Comments