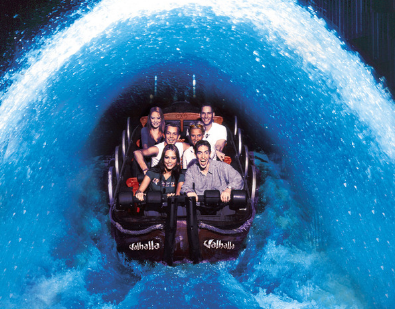 Blackpool Pleasure Beach is celebrating as Valhalla has been named The Best Water Ride in the World for an amazing fifth year running at the recent Golden Tickets Awards.

Representatives from amusement and water parks across the globe gathered at Silverwood Amusement Park in Idaho, USA on 6th & 7th September for the annual ceremony, which recognises the very best in the amusement industry.

The Golden Ticket Awards are presented by Amusement Today, an international publication which covers the amusement park industry. The Golden Ticket Awards were set up in 1998 and have since recognised top parks and attractions each year.

Valhalla was opened in 2000 and has been thrilling visitors to the park ever since with its mix of amazing special effects, including fire and snow, exciting drops and gallons and gallons of water. On opening, the ride represented a £15 million investment and was Britain's biggest privately funded millennium investment.

Blackpool Pleasure Beach's Managing Director, Amanda Thompson OBE, comments, "I am thrilled that Valhalla has been named the world's best water ride five times in a row at the Golden Ticket awards. It's extremely pleasing to see that the ride still regarded as the world's best and is yet another example of the world class line up of rides we have here at Blackpool Pleasure Beach."
Blackpool Pleasure Beach is open daily until Sunday 3rd November. For our best prices visitors can book wristbands online in advance until midnight the day before the visit at www.blackpoolpleasurebeach.com Prices at the gate are £39 for adults and £33 for juniors.

Guests who do not wish to purchase a wristband can buy a Pleasure Beach Pass for £10 which allows them access to the attraction, unlimited rides on the Pleasure Beach Express and River Caves plus trips through the Chinese Puzzle Maze, the chance to enjoy the Spectacular Dancing Water Show and also explore Bradley and Bella's Learning Garden.
Related
0 Comments