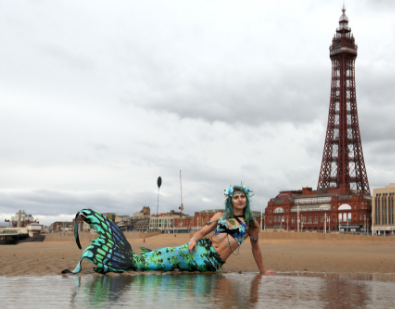 Holidaymakers were left open-mouthed in astonishment…when they spotted a mermaid washed up on Blackpool beach.
Flabbergasted onlookers could hardly believe their eyes as the mythical creature – complete with magical fishtail – caused a dramatic splash.
The show-stopping sight was to showcase a new adventure trail, called 'Pirates and Mermaids', running at SEA LIFE Blackpool throughout the summer. The immersive treasure trail is perfect for the whole family to enjoy. Young visitors can chose whether to be would-be mermaids or pirates and then follow one of two routes to find six pieces of hidden treasure to claim a specially-themed reward.
As well as giving guests an insight into the fantastic and mysterious creatures of the deep, young visitors can also:
Learn to speak 'mermaid'
Colour in a pirate hat or mermaid crown
Learn how to tie 'ship-mate knots' just like a real pirate
'Walk the plank' and have a picture taken in their pirate or mermaid costume
"We can promise visitors and families a wonderful time, learning all about pirates and mermaids, as well as other amazing sea creatures," said Matthew Titherington, general manager of SEA LIFE Blackpool. "It's a completely free addition to the SEA LIFE experience.
"It will also highlight the importance of ocean conservation, with aquarists on hand to talk about different species, such as sharks, turtles and sea horses, the threats they face and what we can do to protect them. To promote the event, we thought it might create a splash, if a mermaid mysteriously appeared on Blackpool beach."
'Pirates and Mermaids' runs until Sunday, September 8th, and is included within the normal admission price. To book, please visit https://www.visitsealife.com/blackpool/whats-inside/events/pirates-mermaids/.
SEA LIFE Blackpool works closely with its charity partner, the SEA LIFE Trust, as part of its popular 'breed, rescue, protect' campaign, to develop and support conservation projects worldwide. These have already seen over 6,600 turtles rescued and rehabilitated.
Related
0 Comments