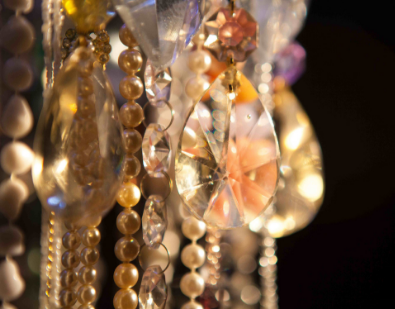 The Harris Museum, Art Gallery & Library is delighted to announce this beautiful contemporary work, created from thousands of lost earrings, is to go on display in the Harris' Heritage Reading Room. This stunning piece by artist Lauren Sagar in collaboration with artist Sharon Campbell is currently touring nationally and will be at the Harris from Saturday 3 August until Sunday 27 October.
Originally conceived through a mass participation project at St Mary's Hospital, Manchester, staff gave lone earrings from a lost pair they owned, with some emotional resonance or significance to them. Over 3,000 earrings were gifted to the project.
These personal objects, shown alongside a few written words about the personal stories of the earrings, have been brought together to create a work of depth and beauty that connects viewers emotionally to the variety of human emotions, memory, loss, beauty and love on show.
Artist, Lauren Sagar, said,
"I am so pleased that the Chandelier of Lost Earrings is being shown at the Harris Museum and Art Gallery. Ever since starting my MA at UCLan I have enjoyed visiting this stunning building. I especially love the collection of glass; my first love as an artist was working with glass. I think having the sculpture in the library is very apt as the piece tells so many stories of many lives, and represents an historical collection of earrings. Sharon and I always enjoy seeing how the Chandelier looks in a brand new environment."
Tim Joel, Deputy Head of Culture at Preston City Council said,
"This beautiful piece will be seen by thousands of visitors to the Harris. We are proud the Harris in Preston continues to build on its reputation as one of the leading contemporary art venues in the region showing artists works of this calibre. Don't miss the opportunity to see it."
Lauren Sagar is a MA Fine Art student at the University of Central Lancashire.
Artist Sharon Campbell is based in Manchester.
Admission to see Chandelier of Lost Earrings is FREE
Photograph credit Geoff Brokate
Related
0 Comments