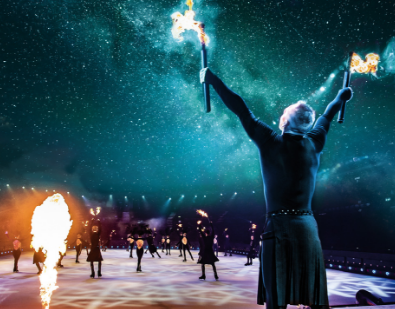 Hot Ice, the most stunning ice show that you will ever witness, is back for the 2019 season with an amazing new production – Utopian.
Hot Ice has been the sparkling highlight of Blackpool Pleasure Beach's live entertainment calendar for over 80 years. Take your seats in the theatre for a glamorous, fast moving ice show packed with hundreds of sequin-studded costumes and incredibly daring lifts. This years Hot Ice show, Utopian, runs from July 4th to September 7th.
Hot Ice is an amazing show that is brought to life by the stunning lighting that reflects the mood and magnificence of each scene. The skaters are hand picked to work within this unique company, and gracefully slide and glide into a world of creative paradise with intricate choreography performed to beautifully written music conceived and inspired by the greatest soundtracks to our lives. The costumes are sewn into a symphony of colours that sparkle perfectly as the most beautiful stones are all hand sewn onto sumptuous fabrics to create stylish and chic designs unique to this production.
The talent and the skill of each skater is simply the result of years of training as a sportsperson. Hot Ice is the platform that turns these athletes into performers and artists. The unique qualities of these individual performers is an integral part of the creative process as each skater has their own style and these styles have been carefully blended by the technically demanding choreography to create a show created out of love for a sport and the passion for theatre.
This year, expect the usual glitz and glamour as a cast of amazing, international ice stars put on a show designed to thrill audiences while reflecting on the history of this great show. After over 80 years of amazing performances, Hot Ice is still a show that has the ability to thrill and delight.
This year's Hot Ice show, Utopian, runs from July 4th to September 7th.
For more information, or to book, visit www.blackpoolpleasurebeach.com/shows or call the box office on 0871 222 9090. Please note calls to 0871 numbers cost 13p per minute plus your telephone company's access charge.
Related
0 Comments