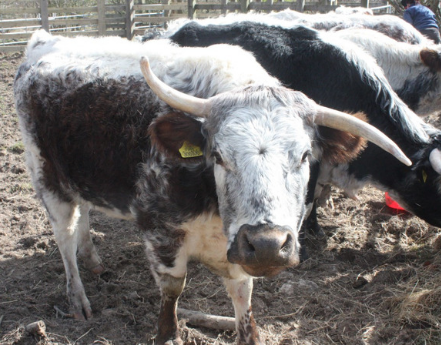 Traditional farming methods are enhancing grassland for butterflies, bees and many other creatures at Brockholes Nature Reserve.

A new fence has been built to extend the pasture to ensure the reserve's cows are safely doing their job, grazing the grass.

Reserve Officer Lorna Bennett said: "We aim to enhance the botanical value of this grassland and its value for butterflies, bees and other invertebrates.

"This will involve selective grazing with our longhorn cattle, instead of mowing in late-autumn and winter months. We will then seed it with wildflowers from our species-rich meadows on the reserve.

"This is agricultural pasture from the original Higher Brockholes Farm. It was traditionally grazed by cows and, from old maps and photos, we can see that this land is ridge and furrow, which is an archaeological pattern of ridges and troughs created by a system of ploughing used in Europe during the Middle Ages.

"The fact this is still visible means the land hasn't been disturbed by quarry vehicles or farm vehicles. By grazing instead of mowing we hope we can retain this important archaeology, whereas a tractor and mower cannot negotiate the ridges without gradually crushing them."

Species that Lorna and her team of volunteers hope to establish or increase in abundance include yellow rattle, common knapweed, red clover, common bird's foot trefoil, cuckooflower and common sorrel, along with many more.

The work is in an area which is a magnet to butterflies and bees and people who like to photograph them. It is close to a site where the rare, white-letter hairstreak feeds for three weeks in summer. Increasing the flora on the pasture will mean an increase in these vitally important insects.

Using British longhorn cattle to graze the land has many benefits for the Lancashire Wildlife Trust reserve but areas need to be fenced off for the safety of visitors and the cows.

The cows will be absent throughout spring and summer months, so visitors who wish to observe the botanical and invertebrate interest in the field will be able to gain access via metal field gates, which will be left unlocked. Visitors should behave responsibly and close the gates behind them. Signs on the gates will provide information about what can be seen.
Related
0 Comments