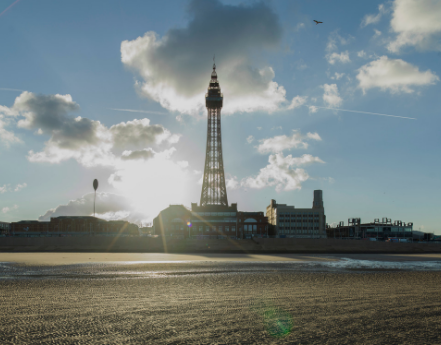 The disability organisation that provides Blackpool's Access Guides has launched a brand new mobile App which aims to transform the quality and availability of accessibility information.
AccessAble has worked alongside VisitBlackpool and Blackpool Council for more than a decade to ensure that people with a disability can get the best possible experience during their visit.
The new App, which is available free, covers 180 venues in the resort including top attractions like the Pleasure Beach, the Winter Gardens and Blackpool Tower, as well as leisure centres, parks and gardens, restaurants, shops and transport.
The App is available for IoS and Android. Users can create a profile, save their favourites and set their own preferences using AccessAble's Accessibility Symbols.
Disability Blogger Lucy Wood said: "The words 'day trip' have always made me anxious and when I go out it can feel like a military operation. It's vital to do loads of research in advance; I don't feel I can be spontaneous, when I have to trawl through websites to find accessibility information
"For disabled people, finding the practical stuff is vital – can I get in, can I use the toilet! Very few venues have this much detail online, this is why the AccessAble App is so exciting. Being able to get the level of detailed information that I need on an app in my pocket, knowing I can trust it, means I can get this information quickly and takes away the need to plan. It is a revolutionary step forward for disabled people in the UK, and I can't wait to go on my next adventure!"
Cllr Gillian Campbell, Deputy Leader of Blackpool Council, added: "Blackpool prides itself on being able to provide a great visitor experience for all visitors and we are delighted that the new App produced by AccessAble will make it even easier for people to plan their visits with detailed information at their fingertips."
The App provides Detailed Access Guides to tens of thousands of places across the UK and Ireland. These guides aren't personal reviews, but step-by-step descriptions of what accessibility is like at a particular place – they are 100% facts, figures and photographs.
Crucially, each guide is created having been visited by an AccessAble Surveyor, who can collect over 1,000 piece of information for just one venue. The type of information collected is all driven by AccessAble's 35,000-strong user community.
Anna Nelson, Executive Director of AccessAble said: "This App is all about getting detailed, reliable information to the 20 million plus people in the UK with accessibility requirements. We want people to be able to use the App while they are out, filtering by the accessibility requirements that are important, to find the places that work for them. Growing up as a carer I spent hours ringing up and asking about accessibility, nothing was spontaneous and we were nearly always disappointed when we arrived. This App is a practical solution to that very real problem".
As part of the launch AccessAble have published an important survey that highlights the vital need for better accessibility information. The survey revealed that 99% of disabled people want to know about accessibility before visiting a new place and 98% search for accessibility information in advance. You can read more about it and check out the survey here: https://www.accessable.co.uk/articles/new-survey-highlights-major-accessibility-gap-for-uk-s-20-million-disabled-people-and-carers
To check out the new App simply download AccessAble from the Apple Store or Google Play Store. If you have any feedback you can contact AccessAble at hello@AccessAble.co.uk, message them on social media or give AccessAble a call on 01438 842710.
Related
0 Comments