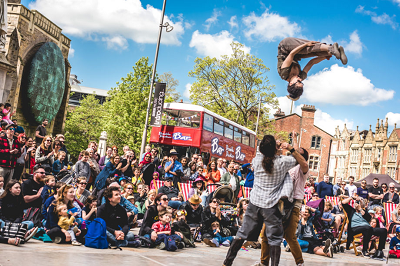 · Returning to Lancashire for a third year, The National Festival of Making will take place in Blackburn on Sat 15 and Sun 16 June 2019
· A uniquely innovative fixture on the UK festivals calendar, 40,000 people attended the 2018 edition to take part in an array of making activities, encounter outdoor performances, innovations in science and technology and art installations alongside the finest in food, drink and handmade design
· Festival organisers, including co-founder, Wayne Hemingway MBE, call on artists and British manufacturers to get involved in an even more ambitious event next summer
Britain's revolution in hands-on creativity, contemporary manufacturing and tech-led making shows no sign of slowing and the festival that shouts loudest about the brilliance of the nation's makers, The National Festival of Making, will return to Blackburn, Lancashire on Sat 15 – Sun 16 June 2019. Entering its third year, the free-to-attend festival moves to a summer date for the first time.
Attracting 40,000 people to Britain's making and manufacturing heartland of Lancashire in 2018, visitors to the ambitious, town centre event can expect to encounter more makers in workshops for all ages and backgrounds, find the work of renowned artists in unusual locations and indulge in independent market shopping.
10,800 individuals sat down to make, in over 100 workshop sessions during the festival weekend last year, engaging people with makers as diverse as leatherworkers, engineers, ceramicists, chefs, technologists and fashion designers. Shortlisted in the prestigious UK Festival Awards for Best Family Festival and Best Non- Music Festival, recognising the festival's inclusive atmosphere of discovery and celebration, as well as clinching Visit Lancashire's Tourism Awards, Large Event of the Year accolade, the festival is set to grow to meet demand.
Delivered with the engagement of the communities in and surrounding Blackburn, from major manufacturers to home makers and their 'Front Room Factories', festival organisers are launching a call-out for ideas and new collaborations .The groundbreaking 'Art In Manufacturing', a co-commission between The National Festival of Making and Super Slow Way, pairs artists and industry to make show-stopping installations and performances, and returns for 2019. Artists and manufacturers are asked to get in touch with festival organisers to start the conversation and exchange ideas.
To document 2018's eclectic programme of events and activities, The National Festival of Making worked with Ichikoo Films to capture the fun. Existing festival fans and future visitors can experience a snapshot of the weekend's magic in a newly released video available at www.festivalofmaking.co.uk
For updates about the festival programme and information on how to get involved visit the website and sign up to the mailing list. News and opportunities will also be posted on social media at:
Twitter: www.twitter.com/festofmaking
Facebook: www.facebook.com/festofmaking
Instagram: www.instagram.com/thefestivalofmaking
Related
0 Comments