Grab a slice of the action and enjoy a taste of the local landscape
The Pendle Hill Landscape Partnership is gearing up for a celebration of local produce in the first ever Foodie Foray.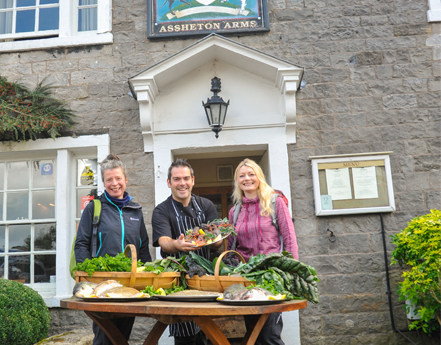 This exciting new event celebrates local food producers and the distinctive local dishes found at the foot of our landmark hill. Starting on Saturday, October 13, the five-day programme includes guided walks, foraging, talks and cookery demonstrations.
A programme of walks and talks, which explore the landscape and the wild and cultivated foods found within it, will be backed up by some mouth-watering feasts at some of the area's most popular eateries.
Events are still being added to the programme, but highlights include:
A food to fork foraging lunch at Gazegill Organic Farm
A 'Summit Safari' linear walk linking two local gastropubs
Unique set menus at participating venues
A celebratory autumn feast showcasing the best seasonal local produce
The Foodie Foray is one of the initiatives organised as part of the Pendle Hill Landscape Partnership initiative – a four-year programme funded by the Heritage Lottery Fund which will improve awareness of and access to the distinctive upland landscapes on both sides of the hill.
The Landscape Partnership's sustainable tourism officer Hetty Byrne said: "Autumn is traditionally a time of plenty – and there's certainly plenty going on.
"We're looking forward to five days of walks, talks, foraging and feasting. This event celebrates the landscape, producers, chefs and local delicacies that originate in the communities that nestle beneath Pendle Hill.
"It's a great way to explore the breath-taking scenery and discover more about the amazing foods that are produced here – both by the local farming community and by Mother Nature herself.
"We've uncovered some unusual and unique local delicacies and forgotten recipes. We're hoping to bring people from both sides of the hill together for a celebration of local food and culinary traditions."
Supported by the Assheton Arms, the Barley Mow, the Spread Eagle, the Free Masons and a host of hospitality businesses across Pendle and Ribble Valley, special menus and dishes will be available at participating food outlets.
Look out for a Bowland Pie on the menu for a limited period at Greendale View Kitchen at Chatburn, 'Stew and Hard' at the Cabin, Barley, and a field to fork farm tour at Gazegill Organic Farm.
And for anyone counting calories and worried about over-indulging, many of the tasting events are combined with a guided walk through the stunning landscapes surrounding Pendle Hill.
For further details and bookings visit www.pendlehillproject.com/foodie-foray
There's still time for local businesses to get involved. Get in touch with the Pendle Hill Landscape Partnership Team on 01200 420420 or email hetty.byrne@lancashire.gov.uk
Images of chef and walkers at Assheton Arms, Downham
Related
0 Comments