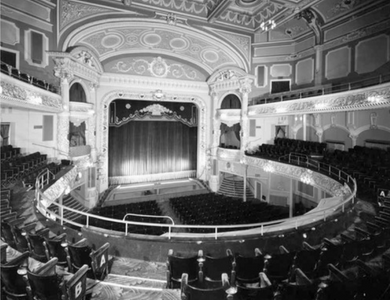 As the Winter Gardens Blackpool today celebrates its 140th anniversary, plans have been unveiled revealing a partnership between global producers Selladoor Worldwide and operators Blackpool Entertainment Company to bring a fresh lease of creative life to the historic Pavilion Theatre, based within the grade 2* listed venue. During this joint venture, Selladoor Worldwide will lead on programing the space with both produced and received work, whilst Winter Gardens Blackpool will focus on the renovations to save and restore the theatre back to its full former glory for future generations to enjoy.
Selladoor Worldwide are one of the UK's leading Regional Theatre Producers, producing 8 productions in 2017 that performed outside of the country's capital, with a total of 9 productions set to do so throughout 2018. From the very outset, the company's aim has been to make accessible work for all audiences, which has therefore invigorated Selladoor Worldwide to create a base in the North of England, to ensure full coverage across the country.
Selladoor's Northern Powerhouse will be based out of the Pavilion Theatre in Blackpool, the oldest venue in the Winter Gardens complex. The venue was part of the original 1878 build and was an entertainment hub, catering to large crowds at the turn of the 20th century. Although a stunning and richly decorated building, with opulent interior designs, this building is no longer used as a theatre, and is currently listed as 'at risk' by the Theatres Trust.
Selladoor Worldwide are therefore extremely proud to partner with Blackpool Winter Gardens to protect and revitalise this venue to once again be an important entertainment hub for the town of Blackpool and surrounding northern cities such as Manchester and Liverpool. The theatre space will be used for event theatre as well as non-conventional and immersive theatre, helping to diversify the artistic programming and cultural experiences available to the residents of Blackpool. Due to Blackpool having one of the lowest engagement rates in the UK, Selladoor Worldwide and Winter Gardens Blackpool have been working closely to establish what will benefit and empower the members of the public to ensure engagement rates increase and sustain for future generations, as well as restoring one of the city's most important and historically significant buildings back to its former glory.
Executive Creative Producer David Hutchinson for Selladoor Worldwide says: "A town as bold as Blackpool is the perfect location for our Northern producing base to make waves in the north of the country. Our decision to base a dedicated team in Blackpool will enable us to focus on cultural development and engagement in the town and surrounding areas. With a new and stimulating programme of work to feature at The Pavilion Theatre, complimented by a broad selection of Selladoor's touring productions that regularly perform at the Winter Gardens, we are extremely excited to see a town that is very dear to our hearts, flourish and succeed as it's members of public deserve".
Michael Williams, Managing Director at Blackpool Entertainment Company, operators of the Winter Gardens Blackpool says: "We are delighted to launch the partnership between Blackpool Entertainment Company (BECL) and acclaimed producers Selladoor Worldwide. This heralds an exciting new direction, which will offer unparalleled opportunities to the local community whilst bringing back into year-round use of the Pavilion Theatre. In addition, we will be utilising other spaces in the venue for a wide range of exciting and engaging projects over the coming years.
The partnership is a unique and exciting opportunity to use the arts as a catalyst for positive change and a vehicle to encourage both opportunity and aspiration through a wide range of commercial and community developments".
Tom Stickland from the Theatres Trust has said: "The Winter Gardens' Pavilion Theatre has evolved throughout its life to reflect the changing tastes for public entertainment opening as a music hall before becoming a theatre in 1885 and adapted for cinema in the 1930s. Restoring performance use to this historic space will unlock one of Blackpool's jewels and help protect it for the future".
Related
0 Comments