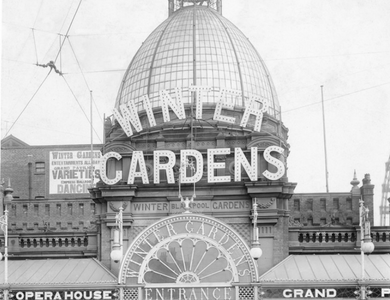 A free exhibition that celebrates the 140th anniversary of the opening of the Winter Gardens Blackpool is set to open this Monday at the venue running until Sunday 29 July.
The Winter Gardens Blackpool first opened to the public on 11 July 1878, with a lavish ceremony attended by the Lord Mayor of London and Mayors and Mayoresses from 68 towns throughout the country.
This summer the iconic venue will celebrate its 140th anniversary and to celebrate a series of events are set to be held across a yearlong celebration.
The 140th Anniversary Exhibition taking place from Monday 9th – Sunday 29th July, will celebrate the venue's illustrious entertainment history. Featuring historic posters, programmes and artefacts as well as a photographic history of the building.
Kathy Smith, General Manager comments
'The buildings fascinating history and its importance to the region will be highlighted in the free to enter exhibition.'
'The 3-week exhibition will provide a fascinating and unique opportunity for visitors to gain a rare insight into the archives'
Winning entries from the Winter Gardens art competition to capture the entertainment heritage of the venue will also be displayed.
Free of charge, the event will take place from 11am – 3pm daily in the Derham Lounge.
Find out more at www.wintergardensblackpool.co.uk
Related
0 Comments