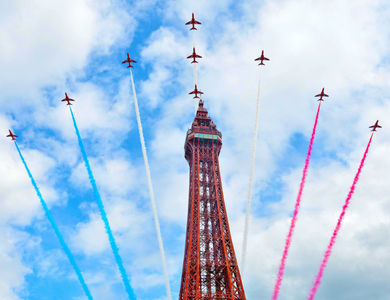 Blackpool's two-day Air Show is back this summer with a fantastic programme of aerial entertainment.

The spectacular free event will take place on Blackpool Promenade on Saturday 11 and Sunday 12 August and will include a breathtaking finale by the world-famous Red Arrows.

The event, which is being sponsored by Northern, will showcase the very best in British aviation with a whole host of amazing flying machines and some of the country's most talented pilots.

The programme will begin shortly after 1.30pm on both days, with the best viewing points on the promenade between North and Central Piers.

The Battle of Britain Memorial Flight, which features a Spitfire, a Hurricane and a Lancaster Bomber, will take part in a hugely patriotic display. Crowds will also be able to see an RAF Typhoon thunder across the horizon; see spectacular aerobatic displays from the Turbulent Team, Wing Walkers and The Blades; and view some of the world's best aircraft flying over the iconic Blackpool seafront including a Strikemaster, Chipmunk and Swordfish.

The RAF Red Arrows team will bring the show to an unforgettable finale on the second day with another awesome display of speed, agility and precision. For full programme timings and regular updates, go to www.visitblackpool.com/airshow. There will be further details nearer the event on special park-and-ride facilities, so keep checking updates.

Cllr Gillian Campbell, Deputy Leader of Blackpool Council, said: "The Blackpool Air Show is always one of the highlights of Blackpool's summer.
"The line-up of planes and stunt teams looks brilliant and it promises to deliver a fantastic two days of free entertainment for all the family. I would encourage people to stay over for the whole weekend and take the opportunity to enjoy everything that Blackpool has to offer."
Craig Harrop, Interim Regional Director (West Region) said: "We're delighted to be the main sponsors of the upcoming Blackpool Air Show. Northern play an integral part in the tourism sector, with Blackpool being one of our busiest destinations. We look forward to supporting the event in our role as the main transport provider, and also as headline sponsor and are excited to welcome people from all over the UK into Blackpool on our services."

Visitors are encouraged to arrive in resort early to avoid any traffic congestion. To complement the aerial programme, there will be plenty to see and do on the ground before the show starts with a whole range of stalls, stands and concessions in front of The Blackpool Tower including the Red Arrows ground team. In addition, there will be a fantastic selection of food and drink concessions.

Our official Blackpool Air Show programme will be available to purchase on the day from the VisitBlackpool stand in the main Air Show village or from the VisitBlackpool Tourist Information Centre located at Festival House opposite Blackpool Tower.

Why not make a weekend of it and enjoy the resort's award-winning attractions and entertainment? For more details on everything that Blackpool has to offer, to book accommodation or for any other enquiries, please go to www.visitblackpool.com or call 01253 478222.

For a taster of this year's event, take a look at the Blackpool Air Show footage from last year here.

Please note that the programme is potentially subject to change due to both aircraft availability and weather conditions.

We've still got all this to look forward to so save the dates in your diary:
• Ride the Lights – 28 August between 7pm and 10pm – where we open up Blackpool Promenade to bikes to allow cyclists to ride through the resort's famous Blackpool Illuminations - FREE
• Blackpool Illuminations Switch-On – Friday 31 August – The Switch-On event is free, with people invited to apply for the 20,000 wristbands that will guarantee entry to the Tower Festival Headland arena. The wristband ballot closes at noon on 24th July. To register, go to: www.visitblackpool.com/switchon.
• Britney Spears in Blackpool – 1 September - International pop icon Britney Spears will be bringing her "Britney: Piece of Me" show to Blackpool's Tower Festival Headland in a celebration of one of the most illustrious careers in music history! For tickets go to https://www.ticketmaster.co.uk/britneyspears
• Blackpool Illuminations and Lightpool – 31 August – 4 November - Britain's most spectacular light show returns to Blackpool Promenade for another year with Lightpool projections from 7th September – FREE!
• The World Fireworks Championship Blackpool – 7/14/21/28 September – Blackpool plays host to the best fireworks display teams in the world with the competitors planning more dramatic and spectacular displays than ever before to wow the crowds - FREE
• Nickelodeon SLIMEFEST – 20, 21 & 22 October – The Nickelodeon SLIMEFEST ticketed shows will take place on Saturday, Sunday and Monday at the Arena, Blackpool Pleasure The six shows across 3 days will feature live performances, games, characters and plenty of slime, music and mayhem! All shows sold out but check www.nick.co.uk/SLIMEFEST for competitions to win tickets.
• Lightpool Festival – 25–27 October - Blackpool's award-winning Lightpool Festival is back for October half-term. The festival will provide a spectacular mix of live performance, light-based art installations, the return of the illuminated tram parade and a special collaboration with the BBC Philharmonic on 18 October. For more information go to www.visitblackpool.com/lightpoolfestival
Related
0 Comments