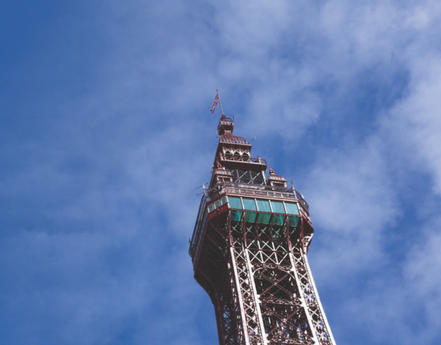 Looking to create some unforgettable memories for the summer of 2018? Then why not head to Blackpool and you can see for yourself why this is the UK's favourite beach resort.

Not only have we got sand and sea, more shows, attractions and entertainment than you can shake a stick at, we have also got a collection of unique experiences that will simply blow your mind!
1. Dare To Ride
It is fast. Very fast. The question is: Are you brave enough to ride ICON, the UK's first double launch rollercoaster? The new £16m ride at Blackpool Pleasure Beach will take you on an exhilarating journey where you will experience the same acceleration as a Formula 1 driver before twisting and turning at high speed across the park. Prepare to be wowed!
2. Marvel At The Super-Heroes
It's time to come face-to-face with the Marvel super-heroes at Blackpool's Madame Tussauds. Enter an ice cave and get up close and personal with the God of Thunder himself, before attempting to lift Thor's legendary hammer. Surrounded by debris and destruction, confront the Hulk in a New York street and see if you are strong enough to lift a taxi! Or if all that's too much, settle for a selfie with the likes of Groot, Rocket Raccoon, Nick Fury or Spiderman.
3. Bop Along To Britney Spears
The world's biggest pop star has performed on every major stage in the world. But she's never performed on the iconic seafront in the shadow of The Blackpool Tower – until now! Britney will be bringing her huge Vegas-style production to the Tower Festival Headland on the night of Saturday 1 September. You do not want to miss this.
4. Try The Ultimate Escape
Head into the eerie world of The Blackpool Dungeon and see if you can escape the noose before time runs out. This spine-tingling Escape Room adventure with a twist will determine whether you lose your head under pressure and find yourself locked in the murky depths of a castle to meet your fate. Be afraid – the clock is already ticking.
5. Tickle A Tapir
Accompanied by a keeper at the brilliant Blackpool Zoo, you will head inside the tapir enclosure to meet these most gentle of creatures. As you hand-feed them some of their favourite foods, you can get a close-up view of their strange looking snouts. And then it's time get down to business – it's tickle time! This is just one of many unforgettable animal experiences at the Blackpool Zoo.
6. Brave The Cave
Twist and climb your way through a network of tunnels at the North West's first indoor caving system. The attraction at Ascent Trampoline Park in Blackpool is a fully immersive experience with a series of special effects and hidden tunnels. Ascent will provide the torch and hard hat, you just need to bring along the bravado.
7. Take A Leap Of Faith
Dare you take a walk of faith at the top of Blackpool Tower? Step out of the lift 380 feet up and the thrilling SkyWalk awaits you. It's a five centimetre-thick glass platform where you can look out over the Irish Sea and look down on the famous Golden Mile below you. It's a viewing experience you will never forget!
8. Snorkel With Sharks
It's a big step up from swimming with the fishes. This is a unique, exhilarating experience where you will come face to face with more than 20 sharks and other spectacular marine life in Blackpool's SEA LIFE Centre. It's your very own 15-minute Jaws adventure which will be followed by a behind-the-scenes tour to learn about shark breeding, conservation and food preparation (don't panic you are not the food!).
9. Take The Plunge
Picture the scene: You are on the roof of the Sandcastle Waterpark building on South Promenade. Just one thing stands between you and the tropical waters below. Well two things actually: The colossal Montazooma mat slide with 360 degree loops and back-to-back turns, or the Aztec Falls, an electrifying pitch-black descent into a giant bowl. The choice is yours…..
10. Ride The Lights
Get ready for an electrifying and magical cycle ride under Blackpool's world-famous Illuminations. Head for the seafront on Tuesday 28 August and you can join thousands of riders as they travel along the Promenade for a sneak preview of the 2018 Lights in a totally traffic-free environment. This is bike riding – but not as you know it!
11. Walk The Big One
You might be brave enough to ride The Big One at Blackpool Pleasure Beach – but dare you walk to the summit of its famous slope? Join an escorted climb to the top of the 235ft hill for an experience you will never ever forget! Selected dates until October.
12. Tango In The Tower Ballroom
Your chance to follow in the footsteps of the multitude of celebrities who have taken to the ballroom floor in Strictly. Nothing will quite prepare you for the magnificence of the Blackpool Tower Ballroom or the joy of dancing in one of the most famous dance venues on the planet.
Keep checking www.visitblackpool.com for updates and to find out what else is happening during your visit or why not make a short break of it and book your accommodation package! Check out our Blackpool Resort Pass to make great savings on your visit to Blackpool here.
To view the 2018 Blackpool Destination Guide click here and to view the online version of our 2018 Event Guide here.
Related
0 Comments