The Fusilier Museum, Bury has teamed up with local photographer Catchlight Portraits to create a new exhibition which tells the personal stories of life as a Fusilier.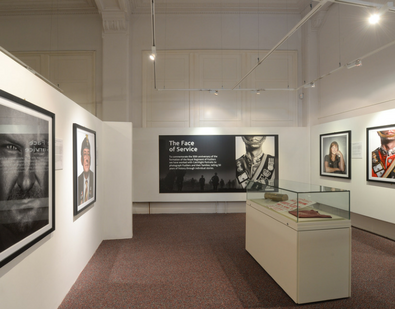 'The Face of Service' is a photography exhibition which has been specially curated to commemorate the 50th anniversary of the Royal Regiment of Fusiliers which takes place this year. The new exhibition will include personal stories and a selection of photographic portraits of ex and current serving Fusiliers as well as an army wife of over 20 years and Jack Rigby, Son of drummer Lee Rigby.

The stories told in the exhibition cover all the major tours which the regiment has been involved in during the last 50 years including the Cold War, Northern Ireland, Iraq and Afghanistan as well as providing personal accounts of what its really like being in a war zone.

Sarah Stevenson, Collections Manager at The Fusilier Museum, said: "Since its formation in 1968, the Royal Regiment of Fusiliers has served with distinction across the world. To commemorate the 50th anniversary of the Regiment we are delighted to have been able to work with Catchlight Portraits to capture images of Fusiliers and their families; telling 50 years of history through individual stories. A huge thank you to everybody involved with the project and for taking the time to contribute."
Catchlight Portraits added "We are thrilled to have been given the opportunity to produce our unique style of portraiture for this project and to help tell the stories of those who have served and continue to serve in regiment. We are both immensely proud to have contributed to the marking of this historic moment with the regiment and the museum."
The Face of Service exhibition opened at The Fusilier Museum, Bury on Friday 27th April 2018, just before Gallipoli weekend which takes place in the town every year. Entry to the exhibition is included in the standard admission fee for the museum.
Catchlight Portraits was formed in 2016 by married couple Tonie and Anthony Moran and they have quickly established themselves as one of the leading portrait studios in the country. Their studio is located in Bury town centre, very near to The Fusilier Museum and they have over 16 years of experience in the industry.
The Fusilier Museum in Bury, Lancashire, is home to the collections of XX The Lancashire Fusiliers and the Royal Regiment of Fusiliers. Documenting over 300 years of history and heritage through permanent and temporary exhibitions, the Museum tells the rich and fascinating stories of the people who have served and continue to service in the Regiments.
Related
0 Comments