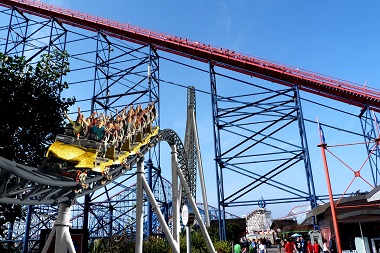 Opening 25 May 2018 - ICON will be the UK's first ever double-launch rollercoaster, propelling riders at speeds of up to 85 kilometres per hour during an intense, jaw-dropping two and a half minutes of thrills and spills. The two powerful thrusts of acceleration can only be likened to that felt by Formula 1 drivers.

To celebrate the opening we thought we share some interesting and record breaking facts about the UK's favourite seaside resort.
The Pleasure Beach, Blackpool is one of the UK's top visitor attractions, welcoming over 7.8 million visitors each season.
The Pleasure Beach's Pepsi Max opened in 1994. At 235ft high it was the largest and steepest rollercoaster in the world. It held this title until 1996 when Fujiyama in Japan became the highest in the world. The roller coaster reaches 85 mph, making it the fastest in Europe.
Blackpool's permanent electric street tramway was the world's first when it opened in 1885
At just under 6 miles long the Blackpool Illuminations is the world's largest free light show
Blackpool Tower opened in 1894 and was modelled on the Eiffel Tower in Paris. The 158 metre high landmark is illuminated by about 10,000 light bulbs and takes 7 years to paint.
The world's first and most famous annual Ballroom dance competition-Blackpool Dance Festival – has been held annually at the Winter Gardens over 8 days during May since 1920
The World Match Play Darts Championship is held annually at the Winter Gardens.
Listed Grade II*, the Grand is in the top 8 per cent of all listed buildings in England, one of only nine large theatres listed Grade II* or above, north of London.
Sandcastle Waterpark is the UKs largest indoor waterpark featuring 18 rides and attractions including the Master Blaster, one of the longest roller coaster waterslides in the world.
Blackpool Zoo is built on the site of the old Blackpool Municipal Airport, which was later turned into Stanley Park Aerodrome. It was turned into an RAF parachute training centre in 1939.
Sea Life Blackpool is home to a record breaking crab. 'Big Daddy' holds the record for the 'longest leg on a crab' which measures 1.43 m (4 ft 8.5 in), measured on 8th of August 2013.
Blackpool is also unsurprisingly home to the record for the 'largest stick of rock' which weighed in at 424.5 kg (935 lb 13 oz) 6 December 2000.
In 2014 Blackpool broke the world record for the biggest beach ball. Measuring at 18ft high (three times the height of a standard UK house), the ball was inflated on Blackpool prom.
Fancy being a record breaker yourself? Head to Blackpool Pleasure Beach for their Summertime Games 24 – 27 July - where they will be hosting a whole week of challenges and a chance for you to break several Guinness World Records ™ titles.
Related
0 Comments