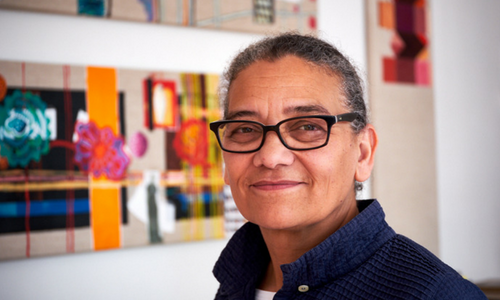 Turner Prize-winner Lubaina Himid's Hard Times - a large scale exhibition of her work at the Harris Museum, Preston, has been on display throughout April and May and will close 3 June 2018.
The exhibition is free to attend.
Throughout the course of the show, Lubaina invited selected artists, currently working in the city, to curate, perform, deliver talks and events to shine a light on the creative melting pot of talent whilst pushing forward more ambitious contemporary art programming at The Harris Museum and Art Gallery.

This is your last chance to see the exhibition that inspired such successful collaborations.

The programme is funded by Arts Council England, UCLan and Preston City Council.

Hard Times is the final exhibition of a tour presenting work by Lubaina Himid. The earlier exhibitions took place in 2017 at Nottingham Contemporary, Modern Art Oxford, Spike Island in Bristol and firstsite in Colchester.

Harris Museum, Art Gallery & Library, Market Square, Preston, PR1 2PP
Lubaina is Professor of Contemporary Art at the University of Central Lancashire in Preston, where she curates the Making Histories Visible research project and Black Art archive. The Harris has had a long relationship with Lubaina, showing her work on a number of occasions including most recently Moments that Matter (2012).

The show's title Hard Times is a reference to Charles Dickens' novel, inspired by his visit to Preston during the workers' Lock-out of 1853.

Lubaina's 1986 work, A Fashionable Marriage is at the heart of the exhibition as at her Turner Prize show. This reworking of Hogarth's painting Marriage à la Mode is a satirical tableau of outsized, cut-out figures dressed with paint and collage, in which Hogarth's original reclining countess and lover have become a flirting Margaret Thatcher and Ronald Reagan. Critics have heralded the piece for its challenge to the hypocrisy of the art world and 80s society and its renewed relevance today.

Other works on show will include Bone in the China: Success to the Africa Trade and Inside the Invisible, seen for the first time in the UK, and The Feast Wagons.

Cllr Peter Kelly, Executive Member for Culture & Leisure at Preston City Council said, "We are delighted to be showing work by Lubaina Himid so soon after her success in winning the Turner Prize, as part of the Harris' ambitious contemporary art programme. Preston has a commitment to its growing arts and cultural offer and it's fantastic to see a Preston artist having such success – as well as inspiring and supporting other local talent."
Photo credit: Denise Swanson FBIPP.
Related
0 Comments