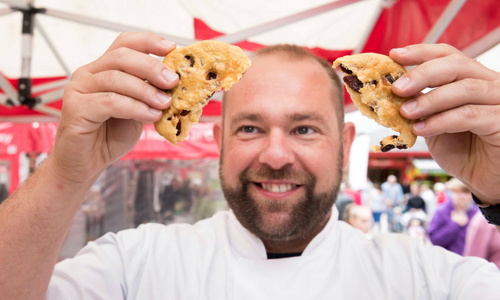 Chorley's very own food and drink event, A Taste of Chorley, is just around the corner and people can now enter the Chorley Cake competition.

Chorley Council are putting on the event on Saturday 9 June which showcases Chorley's local food and drink culture and will see market traders and local businesses set up on Fazakerley Street with a selection of food and drink stalls.
People can also enter the Chorley Cake Competition which puts the publics baking skills to the test and gives awards in three different categories for the best Chorley Cake.

Councillor Alistair Bradley, Leader of Chorley Council said: "A Taste of Chorley first came to our town centre last year and it was a huge success so we've brought it back this year to celebrate our local food culture.

"It's a great community event with so many market traders and local businesses involved so we hope that the public come along to enjoy what is on offer and get top advice.

"We will also be hosting a Chorley Cake competition as part of the event which will challenge Chorley's baking enthusiasts to see how well they can bake Chorley's well known sweet treat.

"We highly recommend this event and we can't wait to see the turn out this year."
The event is free to attend and people can get some top tips from local chefs giving cooking demonstrations, enjoy some delicious food tasting and pick up advice on healthy eating with lots of recipes and cooking tips. Plus there will be a wide range of local artisan producers selling mouth-watering produce for you to take home and create your own delicious dishes.

The traders and businesses will also be taking part in a hot pot trail which the public can judge on.

Members of the public can also get involved by entering the Chorley Cake competition and baking Chorley's favourite cake. There are three categories to enter for the competition which are; professional bakers, 16 or over adult bakers and under 16 junior bakers.

The winner of the professional baker and 16 or over adult bakers will receive a £25 Totally Locally Voucher. There will be three prizes up for grabs for the under 16 junior bakers which include; 3rd place £10 voucher, 2nd place £15 voucher and 1st place, £20 voucher.

To find out more and to enter the Chorley Cake competition please go to Eventbrite.co.uk and search for 'Chorley Cake Competition'. There's a limited amount of entry spaces so if you're interested make sure to book on as soon as possible.

A Taste of Chorley is on Saturday 9 June on Fazakerley Street and runs from 11am-4pm.

To find out more about this event and other events happening in the Chorley area, visit checkoutchorley.com.
Related
0 Comments