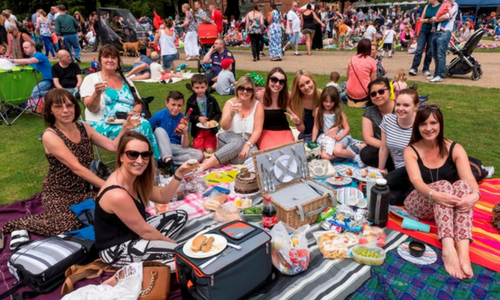 People are being encouraged to visit and check out Chorley between Saturday 26 May and Sunday 3 June as part of a dedicated Check Out Chorley Week.
Chorley Council has teamed up with local visitor attractions to encourage people to check out Chorley for a great day out by visiting their favourite Chorley attraction or trying one they've never visited before.

Attractions including Astley Hall, Coach House and Park, Botany Bay, Boatel Party Cruises, Chorley Little Theatre, Cuerden Valley Park, Canal Boat Cruises, Go Ape Rivington, Rock and River in Mawdesley, Yarrow Valley Country Park and Hoghton Tower have all come together to encourage people to visit the area during the week and all year round.

During the week, there is plenty going on with offers of cruises along the Leeds Liverpool Canal, a Fairytale Trail at Botany Bay on Bank Holiday Monday, holiday clubs at Rock and River, an afternoon screening of the Early Man film and Manford's comedy night at Chorley Little Theatre, the War of the Roses battle at Hoghton Tower and the chance to tour Astley Hall and visit the Chorley 100 exhibition in Astley Coach House.

Finally, the week will come to a spectacular end on Sunday 3 June with the town's annual Picnic in the Park event taking place in Astley Park between 11am and 3pm.
This year's Picnic in the Park will see more community-focussed entertainment with Chorley FM playing music on the lawns of Astley Hall and lots of fun activities including sports, games, arts and crafts, pony rides, football challenges, a climbing wall, Punch and Judy shows and more. There will also be the opportunity to meet The Gruffalo and for a small charge, children can enjoy some small fairground rides, bouncy castles and get their faces painted.

On the day you can also explore Astley Hall and the Chorley 100 exhibition in Astley Coach House.

Councillor Peter Wilson who oversees events and tourism at Chorley Council, said: "We are proud to be working with local attractions to promote the beautiful Chorley borough as part of a dedicated week where we encourage more people to visit and check out Chorley for a great day out.

"There are lots of great things to see and do across the Chorley borough plus many of the local attractions are organising some great activities during Check Out Chorley Week so everyone is sure to find something they like.
Visit checkoutchorley.com to explore just what Chorley has to offer and start planning your next great day out.
"Visitors helped to boost the Chorley economy by £176 million in 2016, so it's important that we continue to do all we can to attract even more people to the area. No matter what your age or interest, Chorley is a fantastic place to visit and we are determined to encourage even more people to check out Chorley with initiatives like this and events like Picnic in the Park."
Anyone driving to Picnic in the Park on Sunday 3 June is being encouraged to be considerate of the residents of Astley Village and park at one of the town centre car parks, which are free on Sundays and are only a short walk from the Park Road or Queens Road entrances to Astley Park.
A free picnic park and ride bus service will be running continuously throughout the day between the town centre and Hallgate from 10.45am until 3.30pm. Anyone wishing to use the service can catch the town centre bus from the bus stop on Union Street outside of Booths.
Hallgate car park will be open for blue badge holders only with limited spaces available.
For more information on activities taking place during Check Out Chorley Week as well as ideas on places to visit and things to do in Chorley, visit checkoutchorley.com

Related
0 Comments