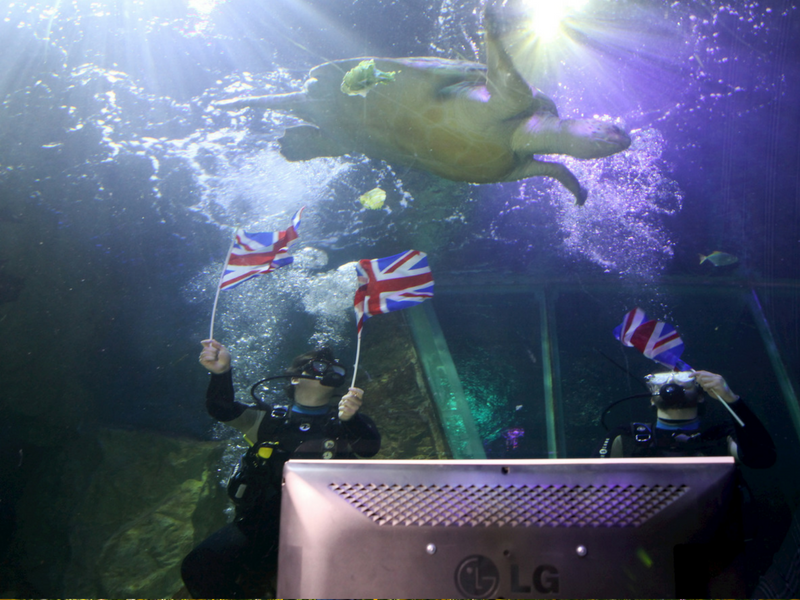 She's 79 years old and has already lived through an incredible 15 Royal weddings.
Now Lulu, the giant sea turtle, is set for a prime position to watch Prince Harry's marriage to Meghan Markle tomorrow (Sat)...from under the waves.
A special TV has been set up at SEA LIFE Blackpool to allow Lulu, Britain's oldest and largest sea turtle, to notch up her 16th Royal wedding.
Aquarists are placing the screen next to the giant ocean window at the popular seafront aquarium, so she can have a clear view of the proceedings.
Matthew Titherington, general manager at SEA LIFE Blackpool, said: "It's remarkable that Lulu has already lived through a staggering 15 Royal weddings. We wanted to do something special to join in the celebrations. Lulu is very curious and will definitely be watching the moving images from Windsor Castle on the TV screen.
"We wish Harry and Meghan every happiness for their big day and will be staging our own celebrations too."
This includes union jack flags and bunting – and even a special Royal wedding cake for Lulu, made out of turtle-friendly green vegetables.
"I'm sure Lulu will enjoy eating it," added Scott Blacker, head aquarist at SEA LIFE Blackpool. "She has a tremendous appetite and is amazingly agile, particularly for her age. Lulu is a real star of the show and very popular among visitors of all ages."
Lulu, who weighs an astounding 28 stones and measures nearly four feet from head to tail, was previously a visitors' favourite at the Blackpool Tower aquarium, where she lived for many years. She has just returned home to the Golden Mile, after spending seven years at SEA LIFE Brighton, having grown too big for The Blackpool Tower aquarium.
Related
0 Comments