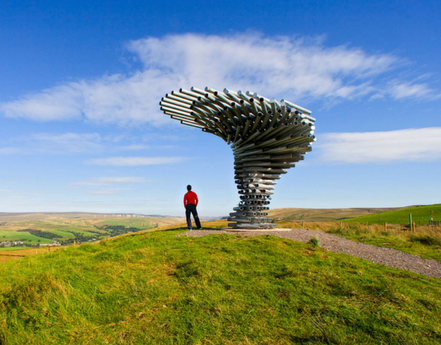 Historic houses, wild Pennine moorland and an emerging cultural vibe makes Burnley an exciting place to explore in 24 hours.
Start by booking yourself into Hurstwood Hall, a Grade II listed Elizabethan hall, built in 1579, and retaining many of its original features. After a great night's sleep in one of their unique and luxurious bedrooms, followed by a delicious freshly cooked breakfast you'll be ready to start the day.

The first stop has to be the incredible Singing Ringing Tree, on the moors above Burnley. This stunning sculpture was chosen by The Independent as one of 21 landmarks that define Britain in the 21st Century and you can see why.
The sculpture is a three-metertall, wind-powered musical sculpture made of galvanized steel pipes. The pipes swirl to form the shape of a tree, bent and blown by the wind, and produce an eerie, melodious hum.
After a walk up to the Singing Ringing Tree you'll be ready for lunch and maybe a pint of real ale, so pop into The Kettledrum Inn on the outskirts of the town. Originally a toll house and converted to a pub in 1861, the pub has a fine reputation for homemade cuisine and cask conditioned ales, not to mention amazing views across the valley.

After lunch it's time to visit Towneley Hall - a historic house, art gallery and museum in one. From the priest's hole to the attic, Towneley Hall is a fascinating place with period rooms covering several centuries of life at the hall. See the cat fast asleep by the range in the Victorian kitchen, stroll along the Long Gallery past bedrooms dating back to the 16th Century, imagine the glamorous parties held in the Regency rooms
or have a quiet moment in the Towneley Chapel (Fridays by appointment only).

Towneley Hall sits in 400 acres of historic parkland, formal gardens and woodland, so if the weather's fine make time to explore the parkland and sculpture trail.
You'll also find the Museum of Local History in the Old Brew House, alongside the main hall and the Offshoots Permaculture Project in the hall's old walled garden. The award-winning Offshoots Permaculture Project demonstrates the techniques of permaculture gardening and regularly holds workshops and activities such as green wood working and yurt building.

After a busy day you'll have earned a pre-dinner cocktail and dinner at The Palazzo in the centre of Burnley. Enjoy a fabulous seasonal menu using locally sourced produce and traditional Italian recipes.

You can't leave Burnley without visiting the 2016 Lancashire Tourism Awards Cultural Venue of the year, Burnley Mechanics. Formerly a Mechanics' Institute, built in 1855 and converted to a theatre in 1979, this Grade II listed building is a thriving cultural hub with state of the art lighting, excellent sound facilities, two bars, and two performance venues so take in a show while you're in town.
For more information go to visitlancashire.com/explore/burnley
Related
0 Comments