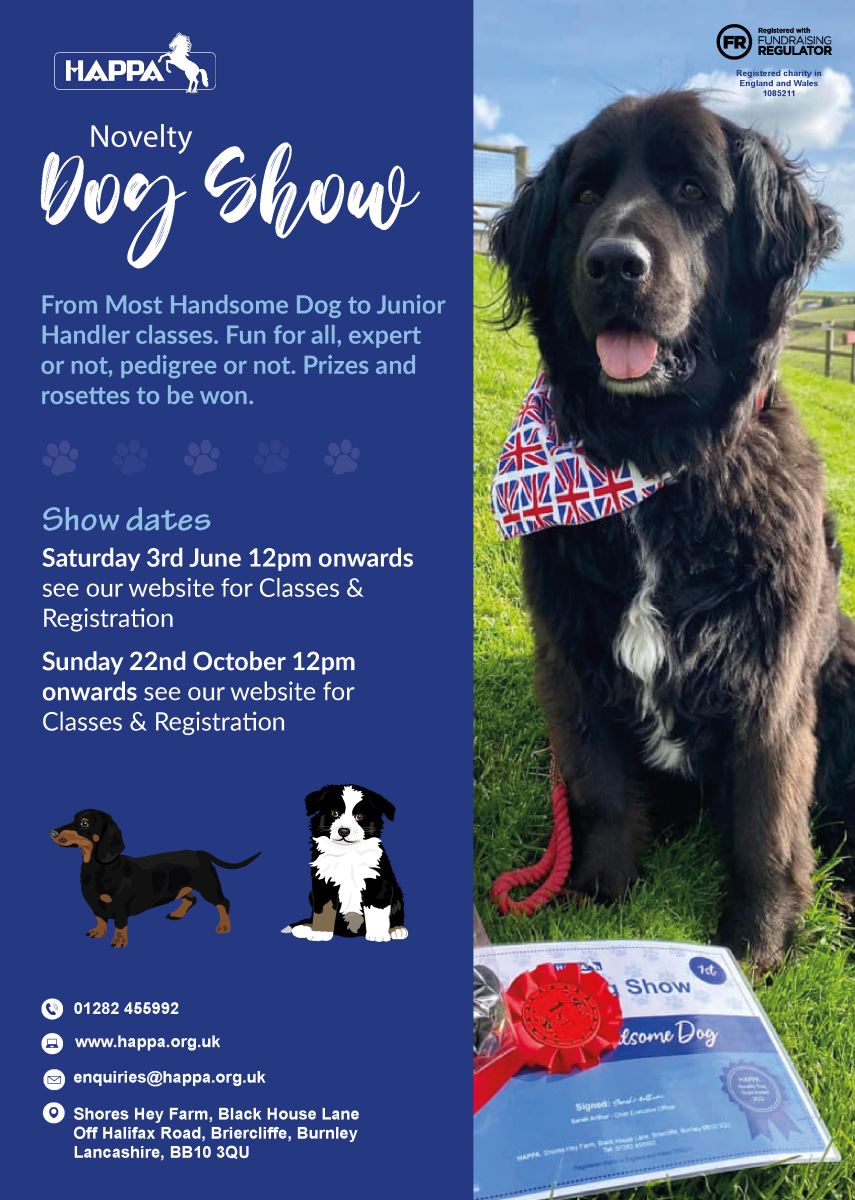 Due to popular demand the Horses and Ponies Protection Association's Novelty Dog Show returns this year at Shores Hey Farm, Briercliffe, Burnley, BB10 3QU, on Saturday 3rd June.
HAPPA are appealing for canine owners to help them raise funds for the resident rescue horses by entering their canine companion in classes.
There's something for everyone with nine classes available to enter: - Most Handsome Dog, Prettiest Bitch, Best Veteran (ages 7+), Cutest Puppy (6-12months), Most Appealing Eyes, Best Rescue, Waggiest Tail, Junior Handler (ages up to 14 years) and Fancy Dress.
HAPPA's Fundraising and Events Coordinator, Megan Dunham explains "This year we launched our Woof Shack events for dogs and their owners to come and participate in fun activities, learn more and make friends. We just knew that with all the extra dogs coming to site another Novelty Dog Show had to be planned into the calendar to celebrate our four-legged friends.
For the whole day the onsite café will be totally dog friendly so you can enjoy a tasty meal with the addition of a special doggie menu available all day. Pedigree or mix, expert or not, join the fun with HAPPA!"
Prizes and rosettes will be awarded for places, and you could be in with a chance to win the doggy products hamper in the Championship (1st and 2nd places will automatically go through to the Championship held at the end of the show).
All funds raised on the day will help HAPPA to continue to provide a Second Chance to Abused, Neglected and Unwanted Equines.
Enter before the big day by visiting the website HAPPA's Dog Show or pay on the day at Reception, entries are £4 per class. Registration opens at 12.30pm and classes commence at 1pm.
Related
0 Comments