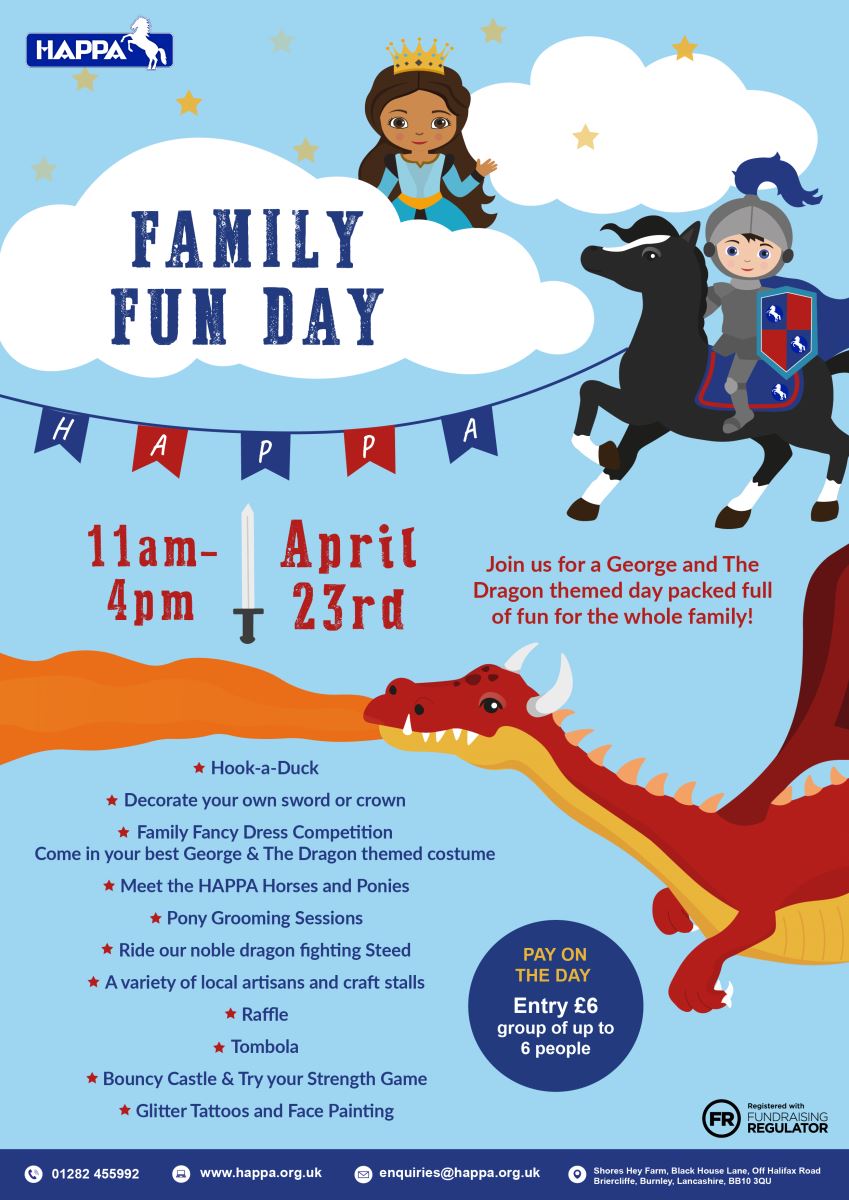 HAPPA (Horses and Ponies Protection Association) are inviting you to join them for a family themed fun day at Shores Hey Farm in Burnley. The event takes place on Sunday 23rd April, from 11am until 4pm and entry is just £6 for a group of up to six people.
Families can enjoy, on the day, glitter tattoos and face painting, a bouncy- castle, test your strength game, tombola, hook-a duck and a raffle to win an afternoon tea from The Café and Chocolate Bouquet from The Party Shop.
It will be a shopper's paradise with a selection of local businesses and artisans with a wide range of products for sale. The Charity's own shop, The Fussy Filly, is hosting some very exclusive offers just for the day of the event too.
In a nod to George & the Dragon, visitors will also be able to decorate their own sword or crown and grab a selfie on the throne, and anyone who attends the event in fancy dress will have the opportunity to win some fantastic prizes at the fancy dress competition in the afternoon.
For those who want to get up close to the main attraction of the day, the HAPPA horses or ponies, there will be pony riding sessions and pony grooming for ages over four.
Finally, there will be ridden displays with A Knight's Ride with Otto the Noble Stead, HAPPA Ponies Arena Display and a Dressage Demonstration with Katie & Otto.
Julie Pharaoh-Gan, HAPPA's Head of Marketing and Fundraising explains "Following on from last year's success we couldn't wait to bring a bigger and better St George's Day celebration with our Fun Day. We are hoping that everyone will embrace this and join in the fancy dress competition. With a fantastic selection of displays, stalls, and lots to see and do this will certainly be a great day out for all, not forgetting the great selection of food being served in The Café
By attending the day, you will be contributing towards the Charity's vital work of Giving a Second Chance to Abused, Neglected and Unwanted Equines. So why not have a great day whilst doing your bit for animal welfare?
For further information about this event please visit the HAPPA website www.happa.org.uk
Related
0 Comments