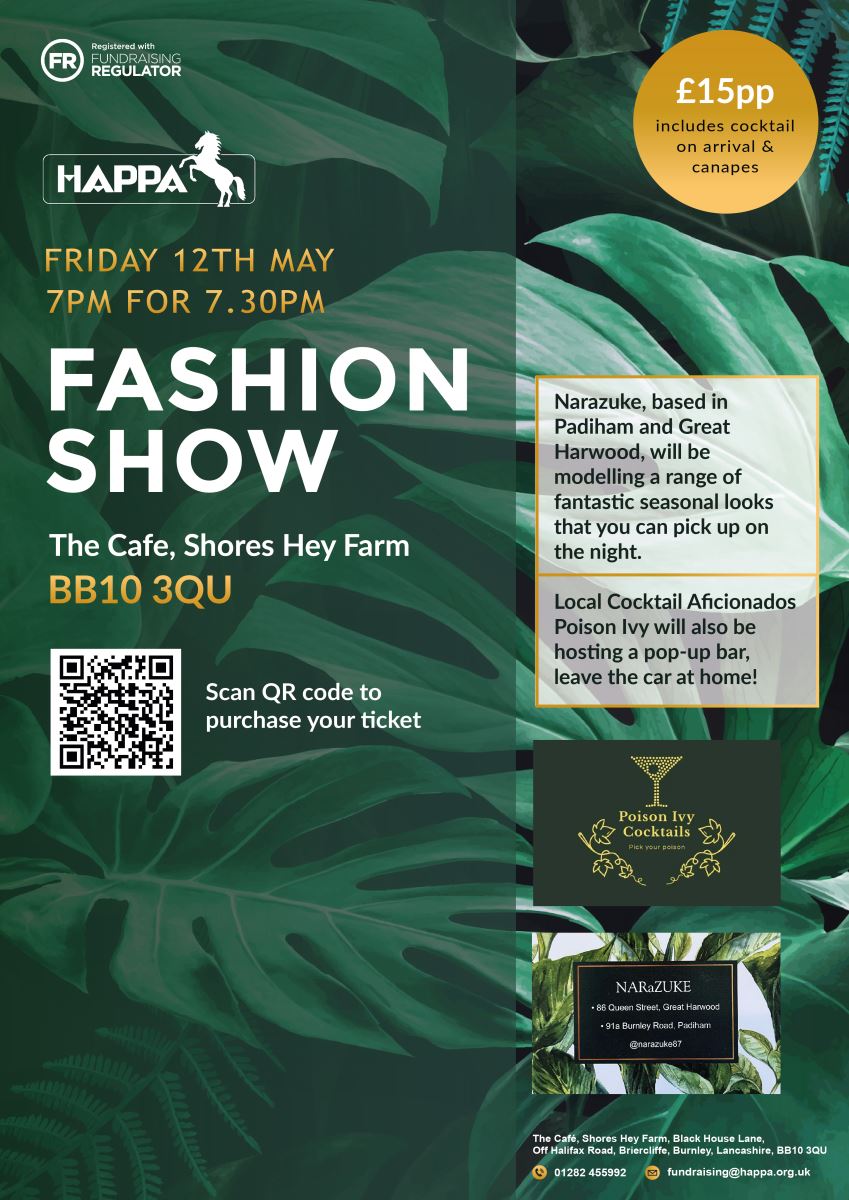 HAPPA (Horses and Ponies Protection Association) are hosting an evening of cocktails and fashion with local companies, Poison Ivy and Narazuke.
HAPPA will host a Fashion Show with local business Narazuke on Friday 12th May at Shores Hey Farm, Briercliffe, Burnley, BB10 3QU to help raise funds for the Charity.
Serving up a range of cocktails will be Poison Ivy of Earby, and included in ticket price is a welcome drink from these cocktail connoisseurs.
Modelling the latest range from their shops based in Padiham and Great Harwood, Narazuke will bring a range of fashion in a variety of sizes for guests to view and purchase on the night.
Hosted in the Farm's popular Café, there will also be a range of canapes for attendees to enjoy, as well as the regular cakes and drinks.
HAPPA's Fundraising and Events Coordinator, Megan Dunham, explains further "We have put this Show together with the help of local companies to help raise funds for the Charity. This is a brand-new venture for the Charity, and we are very excited to be hosting what promises to be a great evening. There's something for all tastes and sizes at Narazuke, and whilst perusing the fashion you can enjoy a tasty cocktail too, and all whilst helping HAPPA. The Charity needs your support more than ever to help horses in need, so please do come along and join us".
Tickets are priced at just £15 per person including welcome drink and canapes with all funds raised will go towards the Charity's mission to give a Second Chance to vulnerable, neglected and unwanted equines through Rescue, Rehabilitation, Rehoming and Education. Tickets can be purchased at https://www.happa.org.uk/product/fashion-show-by-narazuke/
Further information including registration for the event is at Charity's dedicated website www.happa.org.uk
Related
0 Comments