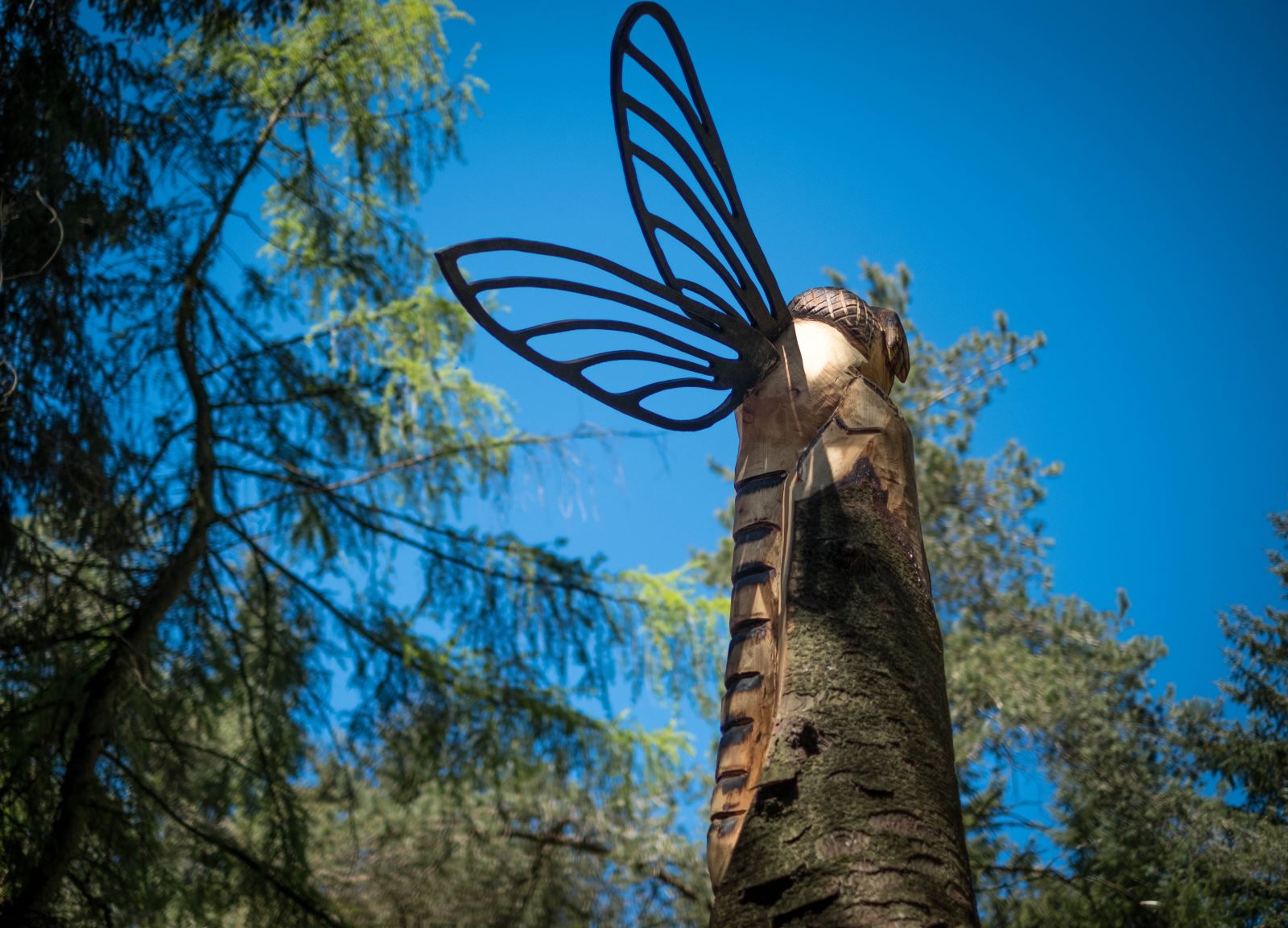 Getting out and about in nature is one of the best ways to rejuvenate, especially after the busy festive season, and Lancashire is the perfect place to explore. From rolling green hills, to quiet country paths, beautiful canals and city strolls, get a head start on your new years resolutions and enjoy an amble throughout the twixmas break too.
Here at Visit Lancashire, we have gathered together a huge selection of walks for you to choose from, including coastal walks, canal walks, long distance walks, and even heritage and arts walks, where you can view sculptures and discover more about history.
If you are looking for a way to get out and about with the kids while they are off, or want a walk that won't strain you too much during the break, then our walks under 5 miles section is a perfect place to start, but we thought we'd pick out a few favourites that we know many families enjoy below too.
Leyland Moss Side walk
Anyone local to Leyland will know this lovely market town offers plenty for visitors. There are a whole host of shops, a beautiful park, fantastic play areas and the Community Woodland Ramble in the Moss Side area of the town is perfect for a short walk between the festivities. A portion of the walk is suitable for pushchairs and the walk is flat.
Scorton picnic site
Scorton is known for its beautiful places to eat and the impressive hill overlooking the village. Nicky Nook is a fantastic walk for people to enjoy, but it's strenuous and at this time of year can be pretty hard to navigate, so for something gentler and more family friendly spend some time in the beautiful village at the Scorton Picnic Site. There is a circular walk around the site, that is level and provides the chance to spot some wildlife. Kids will love the riverside section of the walk there they can splash a few stones into the water.
Crook O'Lune Circular
Starting at the Crook O'Lune picnic site, you can enjoy a riverside walk no matter the weather. Crossing over the river at two points, this walk goes in a figure of 8, which takes walkers over the waterworks bridge and two old railway bridges. Children will love the otter sculptures near the picnic site, and there is a refreshment kiosk for you to pick up a bite to eat too. The walk does have steps and steeper inclines but nothing too strenuous for little legs.
Irwell Vale River Walk in Rossendale
There are a number of great walks in Rossendale, all of which will benefit your health and wellbeing. We love the Irwell Vale River Walk, where you can enjoy views of the river and see the the history of the area in person by way of the Helmshore Mills Textile Museum, where this walk begins. It's a short, 1.25 mile walk which has a few stiles to pass over so wouldn't be suitable for a wheelchair user, or a buggy, but provide an ample route for younger walkers to enjoy.
Brockholes Nature Reserve Preston
Lancashire's floating visitor attraction provides fantastic walking routes and ample opportunity to see birds and wildlife you may not have seen before. Brockholes Nature Reserve offers woodland walks, river walks and even just gentle strolls between the visitor centre and the accessible viewpoints dotted around the reserve. With many different routes to enjoy, there is something for every ability and age. What's more, younger visitors will love the adventure playground too.
Burscough to Rufford walk
The Burscough Junction to Rufford Station walk is one shared by Community Rail Lancashire, through its series of walks that start and end at train stations around Lancashire. This is a slightly longer route, but offers so much to see and do during the stroll, including a stop at Burscough Wharf where you can find local food and drink offerings that are sure to help fuel the journey. As the trail follows the Leeds Liverpool Canal, it is flat and a portion of the route is suitable for both wheelchair users and pushchairs, however as you continue past Lathom, you will find the path starts to become uneven.
St Annes Town Trail
St Annes is a beautiful town to visit and while its usually associated with the summer due to its picturesque beachfront and beach huts, there is no reason not to visit during the colder months. The St Anne's Town Trail by Community Rail Lancashire forms part of the Lytham to St Anne's route they recommend. The trail takes in some of the historic sights in St Annes, including pointing out a number of blue plaques dotted around the town which tell you more about what put this seaside town's name on the map. There's so much to see and learn about in St Anne's, and a whole host of shops to stop by on the way, that everyone will be happy to spend the day there.
Gawthorpe Circular Walk, Padiham near Burnley
Discover Padiham and the surrounding countryside on this four-mile circular walk. The walk includes natural woodlands and views of celebrated Gawthorpe Hall. Taking around 2 hours, it's a great chance to catch up with your loved ones and explore the beautiful Lancashire countryside. Throughout the walk there are chances to spot a variety of wildlife on your walk including roe deer, heron and more. The area has a number of sculptures for the kids to spot too.
Beacon Fell Country Park
The Beacon Fell walk offers spectacular views of the Forest of Bowland and Morecambe Bay. On a clear day it is even possible to see the Isle of Man! This frosty forest walk, which recently has been awarded Green Statement, is a perfect route for that Christmas walk tradition. Kids will love the sculptures around the country park too, especially the "walking snake", a huge stone sculpture which acts as a balancing beam that they can climb all over and hide behind.
These are just some of the fantastic walks you can enjoy throughout the twixmas break and beyond in Lancashire. If you and your family do enjoy a beautiful walk in Lancashire, tag @visitlancashire in your photos on Instagram, we'd love to see them.
Related
0 Comments