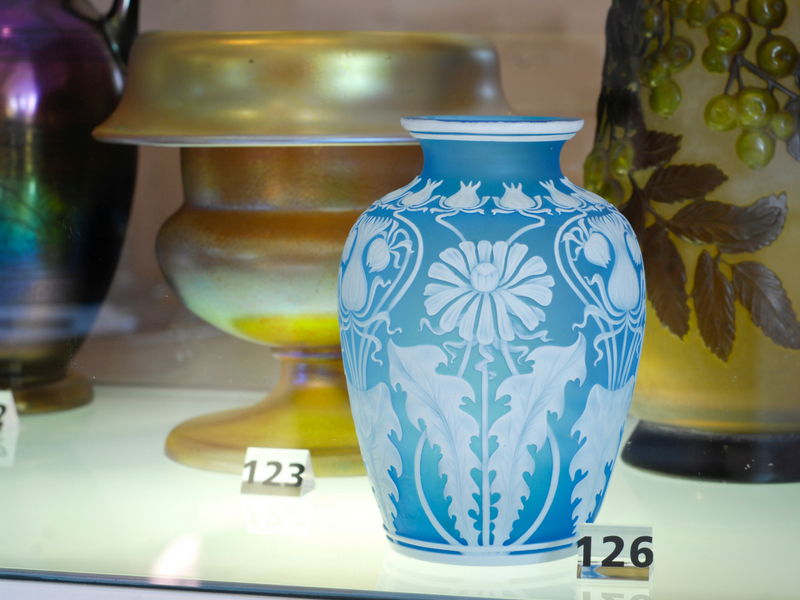 Visiting Accrington's Haworth Art Gallery is like stepping into a jewellery box. The oak panelled entrance hall and richly carved interior features are classic examples of the Arts and Crafts movement.

Combined with the iridescent colours projected through the heraldic stained glass windows creates an exquisite backdrop to the treasures within.

Most visitors are surprised to discover that the Haworth Art Gallery is home to Europe's largest collection of Tiffany Glass.
The collection consists of a variety of glass tiles, a Tiffany library lamp and a wide range of vases and mosaic samples including the distinctive Art Nouveau cockatoo mosaic. The mosaic panel depicts a pair of Australian Greater Sulphur-Crested Cockatoos, perched in a tree against a sunset sky. The lustre effect surface is achieved by preparing the glass with metallic oxides, then exposing it to acid fumes.

Attributed to Joseph Briggs, it demonstrates his skill as a draughtsman, first developed as an apprentice engraver in Accrington.
Alongside the Tiffany glass collection you'll also see intricate textiles and fine art collected by the family who built and bequeathed the house to the people of Accrington.

Above the front entrance of the house are twelve Grotesques in the form of various animals, including dogs, birds and squirrels. In the past they have been mistaken for Gargoyles, the major difference between Gargoyles and Grotesques is that Gargoyles have open mouths, which help drain rainwater away from a roof's guttering - Grotesques are small stone decorative features which are supposed to ward off evil.
Related
0 Comments