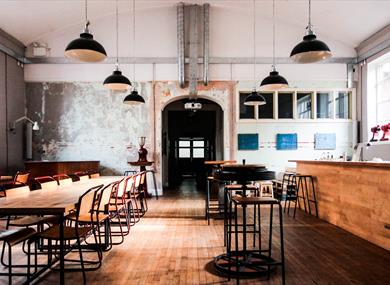 J Atkinson & Co - Coffee roasters and tea merchants since 1837- have opened the former Priory Hall next door to their tea and coffee emporium on China Street, serving syphon coffee and lever espresso along with freshly baked cakes and delicious desserts. They have now started serving savoury food and alcohol during the day and until 21.30 on Thursdays, Fridays and Saturdays with live music on Saturdays from 9pm.

A menu of seasonally rotating coffees are offered here as Lever Espresso and Siphon brewed coffee, all of which are roasted next door on Atkinson`s Vintage Roasters. Since opening in November 2012 The Hall has won awards for BSA Best Flat White, UKBC Heats Best Espresso and Cappuccino and recently has produced semi finalists in the UK Barista and Latte Art Championships. Cakes are baked daily by Debbie Kaye at The Bakery.

Open Monday - Saturday


J. Atkinson & Co. have been supplying Tea & Coffee to the good citizens of Lancaster since a young Queen Victoria came to the throne in 1837, just eight years after Stevenson's Rocket had been launched.

Five generations of continuous trading in the City have resulted in a marvellous accumulation of wonderful Tea & Coffee Artefacts, such as Tea Cannisters from the 1820's, an original spice drawer-run complete with Uranium glass knobs, a 1930's Tea Blender, the size of a small cement mixer, from the same decade an old Whitmee Coffee Roaster and in the window the famous small roaster, an Uno dating from just after WW II that still wafts its delicious aroma out into the streets of Lancaster today.

Everything from scoops to scales have been lovingly mended and cared for over the years and are still very much in use on a daily basis. Many things have changed since Thomas Atkinson opened the first Grasshopper Tea Warehouse way back in 1837, but reassuringly some things remain very much the same such as a good cup of Tea or Coffee. Stepping back in time into Atkinsons shop reminds us that some things, such as quality, never go out of style. No trip to Lancaster would be complete without a visit - just follow your nose!