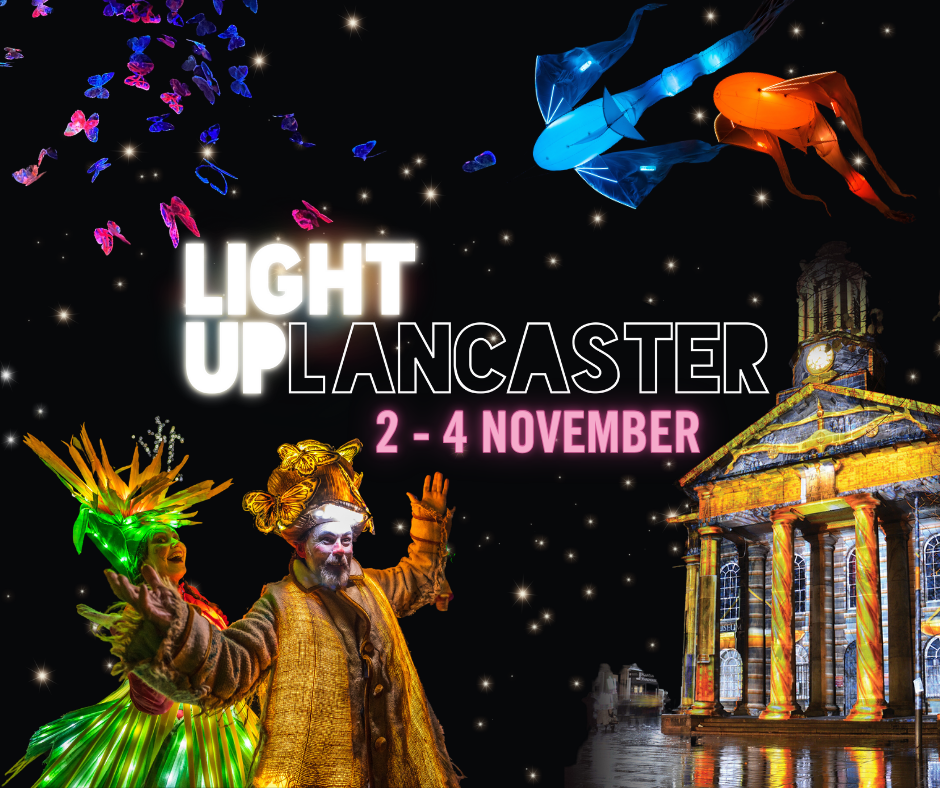 Get ready to embark on a luminous journey through the heart of Lancaster as Light Up Lancaster returns to captivate the city once more. This year, the festival promises an extraordinary three-day spectacle, taking place from this Thursday 2nd November to Saturday 4th November, with extended hours from 5 pm to 9 pm each night. The anticipation is building, and we encourage all locals to come and join us on the opening night, this Thursday, for an unforgettable experience!
This year, we're thrilled to announce a fantastic addition to the event. Lancaster Market Square will come alive with local street food stalls, offering a wide range of hot food, cakes, and drinks. You can grab something delicious to eat and drink from the stalls or surrounding shops, sit in a beautifully lit dining space, and enjoy live music from local musicians throughout the night. It's a perfect opportunity to create a community hub right in the heart of Lancaster, all brought to you by LESS, a Lancaster-based charity.
Familiar locations will once again be illuminated to perfection. Don't miss the breathtaking Castle Illuminations by Illuminos, presenting 'The Great Cower,' promising projections that capture the beauty and fancifulness of artists who embellished the Great Cowcher over 500 years ago. Dalton Square will be lit by imitating the dog with their project 'Dear Einstein,' which will also feature a live community choir. St John's church will feature an interactive, projected tempest - a source of life and mystery. The Storey Gardens will showcase 'Firefly Field,' a mesmerising light installation of numerous flying light points creating the illusion of fireflies.
The magic begins this Thursday the 2nd of November, and we invite all locals to come and celebrate with us on the opening night. With extended hours, running from 5 pm to 9 pm each night, visitors have ample time to immerse themselves in the brilliance and wonder of this one-of-a-kind festival.
Light Up Lancaster is more than an event; it's a tradition, a celebration, and an artistic journey. Don't miss this opportunity to be a part of something truly special.
To download the map of the locations and information about the installations: https://i.emlfiles4.com/cmpdoc/0/3/9/5/3/3/files/13562_light-up-lancaster-digital-map.pdf?fbclid=IwAR30futdeNJQkaoqENzJz8-465gL9WMiPH7ZvKp60Nytxid62vm5EIMp0JQ
For the full lineup of events visit: https://www.lightuplancaster.co.uk/
Facebook: @lightuplancaster
Twitter: @lightuplanc
Instagram: @lightuplanc
For further information, photographs and to arrange features and interviews, please contact Julita Furriel on 01524 598511 or email julita@dukeslancaster.org.
Related
0 Comments