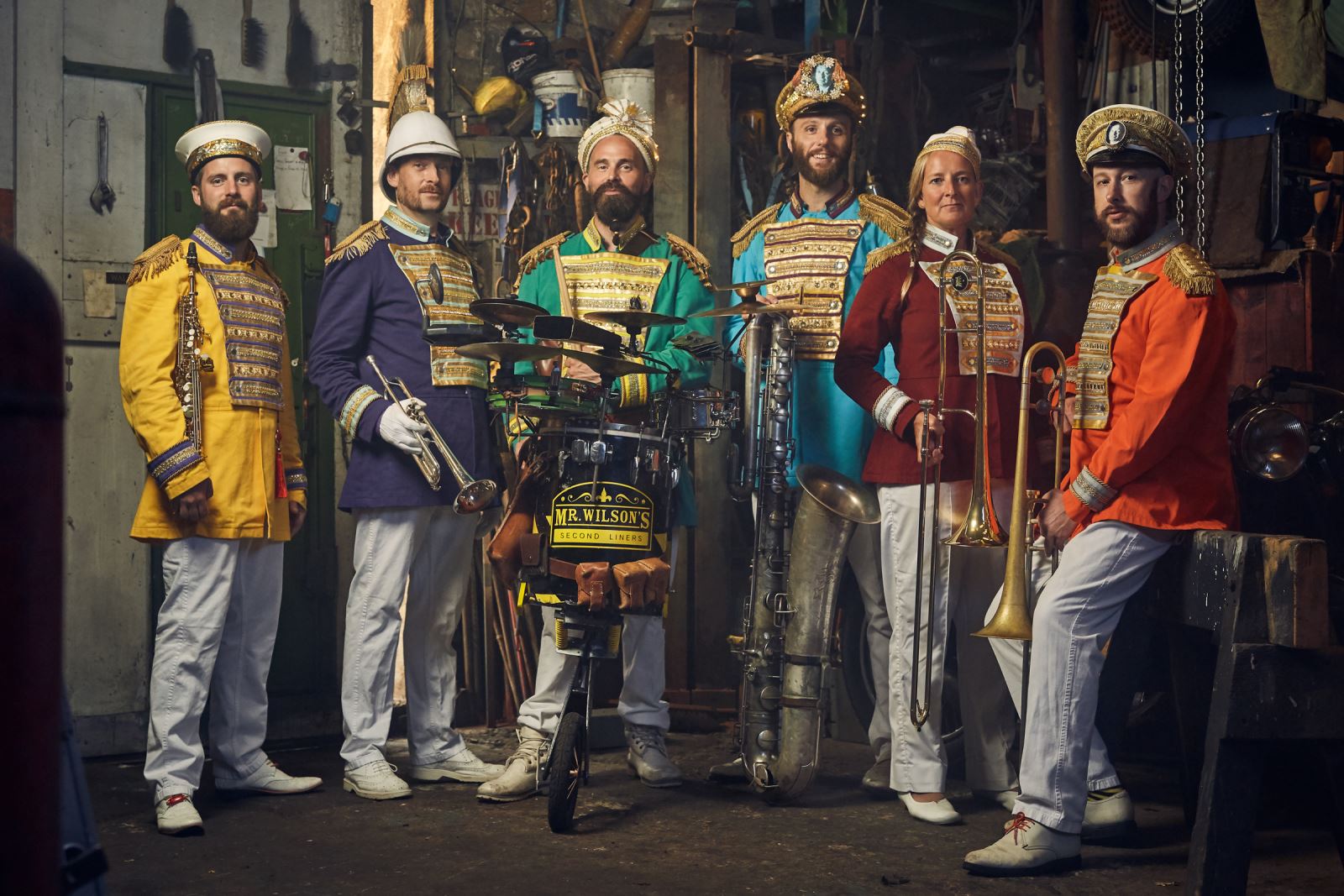 Encounter Festival is thrilled to announce the highly anticipated Torchlight Procession, a magnificent spectacle that will illuminate the streets of Preston with music, dance, and vibrant energy. Taking place on Saturday 16 September as part of the festival's programme, the Torchlight Procession promises to be a highlight of the weekend, captivating audiences of all ages.
The procession will begin from Moor Park and will be led by the sensational Mr Wilson's Second Liners (pictured), a brass band renowned for their infectious beats and uplifting dance tracks. Their exuberant performances are guaranteed to get everyone moving and set the festive mood for the evening.
Joining the procession will be a fantastic array of Preston's finest procession groups, showcasing the city's diverse cultural heritage. Caribbean Carnival will bring their vibrant and colourful costumes, and Preston City Mela will infuse the procession with a sense of celebration and joy. Cacophony Arkestra will delight with their unique fusion of music and street theatre, while Bay Beat will enchant the audience with their rhythmic beats.
Adding to the excitement, the Worldwise Samba Drummers will create a rhythm that will energise the streets, while Dance Syndrome, a talented inclusive dance group, will showcase the power of dance to break barriers and celebrate diversity.
The Torchlight Procession will weave its way through the city centre, creating an extravaganza of music, dance, and spectacle. Audiences can expect a joyful and immersive experience as they follow the procession, celebrating the spirit of the Encounter Festival and the vibrant community of Preston.
The procession will culminate in a spectacular finale at the Guild Hall, Preston, where a firework display will light up the night sky, providing a stunning conclusion to the Saturday programme. The combination of music, dance, and fireworks promises to create an unforgettable moment that will leave a lasting impression on all who witness it.
Councillor Peter Kelly, Cabinet Member for Culture and Leisure Services at Preston City Council, said:
"Encounter Festival invites everyone to be a part of this unforgettable celebration of music, culture, and community. Don't miss the Torchlight Procession, a vibrant and unmissable event that will bring the streets of Preston to life."
Mark your calendars for Encounter Festival 2023, from September 15 until 17, a celebration that brings together heritage, art, and community in an extraordinary fusion of creativity.
Related
0 Comments