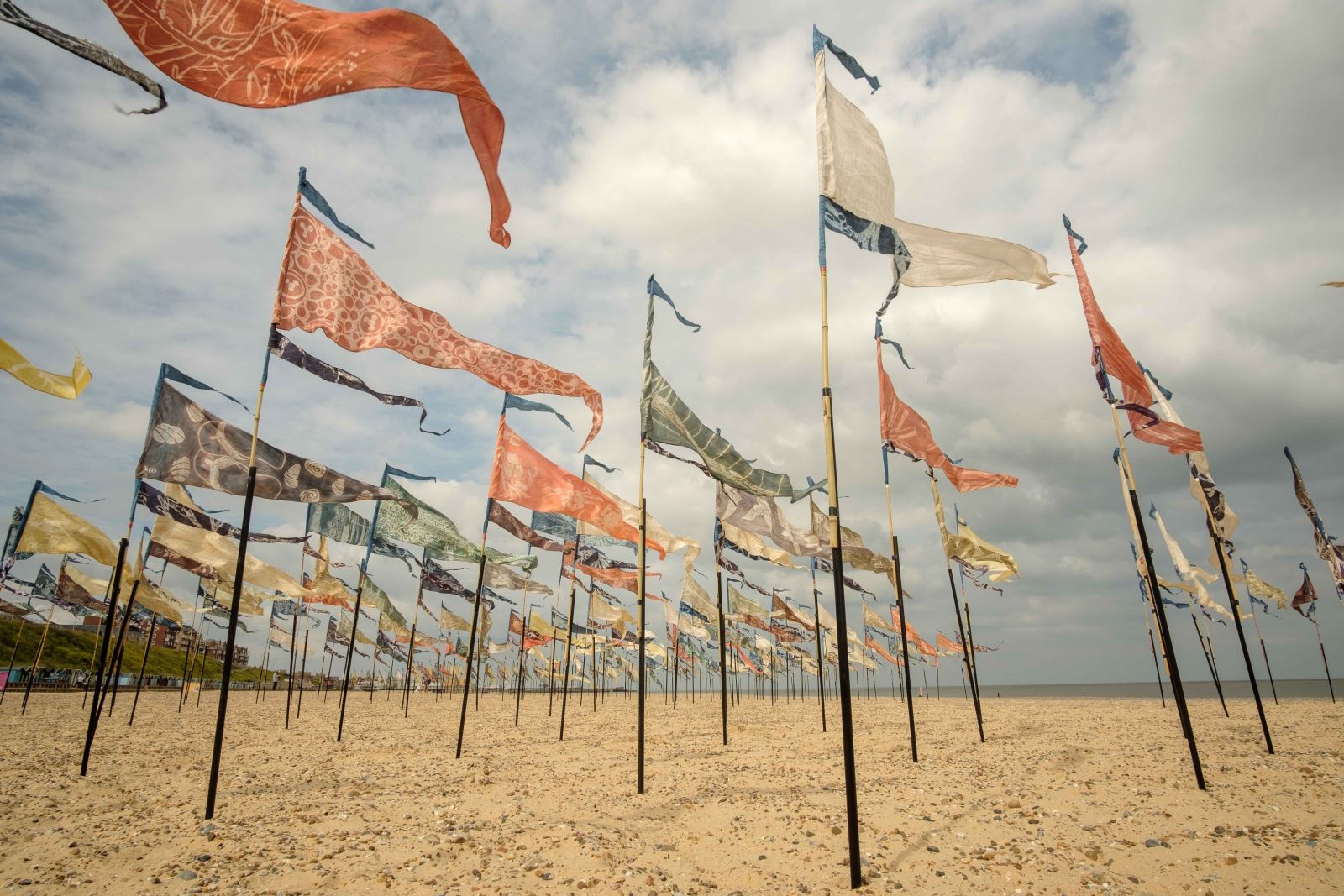 The people of Morecambe Bay are being invited to witness the installation of over 600 beautiful silk wax-dyed pennants – each representing community stories inspired by the coastline.

The spectacle will be the culmination of an investigative arts journey called Bay Lines which forms part of the ambitious national 'Beach of Dreams' programme – a collective journey to discover more about the UK coastline, ourselves and our planet.
Local charity Morecambe Bay Partnership commissioned internationally renowned arts organisation Kinetika in partnership with Kendal-based Rosa Productions to deliver the programme as part of the Ways Around The Bay initiative. It has brought together artists, writers, scientists and the Bay's communities who walked 120 miles around the Bay to discuss environmental concerns and share personal stories and hopes for their special part of the coast.
Participants submitted photos, words and drawings which are being used to inspire the design of 120 wax-dyed silk flags called pennants – one to represent each mile of the Bay's coastline. The unique Bay creations will be joined by 500 more from around the country, at the installation events in August taking place at Walney Island, Arnside, Grange-over-Sands and Morecambe.
These special flags are being created with Kinetika's Artistic Director, Ali Pretty alongside local artists at a series of Natural Dye and Silk Pennant-making workshops from Monday 29 July to Sunday 6 August where there are places for the community to sign up and join in free of charge.
Michelle Cooper, the charity's Engagement and Fundraising Team Leader said 'The silk pennants carried on the 120 mile walk attracted a lot of attention as they are so mesmerising. It's very exciting that so many will be on display around the Bay for people to enjoy. We hope the beauty of the entire spectacle against the stunning backdrop of Morecambe Bay, will leave a lasting memory encouraging people to explore the Bay on foot or bike further.'
Kinetika's Artistic Director, Ali Pretty said ''We're so excited to unveil the new naturally-dyed Bay Lines: Beach of Dreams pennants this August! The unique, hand-painted pennants each represent stories from the local community and it's been a pleasure walking with so many people from around Morecambe Bay to discover regional tales and aspirations for the future. We can't wait to walk the coast and join the 500 original Beach of Dreams silks which were created in 2021 in the East of England. Come and join us, share your own stories and discover more about Beach of Dreams.'
All events are free of charge but booking is required for anyone wishing to attend the pennant-making workshops.
The organising team is also appealing for volunteer riggers to help set up the displays - for those who don't mind an early start and are comfortable moving around on uneven ground.
All the contributions from Bay Lines will form part of the national Beach of Dreams 2025 programme which will culminate in a collective journey around 10,000 miles of coastline across the UK and Ireland, led by Kinetika and Creative Lives.
For full information and booking the workshops, visit:
https://www.waysaroundthebay.org.uk/enjoy-your-visit/bay-lines-beach-of-dreams
Bank holiday weekend programme
Friday 25 August, 11am to 4pm, Walney Island
Grass area below Round House Hub & Café, Walney, Barrow-in-Furness LA14 3YE
Saturday 26 August, 11am to 4pm, Grange-over-Sands
Grange Promenade LA11 7DS
Sunday 27 August, 11am to 4pm, Arnside
By Arnside Pier LA5 0HA
Monday 28 August, 11am to 4pm, Morecambe
By Promenade and Clock Tower LA4 5BX
Schedule of activity at each site:
11am - 120 newly created pennants for Morecambe Bay, one for each mile of the Bay, will be 'walked in' along sea front from both directions to the installation site by participants in Bay Lines – Beach of Dreams.
12.30pm - Live music to accompany the arrival of 120 Morecambe Bay pennants being added to the 500 existing UK Beach of Dreams pennants
1.15pm - Morecambe Bay audio stories and music from the Boom Bikes to accompany your exploration of the pennants installation.
3.15pm - Live music
4pm - Event finish
Depending on the weather, the installation may remain in place till the early evening/sunset - a great photography opportunity.
Related
0 Comments