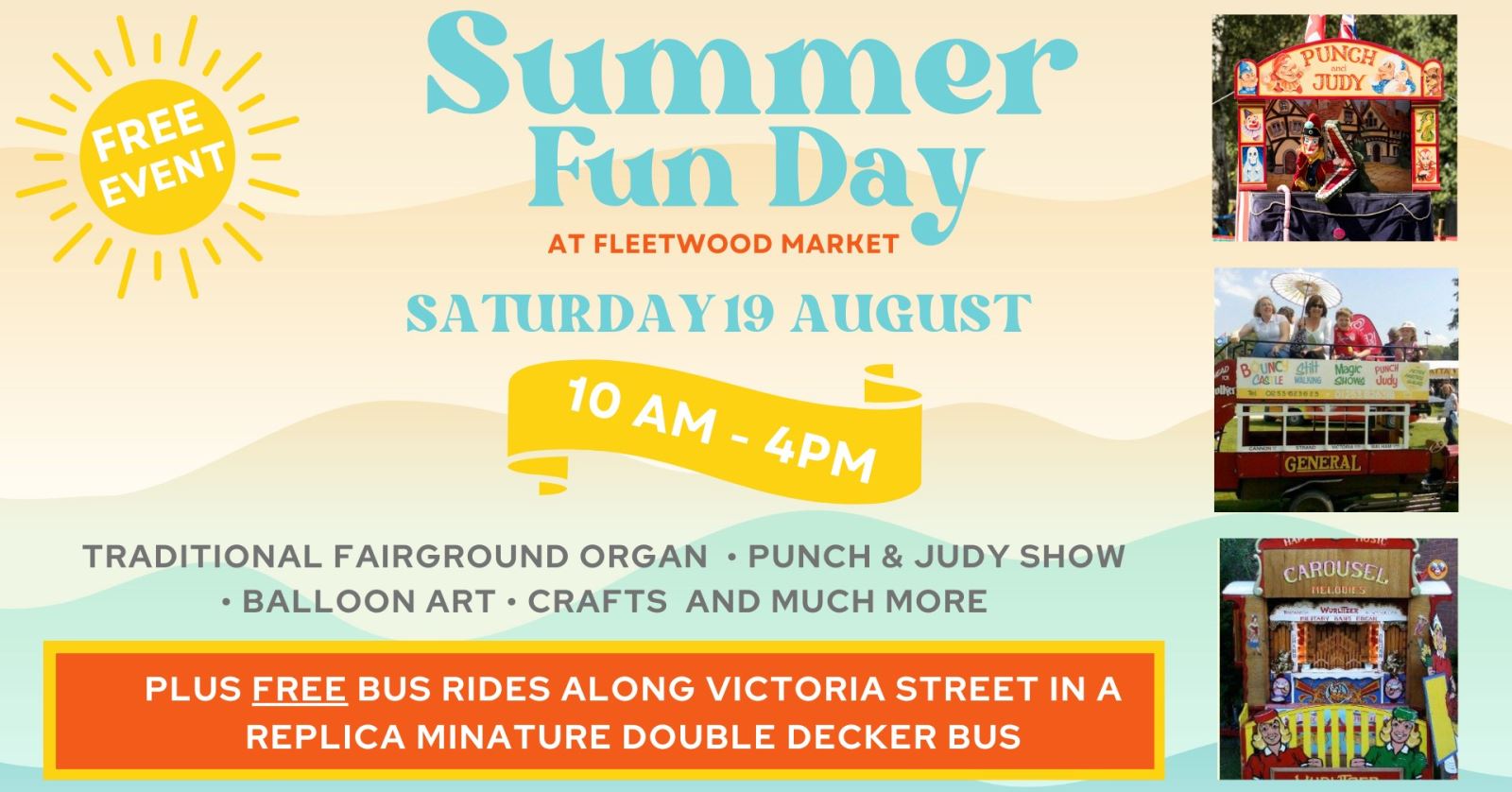 Fleetwood Market will be holding a free Summer Seaside Family Fun Day on Saturday 19 August and it's set to be a scorcher of an event.
From 10am to 4pm the outdoor market will be alive with free family entertainment and traditional seaside attractions to be enjoyed by everyone.
There'll be traditional Punch and Judy shows as well as balloon art. A miniature fairground organ will provide the nostalgic music we all know and love from our trips to the seaside and there will be a giant deckchair to relax in and soak up the atmosphere – the perfect photo opportunity.
In between shows hop on board a miniature double decker bus and take a ride up and down Victoria Street or participate in our free craft activity.
The market will also be open all day with everything from gourmet street food to the freshest fruit and vegetables, finely crafted jewellery to designer clothing, bargain household goods to hand-made gifts and haberdashery. The market is fully accessible, dog-friendly and there's a cash machine on site.
With over 250 stalls to browse, this beautiful, huge Victorian Market has something for everyone to discover. Commonly known as one of the oldest markets in Lancashire, Fleetwood Market opened its doors in 1840 and has held onto its Victorian heritage ever since. Fleetwood Market is over 180 years old and is one of the largest and most popular Markets in the North West of England. Located in the beautiful, historic town of Fleetwood, right beside the seaside and filled from top to bottom with terrific stalls, amazing products, and friendly stallholders.
Councillor Lynne Bowen, Leisure, Health and Community Engagement Portfolio Holder at Wyre Council says,
"What a wonderful event this is going to be for residents and visitors to Wyre to enjoy with lots to do and see. There'll be a traditional mixture of what makes our seaside resorts in Wyre so special, so come along for a great day out by the beach."
By tram, bus, coach, or car Fleetwood Market is easy to find and visit. It's easily accessible by public transport and there is plenty of off-street parking.
To stay updated with all news and events visit Fleetwood Markets social media pages -
Facebook - https://www.facebook.com/FleetwoodMarket/
Instagram - https://www.instagram.com/fleetwood_market/?hl=en-gb
Related
0 Comments