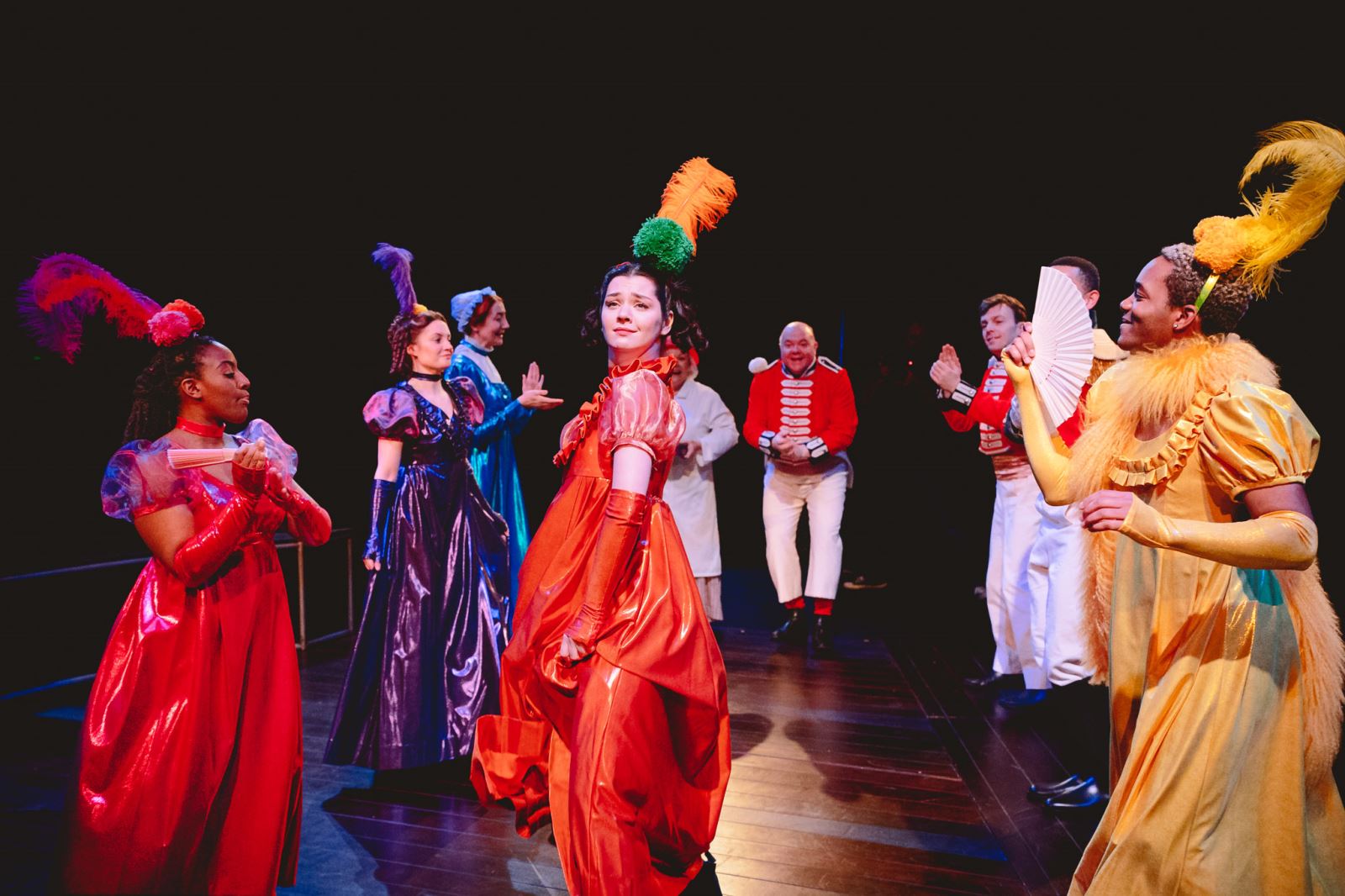 Dip into Northern Broadsides' riotous revival of JM Barrie's delectable farce Quality Street from Tuesday 27 June to Saturday 1 July for a glorious evening of comedy and colour.
Top TV actress Paula Lane (Coronation Street's Kylie Platt) will take the lead as sweet schoolmistress Phoebe Throssel in this hit regency farce from beloved Peter Pan author J.M. Barrie, which was such a sensation in its day that it gave its name to the UK's most loved chocolates!
Phoebe Throssel runs a school for unruly children on Quality Street. Ten years after a tearful goodbye, her old flame returns from fighting Napoleon. But the look of disappointment on Captain Valentine's face when he greets an older, less glamorous Phoebe spurs the determined heroine to become the wild and sparkling Miss Livvy - a younger alter-ego who soon beguiles the clueless Captain. As their romance is rekindled, and Miss Livvy melts the Captain's heart, Phoebe must juggle both personas while trying to avoid scandalizing the town with her deception, or wrecking her future with the man she loves…
This delightful comedy also stirs in a good helping of Yorkshire wit from the retired workers of the Halifax factory where Quality Street has been proudly made since 1936. Think Bridgerton meets Inside the Factory - It's not to be missed!
Northern Broadsides' Quality Street is a delightful new adaptation of J.M. Barrie's renowned play, but just how are the world-famous chocolates and this hilarious play connected?
In the 1890s John and Violet Mackintosh saved up £100 to open a pastry shop at 53 King Cross Lane, Halifax. Their tarts, pastries and cakes did well, but they soon noticed that Saturday trade from local workers was their most profitable, and so they decided to create a product that would last their customers for the whole week.
Violet got to work on an irresistible new recipe blending English butterscotch with soft, gooey American caramel, which they christened 'Mackintosh's Celebrated Toffee'. Each flavour was wrapped in different coloured wrappers (see where this is going???) and little did Violet know that she would redefine chocolate history forever! Demand for the Mackintosh sweet sensations grew and grew, and before long they opened a stall on Halifax market, began selling to wholesalers and opened a warehouse.
Meanwhile, renowned author J.M. Barrie was yet to write his famous tale of Peter Pan when his exciting new play Quality Street opened on Broadway on 11 November 1901, enigmatically promising A Comedy in Four Acts. The show was an instant hit, and soon transferred to the Vaudeville Theatre in London starring Ellaline Terriss, Seymour Hicks and Marion Terry.
The Mackintosh's sweet business continued to boom, and the brand expanded into the production of chocolate covered products. Their son Harold thought this new confection should be seen as decadent and what better way to name this exciting new line than after the smash-hit play Quality Street that had recently taken the world by storm!
Harold Mackintosh also thought their delicious chocolates should be contained in a practical tin that customers would use long after the chocolates had been enjoyed… and the famous octagonal tin was born, decorated with two characters dressed in regency clothing proudly printed on the top to show luxury and of course, quality. They called them Major Quality and Miss Sweetly, but we all know they are Captain Valentine Brown and Phoebe Throssel from the famous play!
Now Quality Street chocolates are beloved all around the world and are a staple confectionary for all sorts of celebrations as we all dive in and choose our favourites from the brightly coloured wrappers - from Strawberry Delight to Green Triangle and the ever popular Purple One.
Snap up some of your own and book your seats for this charming new play now! It's a tempting treat that's right up your Street…
Five fun facts about Quality Street the play:
1. J.M. Barrie's Quality Street first opened on Broadway on 11 November 1901 and ran for 64 performances
2. The play features a group of soldiers who meet at a place called Quality Street!
3. Quality Street was a West End hit when it opened in London in 1902 and ran for 459 shows and the popular production was frequently revived and toured extensively until World War II.
4. Northern Broadsides' hilarious new adaptation is performed in Northern accents and created with 5 retired workers from the Quality Street factory in Halifax where the famous chocolates are still made to this day!
5. The former workers will tell their own stories of hapless love and romance as the events of the play unfold…
Northern Broadsides' Quality Street starring Paula Lane (Coronation Street's Kylie Platt) is at Blackpool Grand Theatre from Tuesday 27 June to Saturday 1 July with matinee and evening performances available.
Visit blackpoolgrand.co.uk for full show listings and bookings or call the box office on 01253 290 190 for bookings and further information.
LISTINGS
Quality Street
Grand Theatre, 33 Church Street, Blackpool FY1 1HT
Box Office 01253 290 190
blackpoolgrand.co.uk
Facebook - @blackpoolgrand
Twitter - @Grand_Theatre
Instagram - grandtheatrebpl
Related
2 Comments