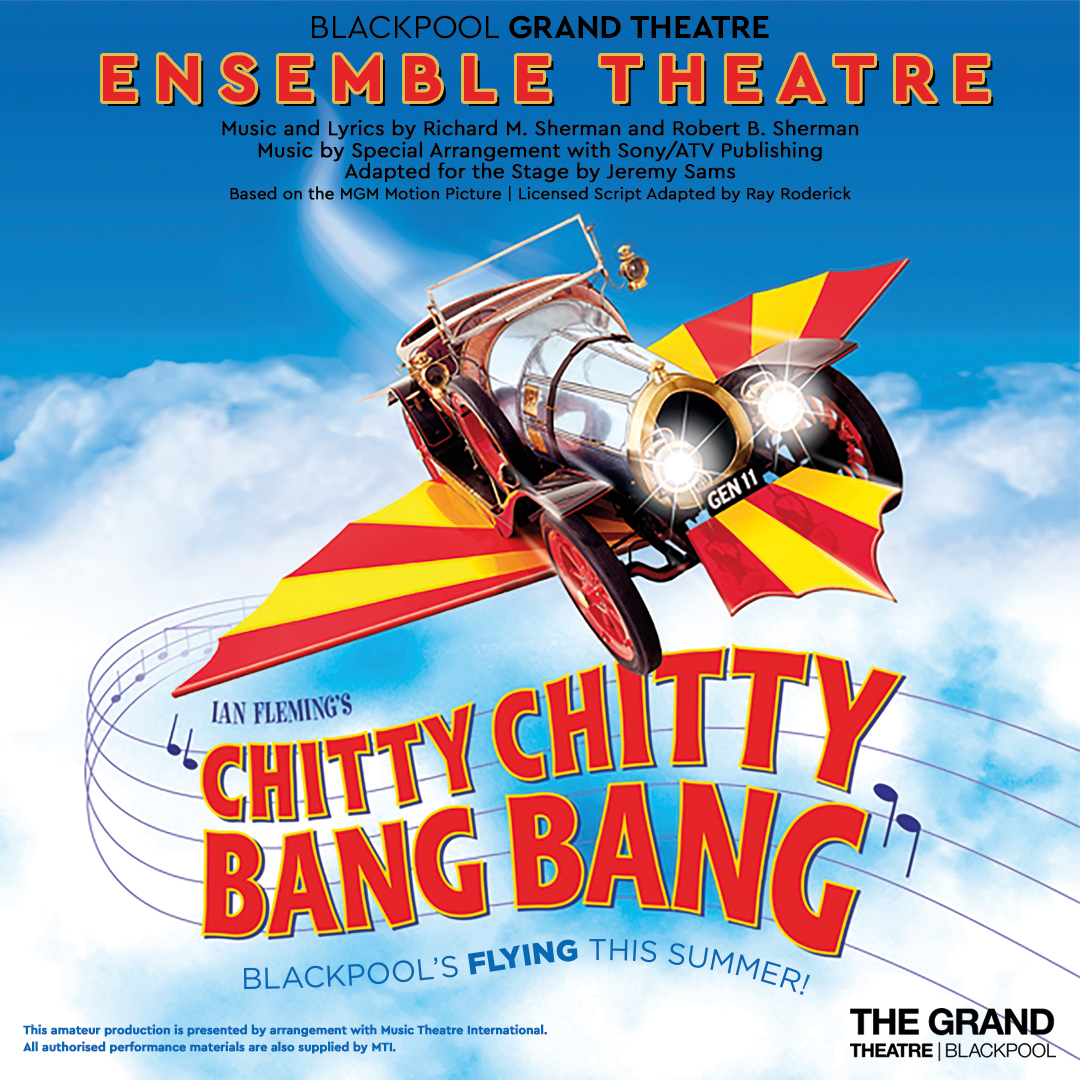 Hold on tight for the ride of your life as ENSEMBLE Theatre fly into The Grand from Thursday 31 August to Sunday 3 September with their Truly Scrumptious production of Ian Fleming's Chitty Chitty Bang Bang. It's a sky high hit for all the family!
Critically acclaimed local company ENSEMBLE Theatre will return to Blackpool Grand with a bang this summer, following their major hit shows The Addams Family, The Sound of Music and Oliver! with an all-new production of Ian Fleming's Chitty Chitty Bang Bang.
This fun-packed production of the world's most celebrated 'four fendered friend' tells the heartwarming tale of an eccentric inventor named Caractacus Potts who, with the help of his children Jeremy and Jemima, sets about restoring an abandoned old race car from a scrap heap. They meet the delectable Truly Scrumptious along the way and soon discover their beloved car has magnificent magical properties including the ability to float and take flight! But trouble ensues when the evil Baron Bomburst from Vulgaria desires the magic car for himself…
Can the Potts family escape the evil Childcatcher? Will Truly Scrumptious run away from the magical sweet factory? One thing is certain… only the fantabulous flying car Chitty Chitty Bang Bang can save the day!
ENSEMBLE Theatre Artistic Director, Andy Vitolo, said: "It's always a great honour to step onto the stage of one of our country's most prized theatres. The Grand 'Truly', no pun intended, takes your breath away. Chitty has always had a very special place in my heart from the first time my lovely parents bought me the movie and score and playing Caractacus (who is a mad inventor) is very much who I am in real life! Our production is huge in every way and involves an actual flying car on stage with a massive new set. Add in stunning costumes and this show is going to take audiences on the ride of their lives. This new and exciting production of Chitty Chitty Bang Bang will make the illuminations switch on week shine brighter than ever!"
But where did this fantastical first car come from and why is it so beloved by children and adults alike?
Here are Six Sensational facts about Chitty Chitty Bang Bang:
Chitty Chitty Bang Bang was originally a children's book written by Ian Fleming, the author of the James Bond 007 series. The book was published posthumously in 1964, a year after Fleming's death.
The much-loved 1968 MGM motion picture starred Dick Van Dyke and Sally Ann Howes and featured the all-time classic songs by the Sherman brothers including Me Ol' Bam-Boo, The Roses of Success, Toot Sweet, Posh and, of course, Chitty Chitty Bang Bang.
The car used in the film was custom-built by Ford's racing division in the UK. The car was powered by a 3.0-litre V6 engine and had a top speed of 100 mph. This car is now a popular exhibit at the National Motor Museum in Beaulieu, England, where visitors can see it up close and learn about its history.
Chitty Chitty Bang Bang is a classic example of the family-friendly musical genre, and its popularity has only grown over the years due to its whimsical nostalgic value and timeless charm.
Chitty Chitty Bang Bang was adapted into a stage musical that premiered in London's West End in 2002 and has since been performed around the world including Australia, Japan, and the United States.
The fabulous family stage musical features a revised story and additional songs by Richard M. Sherman and Robert B. Sherman, who wrote the music and lyrics for the original film and also wrote the songs for the Disney film Mary Poppins.
'Oh, Chitty Chitty Bang Bang we love you!'
Book your seats now for a Phantasmagorical family day out at the Grand this Summer!
Chitty Chitty Bang Bang from Ensemble Theatre is at Blackpool Grand Theatre from Thursday 31 August to Sunday 3 September with evening and matinee performances.
Tickets from £19.50 with a family of four ticket available.
Visit blackpoolgrand.co.uk for full show listings and bookings or call the box office on 01253 290 190 for bookings and further information.
LISTINGS
Chitty Chitty Bang Bang
Thu 31 Aug to Sun 3 Sep
Thu & Sat matinee at 2.30pm
Grand Theatre, 33 Church Street, Blackpool FY1 1HT
Box Office 01253 290 190
blackpoolgrand.co.uk
Facebook - @blackpoolgrand
Twitter - @Grand_Theatre
Instagram - grandtheatrebpl
Related
0 Comments