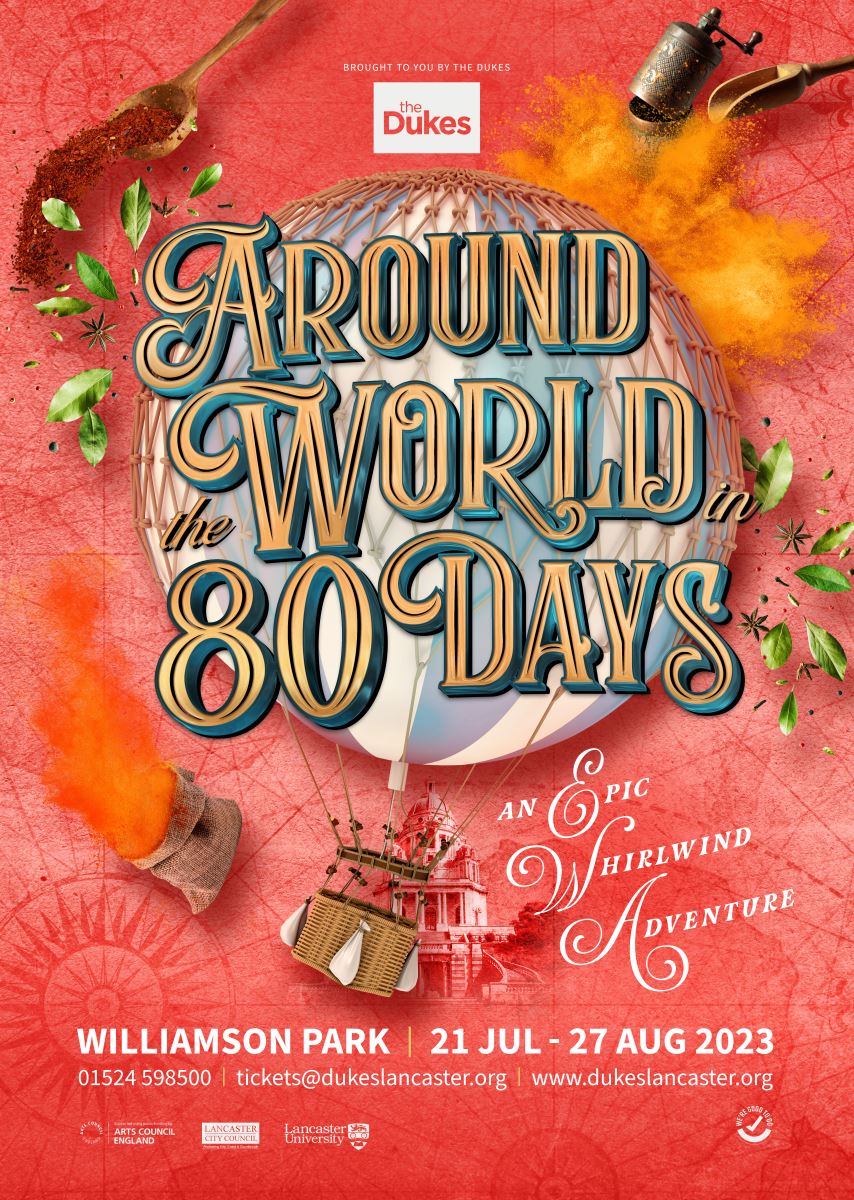 The Dukes award-winning outdoor walkabout theatre season returns to Lancaster's Williamson Park this summer.
Following on from last year's sold out performances of The Jungle Book, The Dukes will delight audiences once again with an epic whirlwind adventure, Around the World in 80 Days, from 21st July - 27th August.
Audiences will be invited to follow Phileas Fogg, as he races against the clock to travel around the world in 80 days. Adapted by writer Andrew Pollard (writer of last year's show, The Jungle Book), you can expect an adventure of a lifetime that introduces us to all the sights, sounds, smells, food and cultures of the people around the world.
Join us on this incredible race around the world - by trains, boats, elephants and balloons for an epic whirlwind adventure for the whole family.
Around the World in 80 Days will be directed by Sarah Punshon, who also directed The Dukes' last outdoor production of The Jungle Book in 2022.
The Dukes Director, Karen O'Neill said on the announcement:
"This year our Play in the Park will be travelling the globe with 'Around the World in 80 Days'. The Dukes will be transporting audiences around the world in Williamson Park from July to the end of August, with an amazing creative and technical team and electrifying cast all working together to make this incredible show happen. We are so pleased to be back in the Park working with the team there and Lancaster City Council on this annual family highlight! This is a journey not to be missed so grab your tickets and join us on a marvellous adventure."
As part of the campaign, the Dukes will also be hosting their first food festival, Around the World in 80 Bites, which will take place on Friday 2nd June. Tickets will be available for purchase from the Dukes box office or the Dukes website.
Throughout the summer term, the Dukes Creative Communities team will be running art workshops in local primary schools, whilst a new partnership with the Balfour Beatty's Social impact team will allow communities living in rural poverty, access to free funded tickets to the performance.
Head of Creative Communities, Carl Woodward said: "We are looking forward to working with a diverse number of our partner Primary schools across Lancaster, Morecambe and Heysham in conjunction with Around The World in 80 Days, offering creative crafts workshops in the classroom. This work is testament to the profound impact that partnerships between schools and theatres can have on local communities; partnerships forged out of a shared vision for education in which access to the arts plays a central part."
The Dukes has been entertaining generations of families with their summer promenade shows since 1987, attracting a total of more than a half a million people. In 2016, its outdoor version of The Hobbit won the UK Theatre Award for Best Show for Children and Young People.
Around the World in 80 Days runs on Tuesdays - Sundays from July 21 - August 27 at 7.15pm. Tickets must be booked in advance. Group bookings negotiable, please contact The Dukes Box Office on 01524 598500 or tickets@dukeslancaster.org
Related
0 Comments