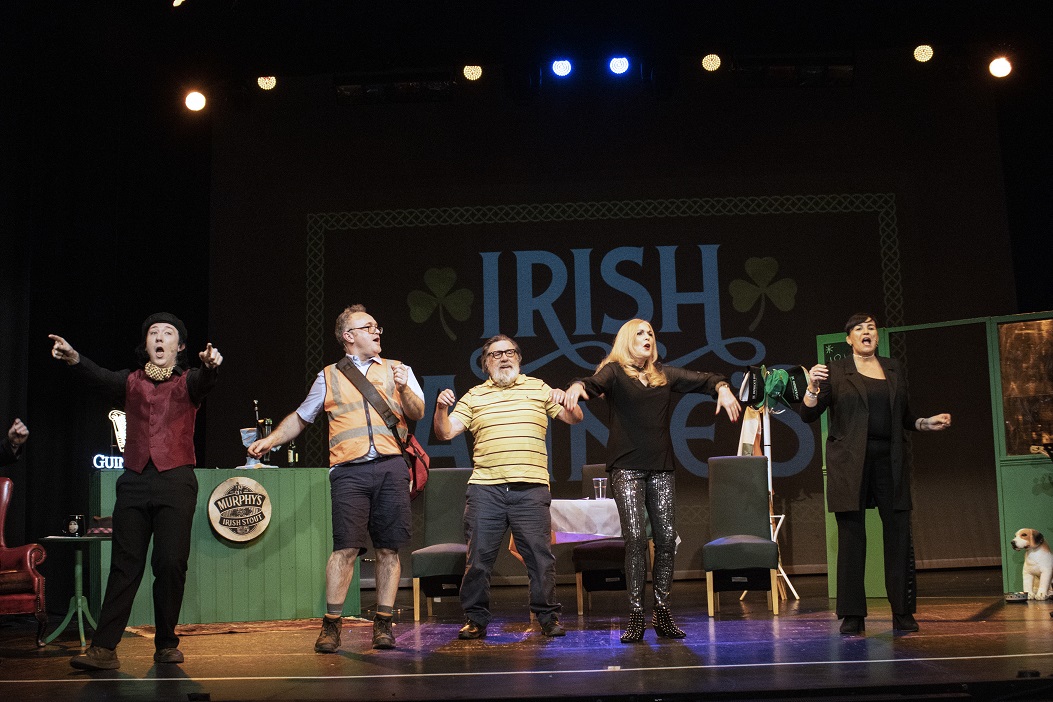 Sip Whiskey in the Jar with TV favourite Ricky Tomlinson on Monday 27 March as the popular actor and comic joins fellow Liverpudlians Catherine Rice and Asa Murphy in the smash-hit musical comedy Irish Annie's. Tickets are selling fast!
Meet landlady Annie and all her regular madcap customers from Irish Annie's for a fun night out celebrating the very best of Irish culture. This sensational live show is packed full of comedy, music and mayhem and features the rocking 6-piece band The Shenanigans performing original tracks written for the show by Asa Murphy, along with your all-time favourite Irish tunes, including Galway Shawl, Tell Me Ma, Dirty Old Town, Whiskey In The Jar, Danny Boy and many more. It's the perfect way to celebrate St Patrick's Day this March.
Much-loved actor and comedian Ricky Tomlinson (The Royle Family, Brookside, Cracker, Mike Bassett: England Manager) will appear as a celebrity guest in the famous pub and said of his latest role: "This show is a delight to be part of, with a wonderful cast of characters and beautiful original and classic Irish music. Come and enjoy the show, I guarantee you will have a ball". Ricky is also a very keen musician, playing both the banjo and harmonica, so look out for some good craic with the band!
Irish Annie's also stars Catherine Rice as Irish Annie, BBC Radio Merseyside's Asa Murphy as Seamus Murphy, Nathan Murphy as Porky the Postman, Sam Conlan as Noel Singen-Smithe and Pauline Donovan as Moira the Money Lender.
Show producer Bill Elms said: "Irish Annie's is the perfect show to bring out around St Patrick's Day, it's a huge feel-good show filled with great comedy and live music, I am thrilled that we have such a fantastic cast including Ricky Tomlinson, Asa Murphy and Catherine Rice. The show premiered in Liverpool a few years ago and went down a storm, now it's even bigger and better than before."
Writer and performer Asa Murphy added: "This show is a celebration of everything that makes Irish culture and the people of Ireland so special. Laughter, music, and the ability to make people face life's difficult obstacles through friendship. I am very proud that the show has been so well received with my family originating from Cork and Tralee and many still living in Ireland."
Irish Annie's at The Grand will have the audience laughing, singing, and dancing the night away this March. Take your seat and enjoy the fun!
Irish Annie's featuring Ricky Tomlinson (The Royle Family, Brookside, Cracker, Mike Bassett: England Manager) is at Blackpool Grand Theatre on Monday 27 March at 7.30pm.
Visit BlackpoolGrand.co.uk or call the box office on 01253 290 190 for bookings and further information.
LISTINGS
Irish Annie's – Mon 27 Mar at 7.30pm
Grand Theatre, 33 Church Street, Blackpool FY1 1HT
Box Office 01253 290 190
blackpoolgrand.co.uk
Facebook - @blackpoolgrand
Twitter - @Grand_Theatre
Instagram - grandtheatrebpl
Related
1 Comments